Trump Is This Close to a Mexican Standoff with Latino Business Owners
The outlandish presidential candidate offended millions of Latinos with incendiary comments about Mexicans. But going after chef José Andrés might prove an even bigger mistake.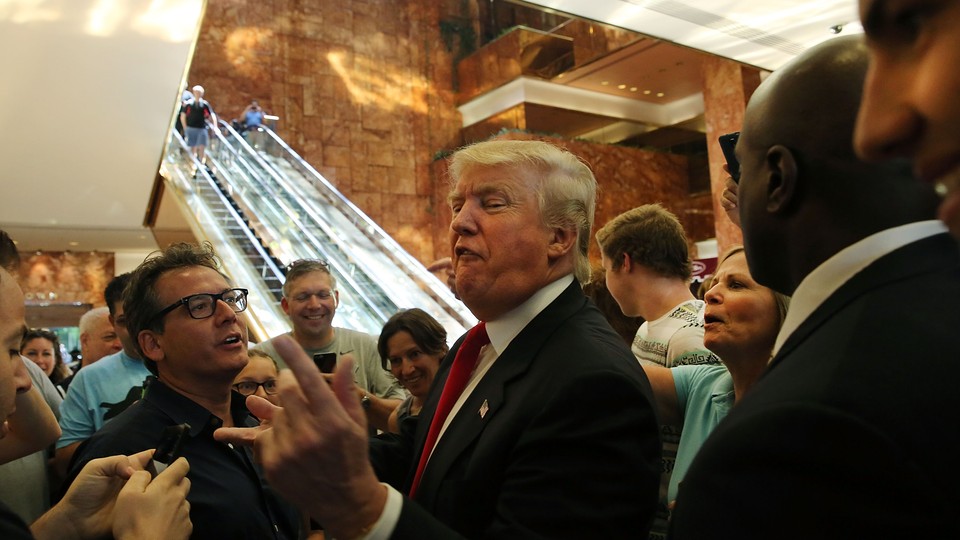 After celebrity chef José Andrés decided to cancel plans to open a restaurant at a new Trump property, the presidential candidate filed a lawsuit last week. He wants $10 million in damages from Andrés, arguing the chef breached his contract by refusing to go through with the planned eatery.
But Trump should be wary of Latino business power. Andrés essentially serves as a stand-in for the millions of Latino business owners who constitute 20 percent of all business owners in the country. By singling out Andrés, Trump might have put hot peppers in his mouth.
In the days following Trump's comments about undocumented immigrants and Mexicans in his launch for the presidency, Andrés lambasted the billionaire.
"Donald Trump's recent statements disparaging immigrants make it impossible for my company and I to move forward with opening a successful Spanish restaurant in Trump International's upcoming hotel in Washington, D.C.," Andrés said in July.
"More than half my team is Hispanic, as are many of our guests," he added. "And, as a proud Spanish and recently nationalized citizen myself, I believe that every human being deserves respect, regardless of immigration status."
The U.S. Hispanic Chamber of Commerce, which has more than 200 local chambers and business associations around the country, and Geoscape's 2014 report on Latino businesses provide some idea of the opponent Trump might be up against.
There were 2.26 million Latino-owned businesses in 2014. They are projected to grow to 3.22 million in 2015, which equals 43 percent growth since 2007 — more than double the growth rate of all U.S. firms.
Total receipts for these businesses in 2014 was projected at $486 billion.
The report asserts that "as the non-Hispanic white population ages, retires, and depends on Social Security and pensions, Hispanic entrepreneurs will begin to bear more of the burden to thrust the economy forward."
If small and medium Latino-owned enterprises start to move away from doing business with Trump — like other major companies have recently — the businessman could be adversely affected where it matters most: his corporate bottom line.
What's more, his ambitious goal of being "the greatest jobs president that God ever created" will be impossible to accomplish without that 20 percent of businesses owned by Latinos.
Additionally, if many of the owners of those businesses — who are affluent and therefore the type of clientele Trump entities covet — start to boycott his hotels, casinos, and luxury high-rises, he may have a lot of explaining to do during shareholder meetings. About 30 percent of Latinos who are small-business owners earn $100,000 or more in household income.
Trump likes being in the limelight, but picking this fight with Andrés might have put him in the bull's eye for millions of Latino business owners.