Trump Dumps on EPA Over Mining Waste Spill
As EPA says water levels returning to normal, candidates see spill as political fodder.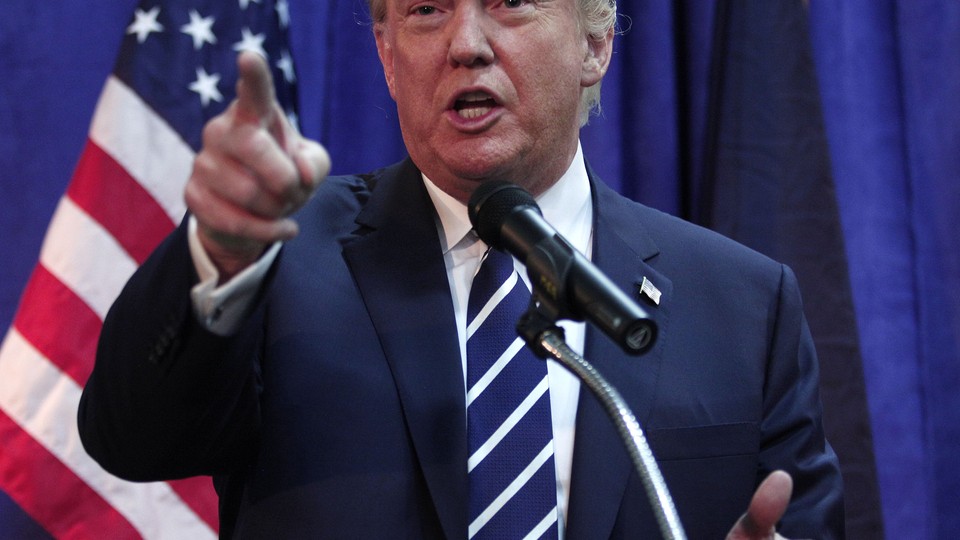 Republican presidential candidate Donald Trump laid into the Environmental Protection Agency for the accidental release of mining waste that discolored a Colorado river, calling it a "disgraceful" mistake.
"I'm looking at that every night now on the news, and the water is pure yellow. It's all acid, the worst stuff," Trump said in an interview with radio host Hugh Hewitt Thursday. "Probably, you're right, probably going to kill the fish, kill everything. And it was totally their mistake."
"I mean, they go around and give people like me a violation if something minor happens. It is so disgraceful what happened with that river, just incredible," Trump added, according to a transcript.
The EPA has faced plenty of fire after causing the spill last Wednesday when a team evaluating water releases at an abandoned mine and assessing future clean-up accidentally triggered the release of 3 million gallons of mining waste while excavating loose material at the mine entrance.
Thursday, the agency said that tests showed that levels of 24 metals in the water — including arsenic, cadmium, lead, and mercury — had returned to their pre-spill levels in the area between the spill and a municipal water intake. State officials have indicated that the water is returning to safe levels and could be reopened for recreational activity soon.
State and local officials have charged that the agency was too slow and not communicative in its response, and national Republicans have begun to pile on from the Hill and beyond. An aide with the House Oversight and Government Reform Committee told National Journal that the committee plans to hold a hearing on the spill when Congress returned from its August recess.
Administrator Gina McCarthy has apologized and said the agency is taking responsibility, and she has promised internal and external investigations into the spill and its response. "Right now, rest assured, we will learn lessons from this, and we will move those lessons forward in the work moving ahead," McCarthy said at a press conference in Durango, Colorado on Wednesday, adding that all field work at mines has been stopped.
In his interview, Trump stopped short of saying that McCarthy should be fired, but he said it was more proof that the EPA's activities should be moved out of Washington and handled on the state and local level.
"You know, sometimes a mistake is big enough, you just can't, in your own mind, as a boss, you just can't get your arms around it, and you say: 'Just get out of here. I want to start all over again,'" Trump said.
Presidential candidate Sen. Marco Rubio of Florida also weighed in on the spill in a separate interview with Hewitt, saying it exposed the "incompetence of the EPA" and accusing them of being "completely unresponsive."
"They're providing no insight, no information, nothing whatsoever," Rubio said.
"So it's not just the crisis they've created, it's their response to it that belies arrogance and this notion that, 'Yeah, we're sorry it happened, but we don't need to give you any more information, because we're the EPA and you can't do anything to us,'" he added. "So I think it's both competence and arrogance at play."