Tim Scott's 2016 Tryouts Begin
The South Carolina Republican is continuing his town halls with White House contenders from August through December. His endorsement could come in January.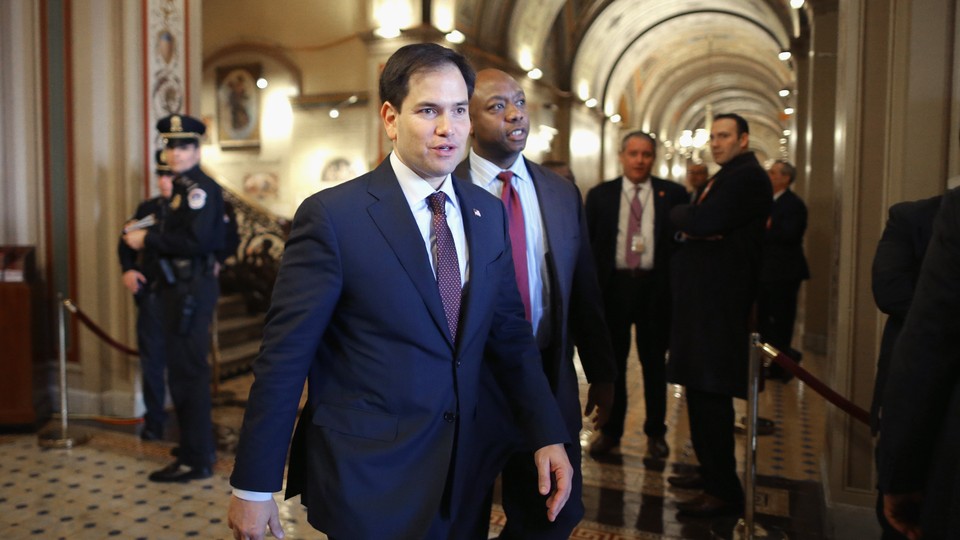 Sometimes before a big crowd, Tim Scott caps his speech with a song. He ribs his staff for failing to bring music, says he'll just go a cappella, and invites everyone to snap along. Then Scott begins to cover Wee Gee's "Hold On (To Your Dreams)," a favorite of his since graduating high school in 1983. But instead of a plodding politician's baritone, Scott tweaks to a shrill ear-piercer. For years, South Carolina audiences have eaten it up.
In the coming months, almost every GOP presidential candidate hopes to hear Scott sing his or her praises — even if he's slightly off-key. In 14 (and counting) scheduled "Tim's Town Halls," the junior senator from South Carolina will get what few can after only a handful of years in Congress: a stage with the party's major candidates in front of his constituents, and a major chance to inject his personal policy priorities into the race.
"To the extent that I can make sure that the conversations with the candidates are focused on my legislative agenda, I think we'll have a nominee that has ability to gain traction throughout America," said Scott in an interview.
Scott's schedule during this coming recess includes an Aug. 20 event with Louisiana Gov. Bobby Jindal, an Aug. 27 event with former Texas Gov. Rick Perry, a Sept. 2 gathering with former Sen. Rick Santorum, and a Labor Day town hall with Sen. Marco Rubio.
Scott's endorsement — which could come as soon as January, a month before his state's First in the South primary — is highly coveted. Scott says he has shared staff and talked politics with Chris Christie, catching him earlier this year at Gov. Nikki Haley's inauguration. He notes that he has worked with Jeb Bush and Jindal on education, his top priority. He recently met up with Scott Walker in Charleston and got to know him better through "several good conversations," including one a couple of Fridays ago that lasted "for about 45 minutes." Last year he went to fundraising events — and church — with Rubio and launched a Women in Leadership forum featuring Carly Fiorina. Even Donald Trump, who hasn't locked down a town hall yet, has spent time with Scott; you can find pictures of them holding replica flintlock rifles awarded by Citadel Military College cadets at the annual Patriot Dinner in February.
Why the candidates seek out Scott is clear: His popularity in the early-primary state is stratospheric. He's staked out a foothold on school choice, which the party has embraced and used to woo minority voters. And Scott is the only GOP African-American senator, the first of either party to win in the South since Reconstruction.
In an interview, Sen. Ted Cruz even compared Scott, who grew up poor in a single-parent household in North Charleston, to his own hero, Cruz's father, a "penniless immigrant" who was tortured by the forces of dictator Fulgencio Batista before leaving Cuba in 1957.
"Tim's own personal journey likewise came through struggle, through hard work, and he discovered the false hope and the dependency that the big-government solutions of the Left can present," said Cruz.
That kind of praise is guided not only by the candidates' relationship with Scott but by their South Carolina strategists, some of whom have worked to fuel Scott's rise. Cruz state director LaDonna Ryggs, who saw Scott speak, sing, and give roses to the National Federation of Republican Women at an event years ago, says she has a picture of her "little grandson" meeting Scott after she held signs for his Senate campaign with her family out on street corners. "I did a lot to help him get elected," she said.
Ryggs isn't alone. Rick Perry's top South Carolina adviser, Katon Dawson, who used to run the state GOP, says he has been friends with Scott for about 20 years, and worked for him when Scott ran for the state House. "I knew Tim before Tim was Tim," he said.
"I suspect Tim will be talked about as a vice presidential nominee before it's over with," said Dawson. "He draws a big audience. He's very well organized. It's something that is substantial. He fills up the auditoriums for people.
"It's not the end-all be-all to any campaign," adds Hogan Gidley, a Huckabee adviser, of a Scott endorsement. "But it's definitely wanted."
None of this bragging and jostling comes as a surprise to Matt Moore, the South Carolina GOP chairman. "I think his endorsement could be a game changer for anyone who would be lucky enough to get it," Moore told National Journal. "I think Senator Scott is arguably, or maybe inarguably, the most well-liked, the most popular Republican elected official in South Carolina."
Scott takes it all good-humoredly. "Hopefully it will help inform South Carolinians on what I think is important, and maybe someone cares," he said. "Matt" — Scott's former state director — "is a little biased," he added.
But Scott doesn't take lightly the discussions at his town halls, which he envisions to be more substantive than merely a "pep rally." They range from 60 to 90 minutes, beginning with Scott introducing the candidate, followed by a short speech and audience questions. Occasionally he shares the stage with Rep. Trey Gowdy, whom he called "Silver Surfer" in the interview for his '80s slicked-back do. Scott says that before the forums are done he throws in his question, which typically involves expanding school choice.
"I think any candidate who wants to be considered a serious candidate, from my perspective, if they are not supportive of school choice it's highly unlikely that I'm going to be supportive of them," he said. "They all seem to be positive, but I want to know what their position is and how they would actually help accomplish that."
While Republicans have broadly embraced school choice in principle, candidates — even before they were candidates — have moved to stamp the issue with Scott's particular brand; in January, Sens. Cruz, Rubio, and Rand Paul all signed up as cosponsors to Scott's "Choice Act."
Scott's clout will soon be tested on a much more controversial topic. Recently, after a cop fatally shot a man from his hometown and the cell-phone video capturing the incident went viral, Scott introduced a $100 million-per-year bill to provide state and local officers with body cameras. "I won't say that my approach is the only approach, but if you have no openness to our legislative agenda then it's going to be difficult for me to be supportive [of you]," said Scott. So far, Scott has the support of Sen. Lindsey Graham of South Carolina, and he says Rubio will come on board too. But many will be skeptical. Cruz said it was a "proposal certainly worth considering carefully" before changing the subject, denouncing officials who demonize and attack police officers.
Cruz and Scott will have plenty of time to talk about the proposal; they have one of the last town halls on Dec. 7 in Greenville. It's not clear yet whether Scott will sing.