The Tangled Web Pennsylvania's Attorney General Allegedly Wove
Kathleen Kane, a Democrat, was charged with leaking grand jury documents in order to embarrass a political rival, and then lying about it to another grand jury in an attempted coverup.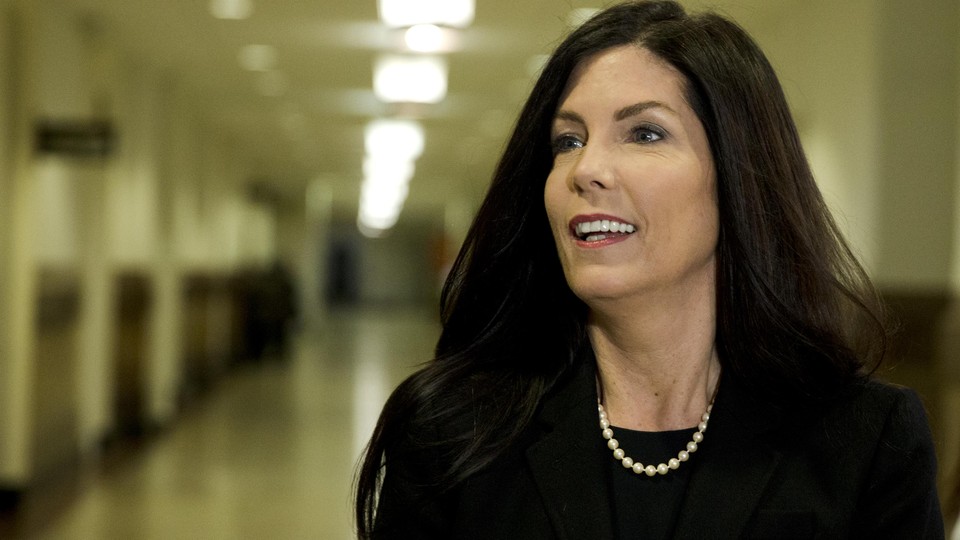 Pennsylvania Attorney General Kathleen Kane was charged Thursday with leaking grand-jury documents in order to embarrass a political rival—and then lying about it to another grand jury in an attempted coverup.
"Kane devised a scheme to secretly leak confidential information and secret grand jury items directly to media," Risa Ferman, the district attorney in Pennsylvania's Montgomery County said at a news conference.
She said Kane, the first Democrat elected as attorney general in the state, "lied repeatedly about her own actions, about the law and about other matters."
Kane was charged with, among other things, perjury and obstruction of justice.
In a statement, Kane denied wrongdoing and said she looked "forward to the opportunity to present my case in a public courtroom and move beyond the behind-the-scenes maneuvering that has defined the process to this point." And despite calls for her resignation, including from Governor Tom Wolf, a fellow Democrat, Kane said she would not step down.
"A resignation would be an admission of guilt and I'm not guilty," said Kane, who has served as attorney general since 2012.
Kane was a virtual unknown when she won the race for attorney general. As the Philadelphia Inquirer noted in a profile in April:
This is no button-down, patient climber of Pennsylvania's male-dominated electoral ladder. Kane is from the grab-it-with-all-your-might school. A fighter.

Her grit fueled a swift rise from virtual nobody to political power player, and lifted her from a challenging childhood. But that relentless drive and determination to win may be the traits that have brought her to the brink of possible prosecution midway through her first term in office.
Kane's troubles began last year when the Inquirer published a story that said she shut down an investigation into corrupt Philadelphia Democrats. Kane blamed Frank Fina, the lead investigator on that case, for the newspaper's story.
So, prosecutors allege, to punish him, Kane leaked information to the Philadelphia Daily News concerning Fina's handling of an older corruption case involving an official from the NAACP. The Daily News story, also published last year, said the attorney general's office had begun a grand-jury investigation into the official in 2009—before Kane's time at the office—and found evidence the official had misused funds, but never charged him. The article itself relied on confidential grand-jury information, which prosecutors say Kane released to the newspaper in order to embarrass Fina and her political opponents.
Appearing before a grand jury last year, Kane acknowledged leaking some information to the newspaper, but denied that the information she leaked was covered by grand-jury secrecy.
The Inquirer adds:
But even as the grand jury continued to investigate Kane's conduct, the indictment alleges she organized an aggressive counterintelligence probe to monitor the panel's activity …

This expedition, prosecutors said, violated a protective order issued by the judge overseeing the Kane investigation barring her from meddling in the grand jury's work or retaliating against anyone who might have testified before the panel.
Kane is expected to turn herself in to a district judge in Montgomery County at a later date, the Inquirer reported.