Who Won the Republican Presidential Debate?
Ten leading candidates for the nomination faced off in Cleveland, and some fared better than others.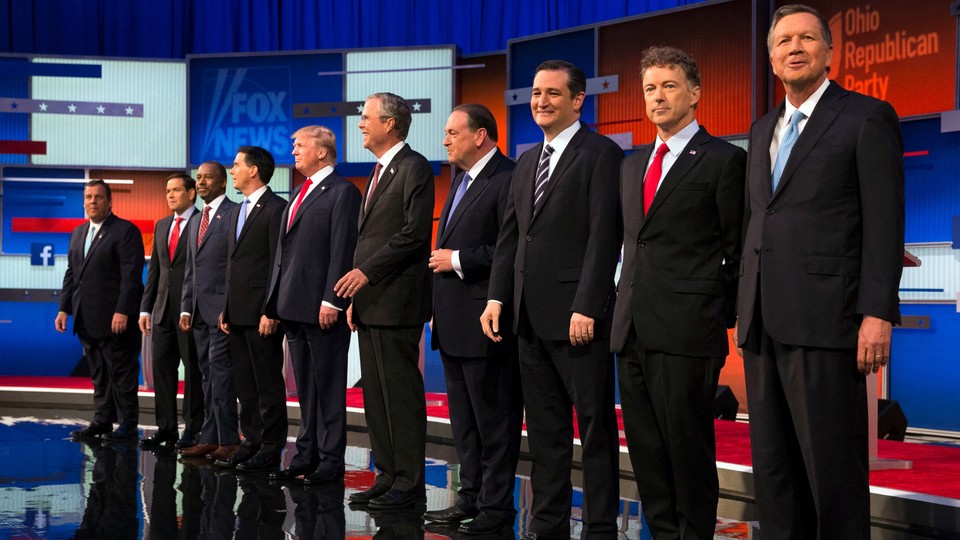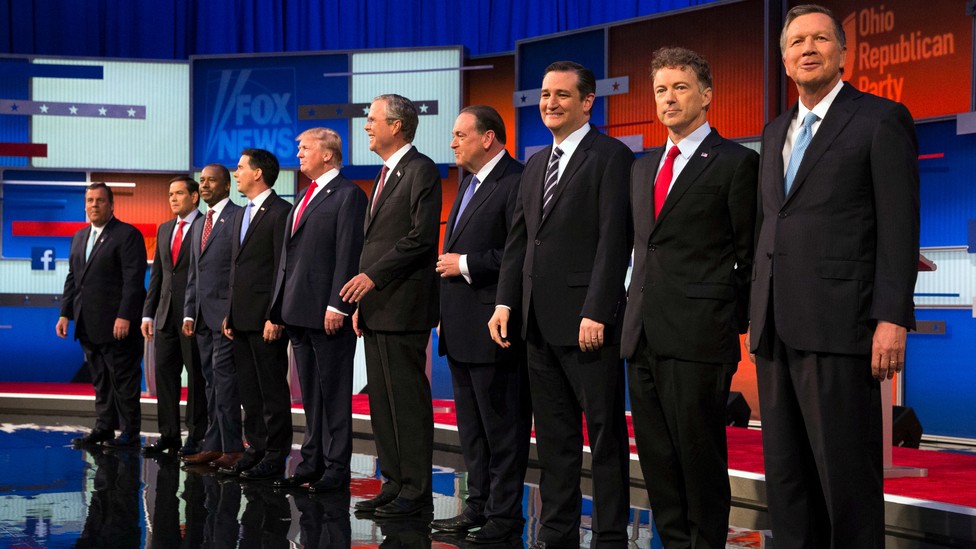 Anyone who thought that Donald Trump would take a conciliatory tack in the first Republican debate was quickly disillusioned. Chris Wallace, one of the Fox News moderators, asked if any candidate was unwilling to pledge to support the eventual GOP nominee. And Trump, offering his best, most dramatic shrug, happily refused to take the pledge.
That set the tone for the rest of the night: First, the moderators weren't going to pull any punches. Throughout the evening, they probed the candidates' greatest perceived weaknesses. And second, Trump had no intention of abandoning the act that's carried him from perennial joke to the top of the Republican presidential-nomination field.
It was a debate marked by conversations about immigration, abortion, and foreign policy—especially about Iran. The discussion of race relations, the biggest news story of the last year, was notably sparse. It took more than 90 minutes until a candidate received a #BlackLivesMatter question, and when it came, the candidates opted to tread lightly, avoiding unforced errors.
The evening also lacked many direct battles between the candidates. That was partly a factor of the format, but when asked to critique or speak directly to an onstage rival, the hopefuls often demurred.
That made the two big battles of the night all the more notable. In the first, New Jersey Governor Chris Christie and Kentucky Senator Rand Paul battled over terrorism and civil liberties, with Christie accusing the senator of failing to understand the threat to the nation—and Paul tartly responding that Christie failed to understand the Bill of Rights. Later, Christie tangled with former Arkansas Governor Mike Huckabee, who has presented himself as a defender of entitlements for workers and seniors.
And there was Trump, of course. He was, inevitably, one of the standouts of the night. Although he mostly avoided taking direct shots at his opponents, he couldn't resist battling the moderators. They hardly relented, asking him about boorish comments about women; his slurs against Mexican immigrants; his previous Democratic allegiance; his past description of himself as pro-choice; and his donations to Hillary Clinton.
Trump repeatedly took issue with questions and interrupted the hosts, and what he lacked in coherence or detail, he made up for in bluster and grievance. Some of the questions seemed to play directly into his hands. Whether the night was good or bad for Trump remains to be seen—I've learned better in recent weeks than to try to predict whether the real-estate mogul's comments will redound to his benefit or disadvantage.
But it's interesting to watch Trump turn his weaknesses into strengths, which he does with an ease that eludes some long-time politicians. And he has plenty of weaknesses. He seems to be betting that his clear anger can, well, trump all of those flaws. Asked about donating to Clinton, for example, Trump delivered what amounted to a rousing defense of crony capitalism, saying that as a businessman he did what he had to. Later, asked about his companies declaring bankruptcy, he insisted he was just shrewdly taking advantage of the system.
He seems to be saying to the disaffected everyman Republican who's angry at Washington and angry at his leaders: Yes, you're right. The system is rigged. Would you rather elect a guy who's part of that, or a guy who sits outside it and is shrewd enough to get rich from it? The hope is that they'll respect his hustle and his ability to take advantage of that rigging, rather than viewing him as an elite charlatan.
Among the other candidates, former Florida Governor Jeb Bush was able to make a strong impression and get lots of camera time but he also faced several difficult questions from the moderators, and he didn't always have ready answers. Despite being asked repeatedly about the war in Iraq, Bush still doesn't have a punchy and persuasive response (a problem he shares with Hillary Clinton). He also stumbled in replying to questions about his membership on the board of Bloomberg Philanthropies and about the Common Core.
Florida Senator Marco Rubio gave one of the best performances of the night, showing why so many commentators remain bullish on his prospects despite his middling poll numbers. Rubio delivered strong and detailed answers, appearing poised and in command of his material. His best line of the night came early on, when he noted that he'd only recently paid off his student loans and asked, "How is Hillary Clinton going to lecture me about living paycheck to paycheck?"
Yet perhaps the most surprising showing came from Chris Christie. His presidential campaign has widely been viewed as past its expiration date. But he was able to capitalize on his everyman persona Thursday night—speaking in detail, delivering his responses with passion, and picking his fights without letting his temper get the better of him.
Not everyone had such a strong night. Wisconsin Governor Scott Walker has consistently run alongside Bush and Trump atop polls, but his answers on Thursday night were forgettable. In his closing statement, he promised he was "aggressively normal," but Walker's problem in Cleveland was that the "aggressive" hardly came through. That's not the worst-possible scenario for him: He avoided committing a serious gaffe, despite repeated questions that seemed aimed at testing his knowledge of foreign policy, and his strong showing to this point means this debate is unlikely to prove decisive for his prospects.
Ben Carson, a first-time debater and candidate, seemed listless and low-energy, and while he faithfully repeated the culture-war mantras that have won him fans, he didn't have direct answers to almost any of the questions he fielded. (Carson did score some late points with a couple of funny jokes about brain removal in his closing statements.) Rand Paul also seemed a bit lost on stage. At his best, Paul is able to use the rest of the field as his foil, but on Thursday, he fumbled questions about Iran and foreign aid to Israel, passing up opportunities to land punches on his rivals. Beset by campaign scandal and fundraising struggles, Paul needed a strong performance, and he failed to produce one.
Texas Senator Ted Cruz and Huckabee, meanwhile, made up the middle of the pack and presented an interesting contrast. Both are charismatic figures vying for the social conservative vote. Cruz stuck mostly to his tried and true lines, and boasted of the long list of legislation that he has proposed in the Senate (without emphasizing the fact that none of it has become law). Huckabee, meanwhile, threw red meat to religious conservatives while playing up a populist case for entitlements.
The biggest question mark of the night is John Kasich. The Ohio governor was the last man to make it onto the stage,  polling lowest among the 10 candidates who made the cut. At times, he seemed in command, but he also didn't have a good answer to a question about accepting Medicaid expansion under Obamacare. Was his performance enough to make it to the next stage, or will a standout from the "kids' table" debate earlier—perhaps consensus champion Carly Fiorina—take his spot? —David A. Graham
---
This liveblog is in reverse chronological order. To read it from the start of the speech, begin at the bottom.
---
11:12 p.m. Two important topics we didn't get any questions on: guns and climate change. One is a traditional red-meat question for conservatives in the primaries, while the other is a potentially hazardous one for the general election. It'll be interesting to see if future debates approach either issue, or if they'll fade into the background until a nominee is chosen. —Matt Ford
11:06 p.m. John Kasich strikes me as one of tonight's winners: Few Americans had heard of him, he performed relatively well, and he got a lot of applause from the home-state crowd. Qualifying for this debate was a big deal for him, and preserves his chance to rise in the polls over the coming weeks. —Conor Friedersdorf
11:00 p.m. It's unfortunate that only Ben Carson was asked about race relations. While he brings a unique perspective to it as one of the most prominent black conservatives in America, it's an issue any president will have to confront and a question every candidate deserves to answer. —Matt Ford
10:57 p.m. Rand Paul stresses that he's a "different kind of Republican," capable of building a bigger tent. "I've been to Ferguson, I've been to Baltimore," he says.  And the crowd cheers. It forms a striking contrast with the closing statements of the other candidates, which only serves to further underline his point. For a much-touted candidate whose campaign has stumbled badly, it's a rare positive moment. —Yoni Appelbaum
10:55 p.m. Fox News thought to ask about "the veterans" after 14 years of war because a woman from the audience crept up to the stage and whispered in the moderator's ear? What a strange debate. —Conor Friedersdorf
10:54 p.m. The closing question about receiving a word from God underscores how the Republican Party sometimes risks alienating secular conservatives, particularly the younger voters of the millennial generation. —Tyler Bishop
10:52 p.m. We've arrived at the rail-splitting and log-cabin phase of the tonight's event, in which the presidential hopefuls of the Party of Lincoln, who number among the most powerful men in the world, compete to offer the humblest origin stories and to proclaim the greatest modesty. —Yoni Appelbaum
10:47 p.m. The banter between Chris Wallace, Megyn Kelly, and Bret Baier tonight has skated riiiiight on the line between amusing and deeply awkward. —David A. Graham
10:44 p.m. We're not learning a great deal from this foreign-policy focused set of questions, except that the candidates are generally in favor of military spending. —David A. Graham
10:43 p.m. Ben Carson is in a tough spot: He lacks either the charisma of Donald Trump or the grasp of policy displayed by the longtime elected officials. It's hard to see anything about his performance tonight that distinguishes him or will appeal to voters enough to keep him near the top of the GOP field. —Conor Friedersdorf
10:42 p.m. Bret Baier seems to be systematically pushing Scott Walker and Ben Carson, two candidates who are thought to be weakest on foreign policy, on war and diplomacy questions. They're staying general, and avoiding specific replies.  —David A. Graham
10:41 p.m. It's hard to listen to the GOP rivals on foreign policy without becoming profoundly depressed. They paint a bleak picture of a world full of ruthless foes, and a United States that lacks the will, and perhaps the weaponry, to oppose them effectively. They might defend this as a bracing dose of realism. But if their answers are sprinkled with reverent references to Ronald Reagan, there is little of his optimism in their answers. —Yoni Appelbaum
10:40 p.m. Donald Trump and Ted Cruz both fielded questions about how they would respond to specific foreign policy incidents by complaining that President Obama has done a terrible job. In other words, they both evaded the question. Little surprise that the two of them often address foreign policy in the way of people who are out of their depth. They have no idea how to be good foreign policy presidents, and with their evasive answers, it shows. —Conor Friedersdorf
10:38 p.m. Bret Baier asks Cruz if China and Russia have committed acts of cyberwarfare against the U.S. "Of course they have," Cruz replies. What are the implications of accusing those two countries of acts of war? He doesn't say what actions that demands. —David A. Graham
10:37 p.m. Scott Walker says the most important thing we can do about policing is giving cops proper training—when politicians speak to a deeply contested debate by highlighting a stance with which literally no one disagrees, it's a sure sign that they are hiding more contentious views, and suggests a failure of leadership, insofar as they are unwilling to think through the toughest parts of the controversy or to persuade Americans that they are right about it. —Conor Friedersdorf
10:33 p.m. Megyn Kelly asks Scott Walker about #BlackLivesMatter and whether it's the civil-rights issue of our time. After an unsteady start, he cites his friend Milwaukee County Sheriff David Clarke on the need for better training. Most importantly for him, he avoided an "All Lives Matter" error. —David A. Graham
10:32 p.m. Abortion is playing a predictably large role in this debate, which comes with Planned Parenthood back in the headlines. Megyn Kelly asks Rubio about his opposition to exceptions in the cases of rape and incest, a characterization of his record that Rubio promptly disputes. But he's not mincing words, either. "I believe that every single human being is entitled to the protection of our laws," Rubio says. Future generations, he continues, will look back and call us barbarians for murdering millions of innocents. The answer draws cheers, but may do more to shore up Rubio's support within the GOP than to position him for the general election. —Yoni Appelbaum
10:31 p.m. John Kasich says he recently attended a gay wedding, garnering applause. —David A. Graham
10:31 p.m. When the Iran nuclear deal came up earlier tonight, unsurprisingly, Rand Paul and Mike Huckabee voiced their criticisms. Paul has noted his concerns about the deal, such as sanctions relief, but, as he did Thursday night, said he's open to negotiations. Huckabee, while also opposed, offered a tamer response since coming under fire for likening the deal to the Holocaust. —Priscilla Alvarez
10:30 p.m. Marco Rubio says future generations will look back and call present day Americans "barbarians" for allowing unborn babies to be killed. And yet, when Rubio speaks about present day America's role in the world, he asserts that we are exceptional, a shining beacon of freedom, a city on a hill. There is a deep incoherence in thinking both of these things at once. —Conor Friedersdorf
10:25 p.m. Megyn Kelly asks Bush why he sat on the board of the Bloomberg Foundation, which donated to Planned Parenthood. Bush says he joined because of Bloomberg's work on education reform, and he adds that he never debated the budget. He also says that as governor he was extremely pro-life. But Bush looks like he's flailing a bit, and cozying up to Michael Bloomberg is perhaps dangerous for a Republican candidate. In fact, there are ads attacking Bloomberg's gun-control efforts airing during this very debate. —David A. Graham
10:19 p.m. Walker, Paul, and Huckabee all give fairly uninteresting answers on Iran. Even Paul, who is theoretically in favor of negotiations, says he opposes the deal. Walker suggests he could get allies to reimpose strict sanctions on Iran, without specifying how he'd pull that off. —David A. Graham
10:17 p.m. Sorry, Rand Paul: you can't win over anti-war voters by merely saying that you favor negotiating generally even as you say you'll vote against the best chance to avoid a war with Iran. —Conor Friedersdorf
10:13 p.m. Trump says, "This country owes $19 trillion, and they need someone like me to straighten out that mess." What's he going to? Declare national bankruptcy? —David A. Graham
10:13 p.m. Donald Trump's many bankruptcies are arguably his biggest liability. Not just literally, but also the thing most likely to tarnish his super-businessman image in the eyes of his populist supporters. Declaring bankruptcy and explaining it away sounds an awful lot like what the elite hucksters do. —Conor Friedersdorf
10:11 p.m. The spectre of Mitt Romney is haunting this debate. Many thought the 2012 debates weakened him by forcing Romney to act more conservative in the primary than a general electorate could stomach. So far, the Republican debates seem designed to prevent a repeat. Instead of testing their conservative bona fides, the questions in the first hour focused on weaknesses: Bush and dynasties, Kasich on Medicare expansion, Carson on inexperience, and Trump on, well, everything. And the moderators keep hammering the same theme: Can you beat Hillary Clinton in 2016? —Matt Ford
10:10 p.m. Former Arkansas Governor Mike Huckabee manages to do the impossible: Take a consumption tax, and make it sound sexy. When he explains that his proposal would tax everyone—including pimps, prostitutes, and other freeloaders—helping to bail out entitlements like social security, he draws cheers and whistles from the crowd. —Yoni Appelbaum
10:07 p.m. Scott Walker's triumphs in a series of battles against organized labor have vaulted him to the top tier of the Republican race. Chris Wallace just brought up the other side of that equation: Even though Walker has gotten what he wanted in that fight, Wisconsin's economic growth has been anemic. Walker doesn't have a great answer to that. —David A. Graham
10:07 p.m. Just once, I would like to hear a presidential candidate say, "Frankly, presidents do not dictate the health of the economy. If they knew how to do that, no one would ever run for reelection during a recession, and yet that has happened again and again to presidents and governors of both parties." —Conor Friedersdorf
10:05 p.m. Chris Wallace presses Jeb Bush to explain why he thinks he can deliver 4 percent annual GDP growth. Bush, gamely, gives it a try. Here's why he can't. —David A. Graham
10:03 p.m. Ben Carson is showing his weakness and his strength all at once. Asked how he'd campaign against Hillary Clinton, he offers a strong set of culture-war arguments, including a Saul Alinsky namecheck. But he also never really said how he'd deal with attacks from Clinton, and the answer is really more of a grab-bag of random phrases than a coherent reply. —David A. Graham
10:02 p.m. Jeb Bush continues to stand alone in his defense of Common Core.  During his tenure as Florida governor, Bush placed emphasis on education reform, and it's spilling into his campaign as he tells panelists that states should uphold higher education standards. —Priscilla Alvarez
9:59 p.m. John Kasich suggests that, if attacked by Hillary Clinton, he will tout economic growth and his ability to balance budgets. In response, Clinton would likely say that she, too, wants a prosperous economy, and point to her husband's time in office. Asked the same question, Ben Carson says that Clinton is the epitome of the secular progressive movement, who takes advantage of useful idiots—he promises to educate people that it's the progressives who are actually causing their problems. Neither of these responses seems very likely to successfully best Clinton's message. —Conor Friedersdorf
9:54 p.m. After Marco Rubio launches a scathing attack on federal efforts to cram standards down the throats of local communities, Jeb Bush—a staunch defender of the Common Core—replies by stressing the importance of high standards. But both frame their answers by emphasizing the importance of state and local control of education, a point that accords with the views of the Republican electorate. The exchange, though, underlines the distance traveled by the GOP since the days of No Child Left Behind, when federal standards were widely seen as necessary and beneficial. —Yoni Appelbaum
9:52 p.m. On national television, Donald Trump says he gave politicians money during a campaign and received favors from them during their term. Whether or not that fits any legal definition of corruption, it certainly shows how much influence money has in the American political system. And it's doubtful Trump is the only one who benefits from it. —Matt Ford
9:51 p.m. Credit where it's due: Donald Trump just mounted a stirring defense of crony capitalism, though it's hard to imagine that will help him much with voters. But he can't name a single favor he received for the donations he gave to the Clinton Foundation save her attendance at his wedding. —David A. Graham
9:50 p.m. At long last, Fox News has given Donald Trump a challenging question, pointing out his flip flops on health care. He handles it as well as he could: by reminding everyone that he has a businessman's experience dealing with the health care system. Bizarrely, by the end of his answer, other candidates on stage were suggesting that Trump should give them some of his sweet billionaire cash, even as Trump was saying, accurately, that most politicians are bought and sold. —Conor Friedersdorf
9:49 p.m. Rand Paul calls Trump out on his past support for single-payer care, saying that the Republican Party has been against single-payer for decades. Trump doesn't hesitate: "I don't think you heard me. You're having a hard time tonight." —David A. Graham
9:48 p.m. Rand Paul and Chris Christie's earlier clash on the collection of phone records highlights a major and growing rift among today's conservatives: national security vs. civil liberty. Talk about "keeping America safe" and "halting unnecessary surveillance" both receive a lot of support and applause, but the political reality is that—at least when it comes to modern technology, including phone records—the two inevitably come into conflict. —Tyler Bishop
9:47 p.m. Donald Trump is bragging that he came out strongly against the war in Iraq in July 2004. One problem: That was more than a year into the war. —David A. Graham
9:45 p.m. Ted Cruz, in response to a question from Megan Kelly on ISIS, said he supported a bill in Congress that would strip Americans who fight ISIS overseas of their U.S. citizenship. It's been proposed in countries like the U.K., but in the U.S., the bill would likely violate Afroyim v. Rusk, a Supreme Court ruling in 1967 that forbids Congress from involuntarily revoking American citizenship. —Matt Ford
9:44 p.m. Jeb Bush still doesn't have a great answer to questions about his brother George W. Bush's war in Iraq. But he did pivot quickly to criticizing Obama for allowing ISIS to grow. —David A. Graham
9:43 p.m. Ted Cruz speaks about President Obama's response to terrorists as if Obama hasn't spent eight years ordering countless lethal drone strikes. —Conor Friedersdorf
9:42 p.m. Ted Cruz is praising Egyptian President Sisi, which is a pretty bold move—given that Sisi is an autocratic leader who has consistently pushed back on the religious freedom Cruz treasures so dearly stateside. —David A. Graham
9:41 p.m. The national conversation on criminal-justice reform is changing, but you can see echoes of the tough-on-crime era in the immigration debate. Chris Wallace asked Ted Cruz if he'd support "Katie Steinle's Law," which he described as a measure to defund sanctuary cities, named after a woman murdered by an undocumented immigrant in San Francisco. Cruz responded by calling for harsher criminal penalties overall. This was a common thread tying together criminal-justice policies before reform was in vogue: constructing broad policies in response to the most serious cases. —Matt Ford
9:40 p.m. Chris Christie said that he would never apologize for protecting the American people. J. Edgar Hoover took the same position. This notion that everything done with the intention of protecting America is necessarily kosher is pernicious nonsense. It is, as Rand Paul suggested, antithetical to the Bill of Rights. —Conor Friedersdorf
9:38 p.m. Well, here we go, folks: The first real hand-to-hand combat of the night is between Chris Christie and Rand Paul, over civil liberties and bulk collection of records. Christie accuses Paul of endangering American lives. Paul replies that Christie misunderstands the Bill of Rights. —David A. Graham
9:36 p.m. Ted Cruz, whose ancestors immigrated to America and helped to change it, speaks as if we're all descended from Native Americans. —Conor Friedersdorf
9:32 p.m. John Kasich just said something interesting. Chris Wallace tried to get him to speak to Trump's immigration record, and Kasich neither condemned him, as Bush and Rick Perry have done, nor cozied up, as Ted Cruz did. Instead, he tried to split the difference: "We need to take lessons from Donald Trump if we're really going to learn. Here's the thing about Donald Trump. Donald Trump's hitting a nerve in this country. People are fed up. For people who want to just tune him out, they're making a mistake." —David A. Graham
9:29 p.m. With its third question to Donald Trump aimed at his immigration position, Fox News has given him a chance to highlight the one thing most every viewer already knows about him, and the one subject he's discussed to the exclusion of all others. With respect to Trump, this is an atrocious moderating job: every opportunity to test the candidate or to convey new information about him to voters has been squandered. —Conor Friedersdorf
9:27 p.m. What's incredible about Trump is his reality distortion zone: He creates facts, at least in his own mind. He just told Chris Wallace that there was no discussion of illegal immigration until he brought it up. Is that true? Of course not. But he said it with complete confidence. —David A. Graham
9:26 p.m. Jeb Bush implies that people are dying because of sanctuary cities. In fact, sanctuary cities make the undocumented immigrants inside them more likely to report crimes and act as witnesses when local police officers are trying to catch people who committed crimes other than immigration violations. It is more likely that sanctuary cities make American citizens safer. —Conor Friedersdorf
9:24 p.m. John Kasich purposefully invoking work that he's done to treat the health care needs of people in prison is a striking reminder of how much the politics of incarceration in America is changing. It's hard to imagine anything like it even a couple of presidential election cycles ago. —Conor Friedersdorf
9:22 p.m. Rand Paul is the first Republican to articulate a position that distinguishes himself from a lot of other people on stage, though most viewers probably don't recognize the positions of the other candidates on a matter like arming the Syrian rebels. —Conor Friedersdorf
9:20 p.m. Mike Huckabee's signature move this election cycle, so far, is to invoke novel constitutional theories. He's already said that state governments can sidestep the Supreme Court's ruling on same-sex marriage. Tonight, asked about marriage equality, he quickly deflected to abortion and Planned Parenthood, and said he would invoke the Fifth and Fourteenth Amendments to ban abortion, on the basis that a fetus is a person and constitutionally protected. —David A. Graham
9:18 p.m. So far, Fox News has given Donald Trump two questions: one about whether he would support the Republican nominee and one taking issue with his comments about women. From Trump's perspective, these are ideal. They allow him to highlight how he is different from the other candidates—not a politician, not politically correct—and fail utterly to challenge his knowledge of the issues or to pin him down on any position. —Conor Friedersdorf
9:16 p.m. Megyn Kelly pressed Donald Trump to defend misogynistic comments he's made on Twitter. "I think the big problem this country has is being politically correct," a defiant Trump replied. "I've been challenged by so many people and I don't frankly have time for total political correctness." From there, he pivoted to the challenges facing America abroad, from Mexico to China, before returning to take a jab at Kelly for her question.
The crowd loudly cheered his denunciation of political correctness, although many seemed taken aback at his treatment of Kelly. But the exchange highlighted the gap between the popularity Trump enjoys among some elements of the Republican base, and the challenges he would face wooing the broader electorate. —Yoni Appelbaum
9:13 p.m. Anyone who worried that the Fox News moderators would lob softballs at the Republican candidates learned quickly that wasn't true. In quick succession, Chris Wallace and Megyn Kelly asked three tough questions. First, Kelly asked Carson about his repeated demonstrations about serious knowledge gaps. Second, Rubio was asked to explain his criticism of Jeb Bush's executive experience, given that he has none. Then Wallace asked Jeb to answer the claim that the nation doesn't need any more presidents named Bush. This won't be a cakewalk for the candidates. —David A. Graham
9:05 p.m. Donald Trump starts this one off with guns blazing: He refuses to pledge his support for the eventual Republican nominee, shrugging diffidently. Shorter Trump: ¯\_(ツ)_/¯ —David A. Graham
8:56 p.m. If you missed the 5 p.m. debate featuring the minor candidates, don't worry—you didn't miss much. In a room of well-credentialed politicians smarting at their exclusion from the top tier, only the lone non-politician managed not to seem like an amateur. Carly Fiorina was polished and incisive, as when she deftly skewered Donald Trump's Clinton ties while sympathizing with his disgust for the political class; social-media metrics showed a spike in interest in her candidacy. The Fox News moderators, Bill Hemmer and Martha MacCallum, seemed hostile and bored, essentially accusing all the candidates of being losers for not getting more traction. ("Senator Santorum, you failed to beat Mitt Romney … Has your moment passed?") Lindsey Graham, normally a jovial spirit, seemed glum. Rick Perry, still smarting from his debate failures four years ago, stumbled around nervously.
There were few surprises on policy—the candidates agreed that the Iran deal is bad, executive orders are out of control, and Planned Parenthood must be stopped. Bobby Jindal, George Pataki, and Jim Gilmore failed to stand out. And in the night's most stunning failure, when they were asked to use just two words to describe Hillary Clinton—along the lines of Barack Obama's "likable enough" in 2008—not a single one of the candidates met the prescribed limit, unless you didn't count "and" as a word. This is a Republican field that does not follow directions—bold mavericks who make their own rules. What were their names again? —Molly Ball
8:30 p.m. Welcome to The Atlantic's live coverage of the first Republican presidential debate of the 2016 election. The debate is scheduled to begin at 9 p.m. eastern. We'll have live updates, analysis, and information throughout the evening.
The top 10 Republican candidates in the polls, out of a field of 17, take the stage in Cleveland on Thursday night. In some ways, it's a remarkably diverse group, from the orange-haired business mogul Donald Trump, who's jumped out to an early lead; to the libertarian scion Senator Rand Paul; to former Florida Governor Jeb Bush, son of one president and brother of another.
In other ways, though, the candidates on stage are strikingly similar. They're all men; the sole woman in the field, Carly Fiorina, was squeezed out of the primetime debate. And on a wide range of issues, they've staked out remarkably similar positions. Most agree with the Republican primary electorate that President Obama's tenure has been, at best, profoundly disappointing. They are likely to compete largely in the vehemence of their denunciations of his decisions.
The debate offers a national television audience its first good look at the field. The candidates who are polling well may spend their time making the case that they are best positioned to challenge the Democratic frontrunner, Hillary Clinton. Those struggling to separate themselves from the pack may instead punch upward, challenging their better known rivals. With so many candidates, and so little time for each of them to make their cases, count on a parade of canned one-liners and sharp jabs.
Earlier this evening, on the undercard, seven GOP hopefuls squared off in front of a sea of empty seats. Fox's formula, writes Russell Berman in his recap of that debate, was apparently: "Reject seven Republicans from the main debate, invite them into an empty theater, and ask them why they're failures."
Despite having excluded almost half the field on the basis of early national polls of dubious utility, the moderators tonight may still struggle to both include all the politicians on the stage, and give any of them time to say anything meaningful. Setting the cap at ten established what my colleague David Graham called "an arbitrary limit that neither accommodates all of the candidates nor facilitates a satisfying debate."
You can read up on the whole field in our 2016 Presidential Race Cheat Sheet. We've also got detailed profiles of many in the field, from the surprising frontrunner Donald Trump, to Ohio's Governor John Kasich, who barely squeaked in to tonight's main event. —Yoni Appelbaum