The Problem With Defining 'Solitary Confinement'
The number of federal prisoners in segregated units has grown faster than the overall population. Yet the Bureau of Prisons director denies that the agency practices solitary confinement.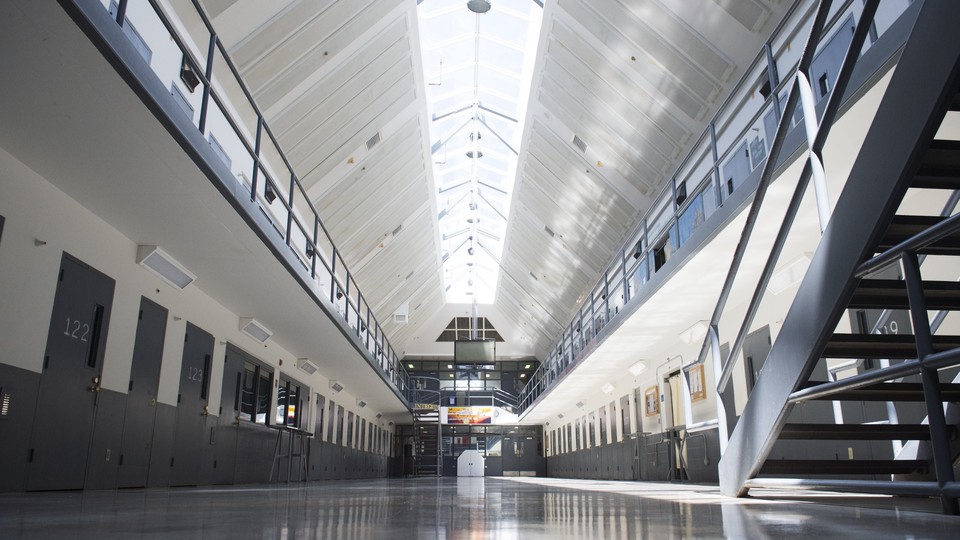 If you've ever watched the Netflix series Orange Is the New Black — a TV show based on a book about women incarcerated in a federal prison — you're probably familiar with "the SHU," or Special Housing Units. In the show, the SHU is synonym for solitary confinement, and the show's female inmates fear being sent to SHU for misconduct.
At a hearing of the Senate Committee on Homeland Security and Governmental Affairs on Tuesday, activists clashed with prison administrators over the level of mistreatment in the federal prison system, especially when it came to defining "solitary confinement."
One of the people who gave testimony at the hearing was Piper Kerman, an ex-convict and the author of Orange Is The New Black: My Year in a Women's Prison. Her account of SHU is far different from that of Charles Samuels, the director of the Federal Bureau of Prisons.
During her testimony, Kerman called on the Obama administration to replace Samuels — who is retiring from the bureau before the end of this year — with an independent leader from outside of the bureau who is committed to enacting more compassionate prison policies, such as reducing solitary confinement.
But in a confusing exchange with Democratic Sen. Cory Booker of New Jersey at the hearing, Samuels denied that the Federal Bureau of Prisons even practices solitary confinement.
"We do not practice solitary confinement," Samuels told Booker at the hearing. "Our practice has always been to ensure that when individuals are placed in restrictive housing, we place them in a cell with another individual, to also include that our staff make periodic rounds to check on the individuals."
"I'm sorry, I just really need to be clear on that," Booker cut in, sounding baffled. "Your testimony to me right now is that the BOP does not practice solitary confinement of individuals singularly in a confined area?"
"You're correct," Samuels said. "We only place an individual in a cell alone if we have good evidence to believe that the individual could cause harm to another individual and/or if we have our medical or mental health staff given an evaluation that it would be a benefit to the individual to be placed in a cell alone. We do not under any circumstances, nor have we ever, had a practice of placing individuals in a cell alone."
Amy Fettig, senior staff counsel at the American Civil Liberties Union's National Prison Project, said Samuels did not testify accurately.
"It's patently untrue. The Bureau of Prisons does use solitary confinement," Fettig said. "It is simply a word game to try to cover up a practice that harms people."
So, what explains the two different stories? According to Fettig, the bureau has reckoned with a growing prison population by double-celling inmates in solitary confinement, then claiming that doesn't qualify as solitary confinement.
In fact, this interpretation is at odds with the bureau's parent organization, the Department of Justice. The DOJ defines solitary confinement as "the state of being confined to one's cell for approximately 22 hours per day or more, alone or with other prisoners, that limits contact with others."
A 2013 report from the Government Accountability Office found that the number of inmates in so-called segregated housing units — including SHU, Special Management Units, and Administrative Maximum — had increased more quickly than the general inmate population.
Between 2008 and 2013, the inmate population in segregated housing units increased roughly 17 percent, compared to a 6 percent increase in the general BOP inmate population.
The report could not conclude what impact solitary confinement has on prison safety, if any. That's because the Bureau of Prisons has not examined the impact of segregated housing on safety or the health of inmates.
"Without an assessment of the impact of segregation on institutional safety or study of the long-term impact of segregated housing on inmates, BOP cannot determine the extent to which segregated housing achieves its stated purpose to protect inmates, staff and the general public," the report's authors found.
Toward the end of Tuesday's hearing, Samuels admitted that prisoners at the ADX in Florence, Colorado — a prison known for housing some of the most notorious criminals in the U.S., along with lower-level offenders — are placed in solitary confinement, but reasoned that 46 percent of the inmates there have been "involved in homicide" at some point in their lives.
"I don't care if it's a homicide, nonviolent drug crime," Booker said. "What are we getting for taxpayers for putting them in an environment in which human-rights folks consider that torture, and we have a medical community that has a consensus about torture?"
Out of 217,000 inmates (as of 2013), the bureau confines about 7 percent of them — or roughly 15,000 prisoners — in segregated housing units for 23 hours a day. While that number may seem small, it has led to significant uproar.
Kalief Browder spent two years on Rikers Island, including two years in solitary confinement, without being convicted of a crime. In June, almost two years after being released from prison, Browder killed himself. Since The New Yorker published his story, Browder had become a poster boy for Sen. Rand Paul, who has used the story to speak out against solitary confinement.
At the end of her testimony, Kerman quoted Thomas Mott Osborne, the former warden of Sing Sing prison who served in the early 20th century: "Shall our prisons be scrap heaps or human repair shops?"
While Democratic and Republican lawmakers will agree on the answer, the specifics of how to go about repairing inmates are harder to nail down. In the coming months and years, activists, prison administrators, and lawmakers will have to attempt to answer two tough questions: what punishment we think befits the worst of criminals housed in U.S. prisons, and whether solitary confinement can be a death penalty in itself.