The House's Odd Mix of Anti-Iran Deal Democrats
The lawmakers willing to buck President Obama on a signature foreign policy issue don't have much in common.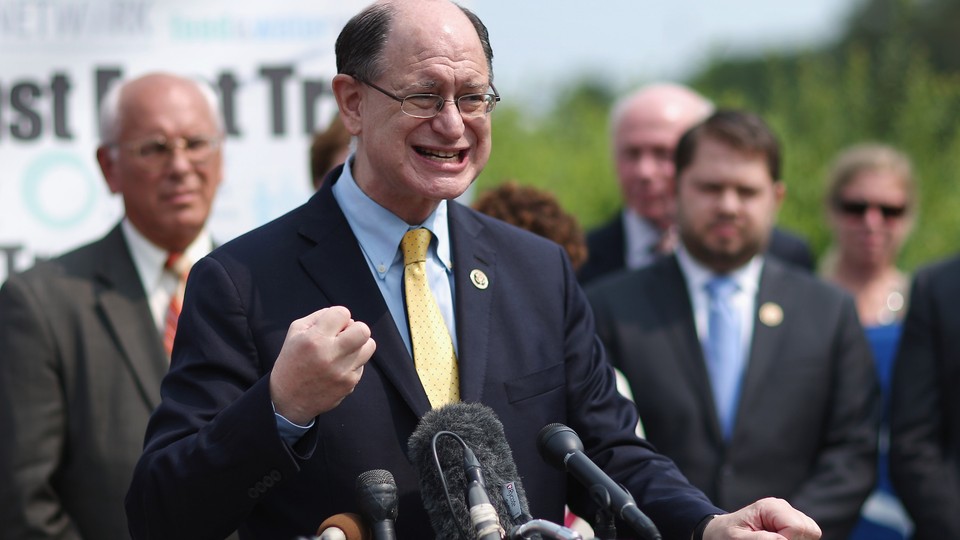 Weeks before the House votes on a controversial nuclear deal with Iran, opponents from President Obama's party are still few in number. And the foes who have emerged have little else in common, suggesting that no clear Democratic coalitions are emerging to derail its passage.
At the latest count, only 14 House Democrats have committed to voting against the deal—a key part of Obama's foreign policy legacy. They include an urban Pennsylvania freshman, a border-district Californian, and a veteran African-American from Atlanta. And they all cite their decisions as a matter of personal conscience. (In the Senate, only two Democrats have declared their opposition so far.)
If there is a common thread among the House dissenters, it's that all come from districts with Jewish populations greater than the national median. For some, including several Jewish lawmakers, that includes some of the highest-percentage Jewish districts in the country—but many lawmakers from similar districts remain outspoken supporters of the deal.
For others, such as Atlanta-area Rep. David Scott and San Diego-area Rep. Juan Vargas, that Jewish constituency equals less than 1 percent of their district: still more than most congressional districts, but by no means the defining political force back home.
The Hill lists 87 House Democrats as yes or lean yes, including Minority Leader Nancy Pelosi. Another 84 have yet to announce their position. Among the small group of declared opponents, none are members of the caucus leadership team, though Rep. Steve Israel is the Democrats' top message guru. And only two, Reps. Eliot Engel and Nita Lowey, are ranking members of a full committee.
Of the 14 opponents, eight come from districts where Jewish residents make up at least 12 percent of the population. All of the others have Jewish constituencies of at least 0.65 percent, a number below the nationwide average but still well above the median.
But that trend hasn't held for many members in high-percentage Jewish districts. Reps. Jerrold Nadler, Anna Eshoo, Jan Schakowsky, and Chris Van Hollen have all given the deal their backing. They represent districts with Jewish populations greater than 10 percent—but they don't seem overly concerned about political fallout over their position.
Many others remain undecided.
Five of the opponents are Jewish themselves, but they say their opposition has nothing to do with pressure from the pro-Israel lobby. "[Politics are] really not a consideration for me," Rep. Brad Sherman said in an interview this month. "I listen to constituents. … I've got to do what's best for American foreign policy."
California's Sherman, an opponent of the deal, did note his nearly 20-percent-Jewish district, the highest figure in the western U.S. He said fellow Jewish members with similar districts are facing similar pressures. "Steve [Israel] has wrestled with the same issues," he said. The New Yorker is also an opponent of the deal.
Meanwhile, undecided Rep. Debbie Wasserman Schultz, Florida's first Jewish congresswoman, is facing the added pressure of heading the Democratic National Committee in the run-up to a presidential election. Her spokesman has said she was still considering the issue and was unlikely to announce a decision before the end of August.
"I can't imagine she'd make the decision based on politics," Sherman said.
The others also cited American foreign policy concerns as their reason for opposing the deal. Israel, House Democrats' top message man, said it would provide Iran with the means to arms terrorists while not doing enough to stop its nuclear ambitions in the long term.
Fellow New York Reps. Engel, Lowey, Grace Meng, Kathleen Rice, and Carolyn Maloney all said the deal did not contain enough safeguards.
Meanwhile, Rep. Brendan Boyle, a Philadelphia-area freshman, also announced his opposition to the deal. Boyle's district holds the highest Jewish population in the state at 9 percent. He was also among the lawmakers who took a summer trip to Israel with the American Israel Public Affairs Committee: AIPAC is among the leading opponents of the deal. Rice was also among those on the trip, as well as Rep. Brad Ashford, who has said he is leaning no on the deal.
The deal's Florida opponents so far are Reps. Ted Deutch and Alcee Hastings, though several more Democrats from that state are still on the fence. Sherman and Vargas comprise the California opposition, while Reps. Albio Sires and Donald Norcross make up New Jersey's dissenters.
Perhaps most anomalous is Scott, whose majority-black Atlanta district has the smallest Jewish population among the deal's opponents. But Scott's criticism has been full-throated. "It's a good deal for Iran, for Russia, China, and probably Hezbollah, but it is not, definitely not a good deal for Israel or for the United States or our allies—especially Jordan and Saudi Arabia," he said. "Under this agreement … it allows for Iran to get a nuclear bomb. In essence it sort of permits it too, within the agreement, without Iran having to cheat at all."