The AP's Mission to Save the Exit Poll
Faced with rising costs and a greater degree of difficulty, the Associated Press is researching new methods of surveying voters during elections.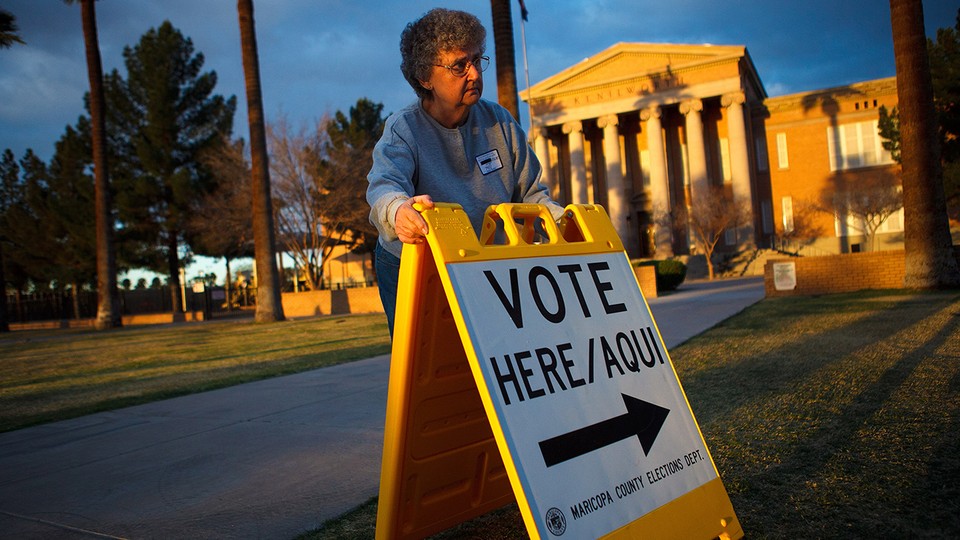 Exit pollsters do their work in a few short days, but the information they glean dominates the political conversation for years.
That's because the surveys conducted outside voting precincts are the single-best tool for understanding American politics. They generate a treasure trove of data—about who votes, who they voted for, and why—that tell the story of how each election was won and lost.
But now, as more voters cast ballots early or by mail and polling those voters becomes more costly and potentially less reliable, the exit polls are getting more expensive, too—and might even be losing some of their predictive power. Rising costs already convinced the National Election Pool, the media consortium that conducts U.S. exit polls, to abandon some exit polls in nonbattleground states in 2012, leaving observers without a presidential election's worth of data in rapidly changing states like Georgia and Texas.
(RELATED: Should Television Networks Use National Polls to Determine Who Participates in Presidential Debates?)
In response, the Associated Press is trying to build the exit poll of the future.
Last month, the media organization won a $250,000 Knight News Challenge grant to conduct experiments aimed at building a poll that's both reliable and cost-effective in 21st-century conditions.
Over the next 15 months, the news organization and its polling partners will use the money to test online survey methods during real campaigns, from the 2015 Kentucky governor's race through next year's presidential elections. By the time it closes the books on the 2016 elections, AP hopes to have identified survey methods that it can recommend to the NEP, which includes the main broadcast and cable news networks, for use in the official exit poll in future elections.
The exit poll's main challenge arises when voters avoid the traditional exit and don't actually go to the polls on Election Day. (Instead, rising numbers vote by mail or cast a ballot in person during an early voting period.) The NEP has to supplement its traditional interviews outside voter precincts with telephone polling to reach them, and phone polling is getting both more difficult and more expensive. Regulations governing calls to cell phones have driven up pollsters' costs, and nosediving response rates to phone surveys—often less than one-in-10 people called participate in a survey—threaten the accuracy of the surveys at the same time by making it less likely to contact a truly random sample of people.
"In the last decade or so, people have really changed the way they vote," said David Pace, AP's Washington news editor. "It used to be everybody voted in their neighborhood precinct and exit polls worked great. "¦ But one-third of voters voted absentee in 2012, totally out of the reach of exit pollsters" standing outside precincts. "That's a trend that's been growing for eight-to-10 years," Pace continued.
(RELATED: Hillary Clinton's White Male Voter Problem)
That led the NEP to conduct supplementary phone polls in 35 states in 2012, Pace said. But that raises the cost issue of phones.
"It's really not financially sustainable," said Pace. "So we're looking ahead and experimenting because, if this trend keeps going, it's going to make it harder and harder and more and more expensive to adapt exit polls to the current environment."
That's where relatively cheap but less proven online polling comes in. A pollster can't contact a random sample of Internet users the same way they can approach random voters outside a precinct or dial random telephone numbers. But researchers are investigating different ways to approximate the voting population online, where asking them questions costs a fraction of conducting a phone poll.
(RELATED: Map: Where the 2016 Candidates Raised Their Money)
One of AP's polling partners, GfK, has already been running experiments comparing online polling with the regular exit polls. In 2014, the firm blended results from different online panels (one built to look like a representative sample of the population and one in which respondents simply volunteered to participate) to project the results of Senate and gubernatorial races in Georgia and Illinois.
The online survey performed comparably to the regular exit poll in those states, with a slightly smaller average error, according to slides AP and GfK presented at the American Association for Public Opinion Research conference this spring.
"Like every industry, we're facing cost pressure," said GfK managing director Annie Weber. "One of the big moves is to move away from some of the more traditional modes of reaching respondents—in-person or even by telephone is increasingly challenging today. So we're trying to explore how to do high-caliber, consistently accurate polling online."
Online polling was an anathema to many survey researchers in its infancy, but the various pressures facing the industry has sparked intense interest in reliable online polling.
"The question is less clear than it used to be," said Steve Koczela, the president of Boston-based MassINC Polling Group and a former president of the New England chapter of AAPOR. "Online, you gain a number of things. People can respond whenever they want, and there's various advantages to administering a poll like that. But you do lose that relationship to the science that polling was built on [with opt-in panels]. Yet that relationship is being frayed by a lot of other things, too."
AP's research project is separate from the regular exit poll, according to Joe Lenski, who supervises the NEP exit poll as an executive vice president at Edison Research. But Lenski said he, too, recognizes the need to explore new methods and techniques. The NEP as a whole has done its own research and experiments in recent years aimed at updating and streamlining the exit poll, especially since rising costs convinced the pool to abandon some states 2012.
Exit-polling "is becoming an issue not just in the United States but in countries around the world," Lenski said. "Some of the particular issues the U.S. has are unique, but issues with exit-polling in general is not unique."
This story has been updated to clarify Koczela's quote.