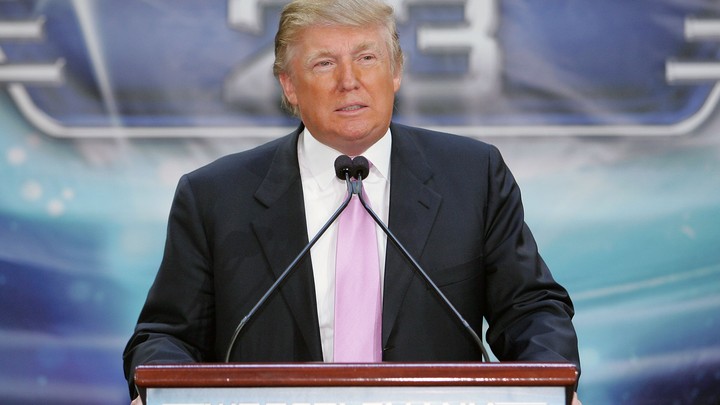 This week, wrestling legend and former Minnesota Gov. Jesse Ventura said he thinks he and Donald Trump would make a great presidential tag team. But Ventura presaged those comments more than 10 years ago, when he interviewed Trump on wrestling's biggest stage of them all.
In 2004, during Wrestlemania XX, Ventura went out into the crowd in Madison Square Garden to interview Trump, who was there with his son, pointing out that the businessman had hosted Wrestlemania IV and V.
Ventura, who successfully ran for governor on the Reform Party, then asked Trump if he could expect Trump's "moral and financial support" were he to get back into politics. Trump responded: "100 percent."
"I think that we may need a wrestler in the White House in 2008," Ventura said to the crowd. Ventura ultimately did not run, though he flirted with the idea of running for Senate in Minnesota.
Afterward, commentator Jim Ross suggested there may be "a wrestler in the White House," to which his counterpart Jerry "the King" Lawler suggested "and maybe a billionaire as the vice president."
This week, Ventura hinted that he would be open to being Trump's running-mate, but he has also said he is interested in running with Sen. Bernie Sanders.
World Wrestling Entertainment has had its share of tangles with politics. Linda McMahon, who served as CEO of the organization, unsuccessfully ran for Senate in 2010 and 2012 as a Republican. She's also a major donor, having given $10,000 to Carly Fiorina's super PAC and $5,000 to New Jersey Gov. Chris Christie's super PAC.
Ventura's statements show that while he has been out of office for more than a decade, he loves the steel-cage match that is presidential politics.
We want to hear what you think about this article. Submit a letter to the editor or write to letters@theatlantic.com.
Eric Garcia is a staff correspondent for National Journal. He previously was a transparency reporter for MarketWatch, where he reported on financial regulation issues. His work has also appeared in the Southern Political Report, Salon, the American Prospect and the New Republic. He is a graduate of the University of North Carolina at Chapel Hill, and covered politics for its campus paper, the Daily Tar Heel.