States Can't End Medicaid Funding of Planned Parenthood
But Louisiana and Alabama have decided to try anyway, and the Centers for Medicare and Medicaid have stepped in.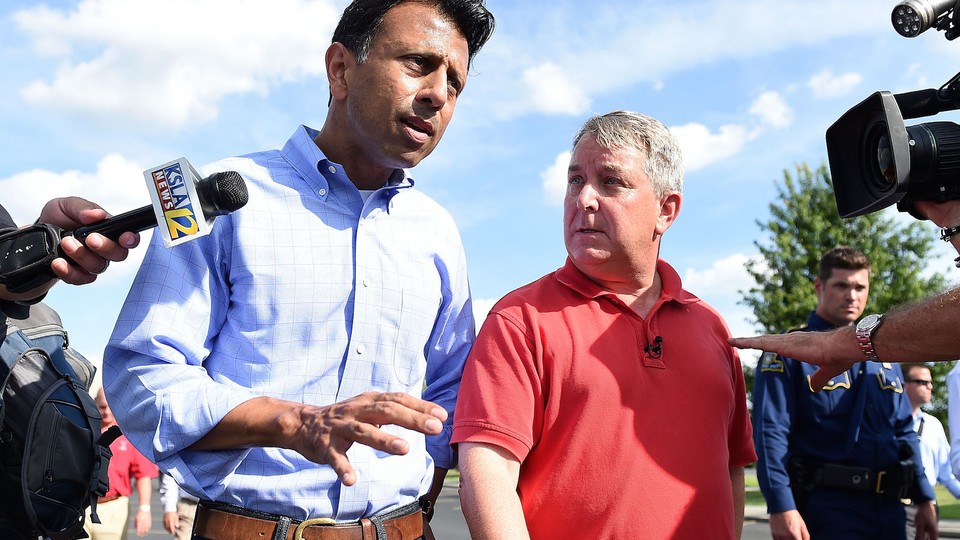 The Obama administration this month warned two states that by ending Medicaid funding of Planned Parenthood, they may be out of compliance with federal law — step one in a process that could end in a complete termination of federal Medicaid funding for those states.
But if precedent holds, things need not get that far for Planned Parenthood in Louisiana and Alabama to keep receiving Medicaid money. (Friday, Arkansas Gov. Asa Hutchinson directed the state Human Services Department to end its agreement with Planned Parenthood.)
States have made similar defunding attempts before, and when Planned Parenthood sued, they lost in court.
"Medicaid is by far the largest source of family-planning funds in this country, so I guess that would be one reason why you'd want to go after Medicaid, but it just seems that that hasn't worked," said Elizabeth Nash, a senior associate at the Guttmacher Institute. "Because it hasn't been successful, I don't see why anyone would think it'd be successful."
In early August, Louisiana Gov. Bobby Jindal announced that the state Medicaid agency had informed Planned Parenthood it was terminating the organization's Medicaid provider agreement. A few days later, Alabama Gov. Robert Bentley did the same. The Centers for Medicare and Medicaid reached out to each agency shortly after the announcements to tell them they "may be in conflict with federal law," according to a Health and Human Services spokesperson.
"Longstanding Medicaid laws prohibit states from restricting individuals who have coverage through Medicaid from receiving care from a qualified provider," the spokesperson wrote in a statement. "By restricting which provider a woman could choose to receive care from, women could lose access to critical preventive care, such as cancer screenings."
The rule referenced was outlined in a 2011 Center for Medicaid, CHIP, and Survey and Certification informational bulletin. Under federal law, Medicaid beneficiaries may obtain covered services from any qualified provider.
"Medicaid programs may not exclude qualified health care providers — whether an individual provider, a physician group, an outpatient clinic, or a hospital — from providing services under the program because they separately provide abortion services (not funded by federal Medicaid dollars, consistent with the federal prohibition) as part of their scope of practice," wrote Cindy Mann, then-director of CMS, in the bulletin.
But CMS has thus far avoided having to go to battle with states trying to defund Planned Parenthood. In 2011, Indiana passed a law saying the state cannot fund providers that perform abortions. The next year, Arizona passed a similar law. The state Planned Parenthood branches both challenged the decisions, and both times won in court based on the Medicaid choice of provider provision.
But that's not to say states can't take away funding from Planned Parenthood in other ways. States also give money to family planning, through Medicaid, state taxes, several block grants, and Title X funding. States have more flexibility to choose what to do with these dollars than they do with Medicaid funding.
Some have taken advantage of this flexibility to take away Planned Parenthood funding. In Kansas, for example, the budget specifies which entities can receive Title X funding to exclude all family-planning clinics, including Planned Parenthood.
But it appears that history has not deterred Louisiana and Alabama from trying again.
"The Medicaid provider contract between the Louisiana Health and Hospitals Department and Planned Parenthood gives either party the right to cancel the contract at will with a 30-day notice," wrote Mike Reed, a Jindal spokesperson, in a statement. "Governor Jindal and DHH chose to exercise that right to cancel."
If for some reason Planned Parenthood chooses not to sue, or loses in court, CMS could face the choice of whether to use its powerful — and potentially devastating — enforcement method for the first time.
"That's a really big stick that CMS has, which is to eliminate the program," Nash said. "This would be an awful time to see it happen."