Senate Blocks Bill to Defund Planned Parenthood
Monday's vote is just the beginning of the fight, Republicans say.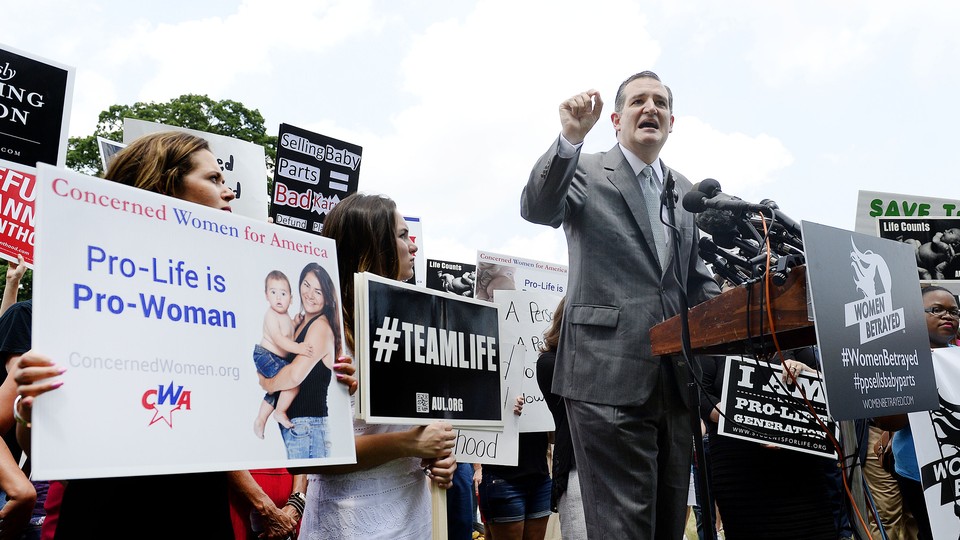 The Senate on Monday voted against advancing legislation ending federal funding of Planned Parenthood. The 53-46 vote fell short of the 60 votes needed to move forward.
Monday's vote — largely understood as a messaging vote — is just the beginning of the fight, Republicans vow.
"I wouldn't rule anything out," Sen. John Thune said. "I think we're going to start with this step and we'll see where the next steps go."
The legislation resulted from an effort led by Sen. Joni Ernst and backed by presidential candidate Sen. Rand Paul, Majority Leader Mitch McConnell, and several other members of the GOP. It would stop the flow of more than $500 million from the federal government to Planned Parenthood, but promised that the money would still be used in support of women's health.
The GOP movement to defund Planned Parenthood was recently reinvigorated by a series of viral videos allegedly depicting top officials discussing the sale of fetal tissue in a sting operation. There is currently no evidence of illegal activity.
"Our focus should be on supporting organizations that prioritize women's health, not organizations hiring pricey PR firms for damage control," said Sen. Deb Fischer, a cosponsor of the legislation, in a floor speech Monday before the vote.
But not all those who voted in favor of the motion to proceed support the legislation itself. Sen. Susan Collins said she wanted it to be subject to debate, particularly so she could offer up a substitute defunding only the Planned Parenthood clinics found to procure and sell fetal tissue, a much narrower range.
"It would be better if we got on the bill, debated it freely and had the ability to offer alternatives to it. This bill goes too far," the Maine Republican said. "I think we should keep in mind that it would immediately defund all Planned Parenthood clinics, including the majority that have complied with federal law and that are not under suspicion of having sold fetal tissue."
She also said it is not true that women utilizing Planned Parenthood's services could transition to other health care providers. If her substitute was not adopted during the amendment process, she said she would vote against the legislation in its current form.
After the release of the first video, Congress acted quickly, with several committees launching investigations into the videos and Planned Parenthood. The discussion then escalated; it did not take long for conservative members of the House and the Senate to start talking about removing Planned Parenthood funding from spending bills, and taking the fight all the way to a government shutdown if need be.
"I'd be willing to shut the government down over human life," Rep. Phil Roe, chairman of the Doctors Caucus, said last month. Republican leadership says the issue is not going to shut down the government.
Democrats are by and large standing by Planned Parenthood, dismissing attacks against it as yet another example of Republicans being anti-women. But some, including Hillary Clinton, have denounced the videos themselves. Clinton described the images as "disturbing," although continues to pledge her support of the organization.
And Democratic Sen. Joe Manchin broke from his party to vote with Republicans in favor of ending funding.
"Until these allegations have been answered and resolved, I do not believe that taxpayer money should be used to fund this organization; instead those funds should be sent to other health care providers, including community health centers, which provide important women's health care services," Manchin wrote in a statement prior to the vote on Monday.
In both parties, this might be a risky fight for members from purple states, particularly those up for reelection next year.
On the other hand, it's great fodder for GOP presidential candidates touting their conservative muscles, who have taken to attacking Planned Parenthood, and some of them are trying to ensure they have a hand in its takedown. Paul and Sen. Ted Cruz submitted amendments to last week's highway legislation that would have defunded Planned Parenthood, although McConnell prevented them from coming to the floor for a vote. The debate is expected to continue on the campaign trail.
The fact that the vote is occurring the same week as the first Republican presidential debate is being broadcast by Democrats.
"Frankly, we don't really need to wait for that debate because the Republican presidential primary campaign is playing out right now on the floor of the United States Senate," said Democratic Sen. Chris Murphy in a floor speech last week.
"I hope that we can spend some time after this vote next week that — as even my Republican friends in the Republican presidential primary will admit — is a show vote," he added, "and get down to the real business of passing a budget that respects the values and priorities of this country, that keeps our government operational, and separates to the best we can the business that we do here on the Senate floor from the business of sorting out who's going to be the next Republican nominee for president."