Scott Walker Fueled by Protesters at Iowa State Fair
"I am not intimidated by you, sir, or anyone else out there."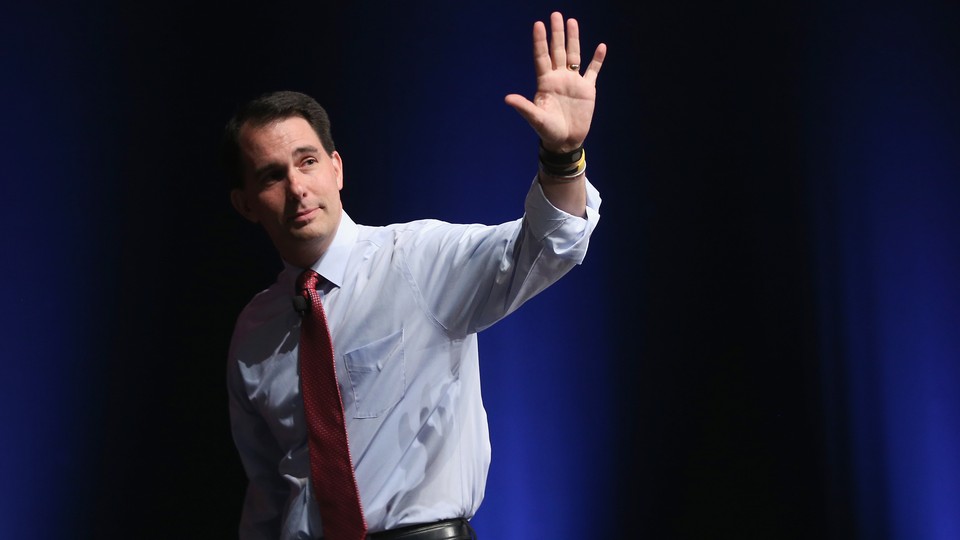 Scott Walker is used to protesters by now.
They famously flooded the Wisconsin state Capitol in 2011 in a demonstration against his anti-union policies, and on the post-announcement presidential campaign trail they've even taken to interrupting his meals.
Protesters have become so associated with Walker's moves that their appearance Monday during his Iowa State Fair speech was predicted in advance, with the Milwaukee Journal Sentinel calling anti-Walker activity a "fact of life" in his presidential campaign.
(RELATED: Scott Walker, the Presidential Candidate Next Door)
So when demonstrators did, in fact, interrupt him Monday, Walker seemed to be feeding off their yelling, handily integrating their protestations into his standard stump fare. As the intermittent booing at the start of his speech gave way to outright shouting by the end, Walker had a coherent response to the protesters: I've seen this all before, and I'm not going anywhere.
"If you give me the chance, I will not be intimidated, just like I wasn't intimidated here or anywhere else," Walker said.
As Walker spoke at the Des Moines Register's Presidential Soapbox, pro-Walker crowd members dueled with anti-Walker protesters to see who could shout the loudest and whose signs could be the most prominent. (Look below to see who won on that second front.)
Walker wears the demonstrations against him as a badge of honor. As he has in recent months, the governor on Monday used the Wisconsin statehouse protest — which he claims was 100,000-strong — as proof that he's a fighter, arguing that combating pro-union demonstrators in the Midwest makes him fit to take on the Islamic State.
(RELATED: Scott Walker's National Security Gap)
"This is what happened in Wisconsin," Walker said. "We will not back down. We will do what is necessary to defend the American people going forward."
Toward the end of his speech, one plaid-clad protester directly in front of Walker held up a yellow sign reading, in part: "DON'T LET SCOTT WALKER DO TO AMERICA WHAT HE DID TO WISCONSIN."
As he held it up, at least two Walker defenders tried to jump and grab it from his hands, and one ultimately succeeded. Noticing the tussle, Walker chimed in, pointing to the young man.
(RELATED: Hillary Clinton, Scott Walker, and the Future of Obama's Climate Plan)
"I am not intimidated by you, sir, or anyone else out there," Walker said. "I will fight for the American people over and over and over and over again. You want someone who's tested? I'm right here."
Walker might not be intimidated, but neither are the protesters dogging him. Odds are that when he delivers a planned anti-Obamacare speech in Minnesota on Tuesday, his Midwest dissidents will be right there, too.