Rick Perry Toughens Up on Banks as Wall Street Cash to His Campaign Dries Up
The former Texas governor used to be a recipient of major banks' cash, but he has not seen as much money come in from the industry so far this cycle.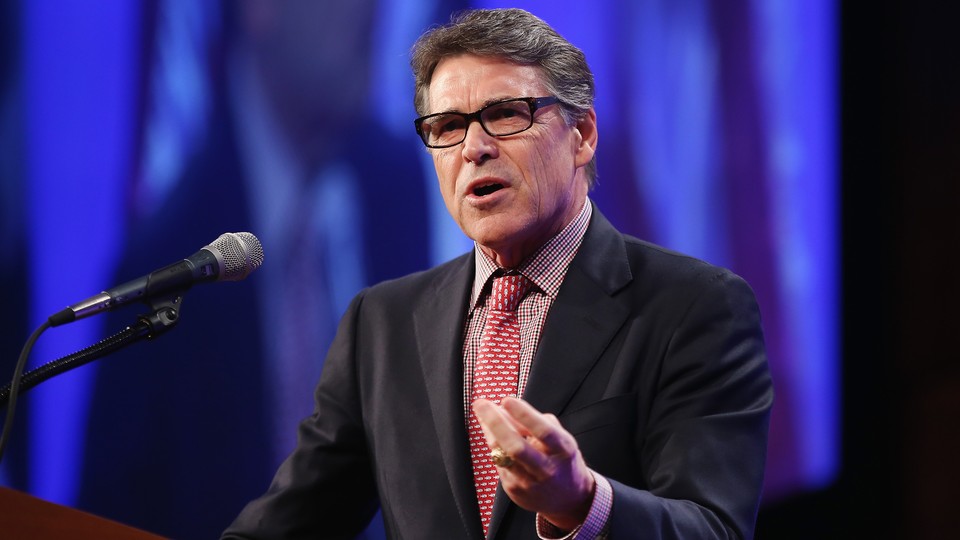 Rick Perry's rhetoric on Wall Street has been toughening up lately, at a time when he is not receiving as much money from the industry as he has in the past.
Last week, the former Texas governor delivered a speech that included typical Republican financial talking points, like saying requirements to increase lending contributed to the financial crisis and that the subsequent Dodd-Frank financial-reform law targeted Wall Street but has ended up hurting community banks.
But in between those salvos, there were snippets of Perry talking about the sins of the financial industry, saying that instead of the banks receiving punishment after the crisis, Americans paid the price and "were screwed" after the 2008 bailouts, which left Americans feeling "that the game is rigged."
"If we want to truly end 'too big to fail,' we need to restore market forces to banking, where failure is not rewarded or bailed out," Perry said in his speech.
Perry suggested requiring large banks to hold more capital and having banks separate their commercial lending and investment practices, which sounds similar to Democratic Sen. Elizabeth Warren's proposal to reinstate Glass-Steagall, the Depression-era law that created a wall of separation between commercial and investment banking.
This may come as a surprise given that in the past, Perry was a recipient of large amounts of Wall Street cash. In 2005, Citigroup Inc. PAC gave $5,000 to Texans for Rick Perry, which it also did in 2010. Texans for Rick Perry was also the recipient of donations from Bank of America, having received one for $10,000 in 2012 from Bank of America's State and Federal Political Action Committee.
But looking through Perry's campaign-finance documents for this cycle, his official campaign has not received nearly as many donations from the finance industry as his previous campaigns did. Furthermore, none of the major political-action committees affiliated with Perry have received much money from the industry at all.
For instance, when it comes to the largest banks, Perry's July quarterly documents for his official campaign shows he only received two donations from employees at Deutsche Bank, making it the only major financial institution that had anyone donate to Perry's campaign. And pro-Perry PACs seemed to have hardly any major donations from big banks' PACs or employees in the midyear reports. Comparatively, when he last ran for president, Perry received multiple donations from employees at Goldman Sachs, J.P. Morgan, and Morgan Stanley.
GOP presidential candidate Jeb Bush, on the other hand, saw the Right to Rise PAC, which is supporting his bid, receive numerous donations from investment-banking giant Goldman Sachs in its midyear report.
Perry is in a strange predicament: Without having to rely on financial industry money, he can rail against Wall Street without fear of reprisal. But not having the cash leaves him at a huge disadvantage, especially at a point when he's already firmly on the fringes of GOP's top contenders.