Rick Perry: The Border Governor Forced to Answer for Donald Trump
He says he knows more about the border than anyone else in the race, but Perry's record isn't enough to escape Donald Trump.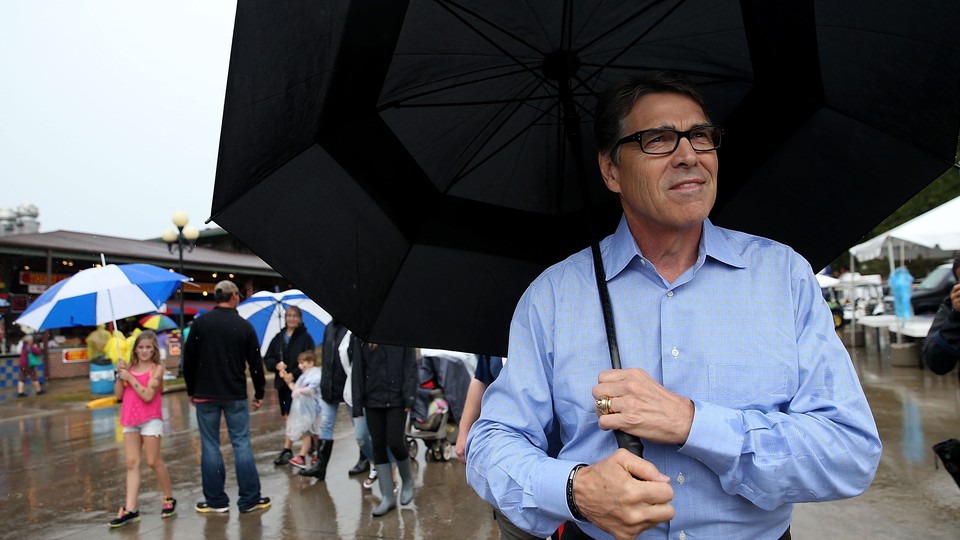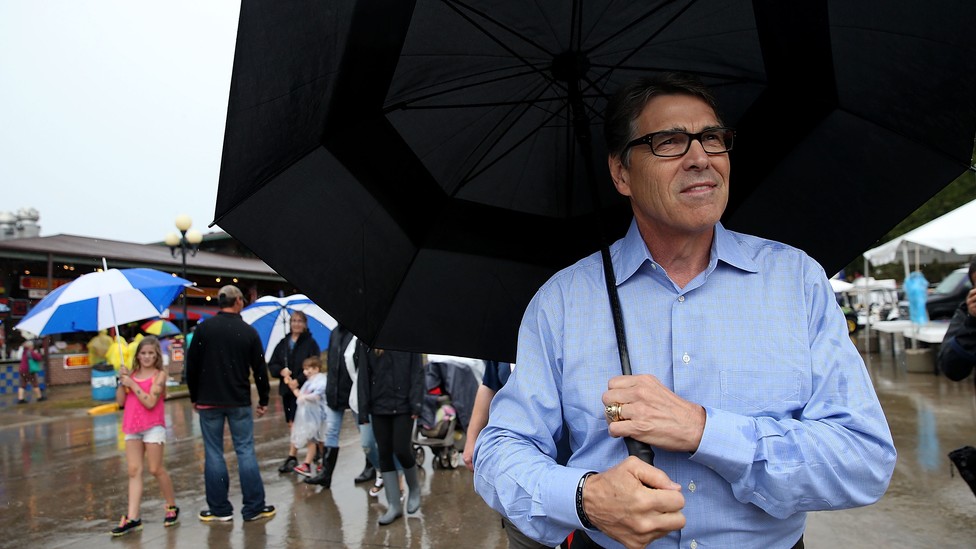 There was a time when former Texas Gov. Rick Perry was one of the biggest attractions at the Iowa State Fair.
Those days—like the veggie corn dog incident of 2011—appear to be behind him.
As he took to The Des Moines Register's famed hay-bale "soapbox" Wednesday, Perry passionately declared he was "mad as hell" at Washington. He was going to "do something about it." There was only one problem in his passionate threat. Perry's path to the presidency seems impossibly narrow as he languishes at the bottom of polls and struggles to maintain his campaign infrastructure.
What was supposed to be his comeback campaign in 2016 has instead transformed into a low-profile struggle to remain relevant.
The former Texas governor has been banking on what worked for him before: appealing to voters with his record on everything from education to economics to Ebola. But, while Perry is preaching a "show me don't tell me election," voters are distracted by the pizzazz of this cycle's enigmatic outsiders. If Perry wants to preach results, voters are more interested in promises.
The climate of the 2016 Republican primary has forced Rick Perry—a border governor for more than a decade—to answer for business mogul Donald Trump's farfetched immigration plan, which calls for millions to be sent back to Mexico.
Would you build a wall?, one reporter wanted to know after Perry's stump speech.
"Building a wall means a lot of different things to a lot of different people," Perry said. "Let's be specific about how we are going to deal with this."
"No one has dealt with this issue more than I have," Perry added.
Another reporter asked in four ways whether Perry would support repealing birthright citizenship for children born to parents in the country illegally, a position most vocally supported by Trump. Feeling the Trump pinch, Perry struggled to give a straight answer. Saying he would repeal the constitutional amendment would ensure that Trump was not to the right of him on the issue. Saying "no" could lose him conservative support at a time when immigration has hit a nerve with the conservative electorate.
"You have got to secure the border. Everything goes back to that," Perry said in varying forms repeatedly.
On the stump, Perry has tried to remind voters about who was in office last year when a surge of unaccompanied minors rushed across the Texas border.
"No one gave me the 'how-to' book," Perry said.
Shaking his finger and leaning down closer to the crowd, he did his best to remind voters that he was there in Texas when Louisiana residents sought refuge after Hurricane Katrina. He was there during immigration crises, and when a space shuttle blew up over his state.
"Americans got to see in every one of those cases leadership by examples," Perry said. "Americans saw a competent and confident governor."
At this point, however, it's unclear if that is what voters are even really looking for.