Republicans Set Up Their Attack on Obama's Climate Plan
Senate panel approves bill to scrap EPA's new power-plant rules.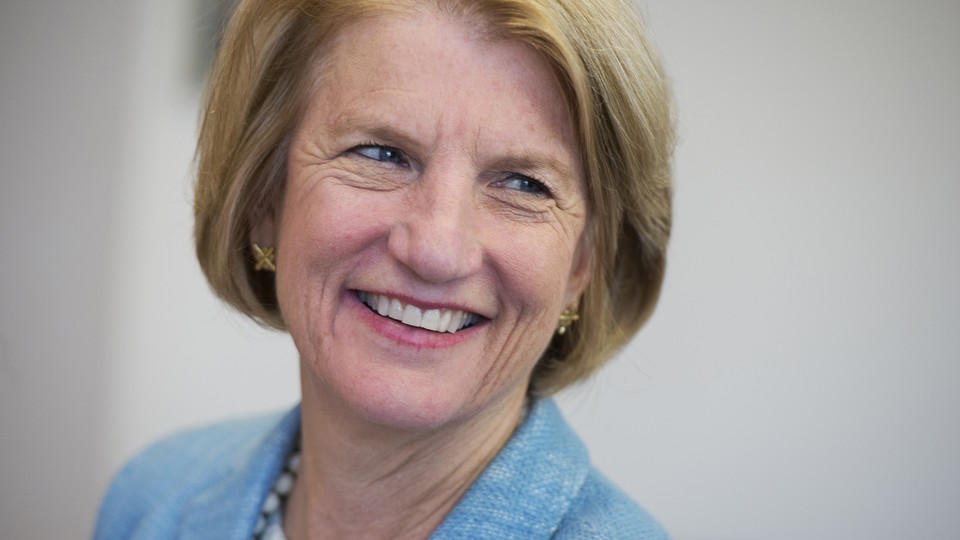 Congressional Republicans have promised a robust response to President Obama's carbon-emission rules for power plants, and the Senate Wednesday lined up their first real piece of ammo.
And Democrats showed that they're going to take their Republican opponents to the mat over the reality of climate change.
After a messy markup that saw Democrats walking out, the Senate Environment and Public Works Committee cleared a bill from Sen. Shelley Moore Capito that would force the Environmental Protection Agency to scrap the power-plant rules and rewrite them under much more narrow conditions.
The bill passed with only Republican votes; Democrats, led by ranking member Barbara Boxer, walked out of a markup because the committee was voting on a separate pesticides bill that had not been through a hearing, leaving the committee without a quorum. As a result, Chairman James Inhofe was forced to suspend the markup and finish it off the floor in the afternoon, with no Democrats participating.
Capito's bill is just one of the vehicles that Senate Majority Leader Mitch McConnell has promised to use to fight the climate rules. McConnell has said that Republicans will use the Capito bill, appropriations riders, and Congressional Review Act resolutions to strike back at the climate rules.
That means the Senate, at some point this fall, will have a floor debate over the climate rules.
And Democrats, desperate to preserve President Obama's climate agenda, seem to have a strategy in mind: a slew of amendments that would keep forcing their Republican colleagues to go on the record about the impact of climate change and discuss a plan to fight it.
The power-plant rules unveiled Monday are the linchpin of President Obama's climate agenda. They would cut carbon emissions from power plants by 32 percent of 2005 levels by 2030, while also boosting the share of renewables in the grid.
In a press call before Wednesday's markup, Sen. Sheldon Whitehouse said Democrats were actually looking forward to the floor debate and they had a "confident, practically boisterous attitude" towards the Republican attacks.
And if Wednesday's hearing is any indication, it will be a long, bruising fight. Committee Democrats came armed with dozens of amendments (Sen. Edward Markey came with 16 himself), all of them designed to highlight the scientific consensus or the impact of climate change. Among them were familiar pieces that simply tried to put members on record as saying that climate change is real and caused by human activity.
Democrats first began offering such amendments during a January floor debate on a bill approving the Keystone XL pipeline, a strategy to brand Republicans as anti-science and out of touch.
Other amendments were written to scale back or stall Capito's bill unless it was shown that reversing the rules would not have impacts like increasing sea-level rise or causing adverse health effects. And Democrats frequently used the debate over the amendments to nudge Republicans to offer their own solution to climate change if the power-plant regulations weren't acceptable.
Democrats have held two colloquies on the floor in recent weeks asking Republicans for their plan on climate change, which they've summed up by several signs with an emoticon known as "shruggie" (this one: ¯\_(ツ)_/¯).
All told, the committee spent more than two hours with a debate over climate change that touched on familiar themes: the health risks and sea-level rise from Hurricane Sandy on the Left, unsettled science and higher electricity bills on the Right. Republican Sen. Roger Wicker even dug into the well of talking points to discuss how Greenland used to be lush and green before becoming cold (in reality, its ice cap is thousands of years old).
It was a debate that ultimately left Inhofe agitated, forcing him to ask members to limit debate. "We've had hearings on this, we've debated this. "¦ The science is divided. We all know that," Inhofe said, pleading with members to stop the debate and move on to the votes.
But if Democrats get their way, the debate won't be over for a long time.