Rand Paul Purchases a Path Around an Inconvenient Kentucky Law
The 2016 hopeful is trying to run for president without abandoning his Senate seat.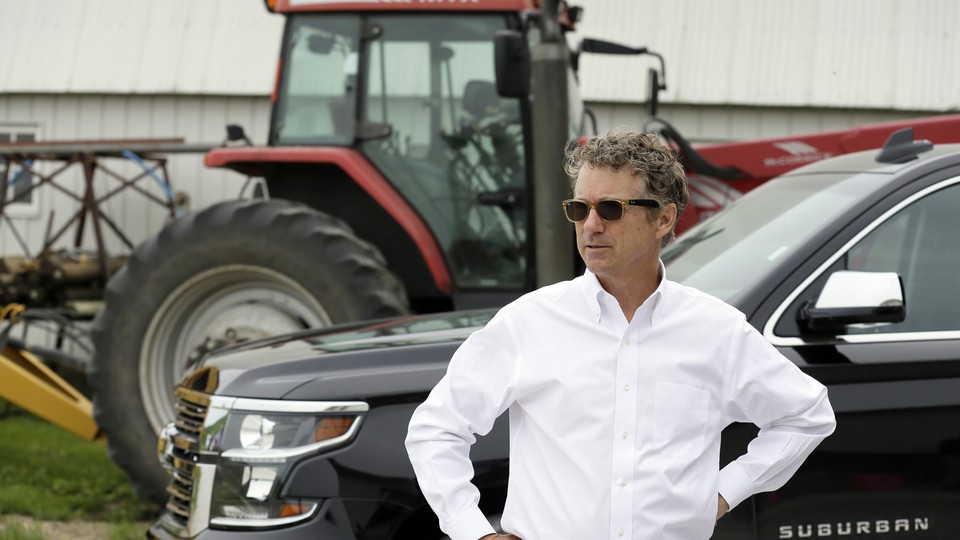 Rand Paul is giving new meaning to the term "buying an election."
Over the weekend, the Kentucky senator said he gave $250,000 to his state's Republican Party for the explicit purpose of funding its presidential caucus in March. He promised to pony up another $200,000 in the fall, enough to cover the entire cost of the nominating event. Put another way: Paul is paying the party to hold an election in which he is running.
He's doing it neither to ensure a victory nor out of the simple goodness of his heart. No, Paul is making a rather blatant end-run around state law, and he's compensating the Kentucky GOP for going along with him. The law forbids someone from appearing on the same ballot as a candidate for two different offices, and Paul, who is up for reelection next year, doesn't want to give up his Senate seat to make his rather long-shot bid for the presidency.
Democrats in the Bluegrass Grass state blocked his allies' attempt to repeal the law, so Paul has been trying to persuade the Republican Party to ditch its presidential primary in May in favor of a caucus in March. That way, the primaries for president and Senate won't be on the same day, and Paul won't have to appear twice on the same ballot. (The change wouldn't fix the problem in the general election, but for a candidate sitting around eighth in the polls, that's a bridge to cross another day.) Paul's idea won a crucial endorsement from Mitch McConnell, the Senate majority leader and preeminent power broker in Kentucky, and while members of the state party have generally been receptive, some have voiced concerns about paying for a separate election in a year when Republicans are desperately trying to wrest the governor's mansion away from Democrats. That election is this November, and it's expected to be close.
"In essence, he's buying the opportunity to run for both offices at the same time," observed Fred Wertheimer, the longtime election watchdog who is president and founder of Democracy 21. In a letter to the state party's central committee, Paul made clear that he was transferring the money as part of an assurance that neither the party nor any of its local chairmen would be "on the hook" for the election. "I will fully fund this caucus," Paul wrote. He noted that the party would gain extra money by charging filing fees to the candidates participating in the caucus. The full state GOP committee is expected to vote on the plan August 22.
Scott Lasley, a county chairman who headed a committee drafting rules for a potential caucus, said some of the more than 340 voting members of the central party still had questions that needed to be answered before they vote yes. Many of those involve financial or logistical details, he said, and there was a question Tuesday of whether Paul had actually transferred the money as he said he did in his letter. But some members are also queasy about the idea of Paul paying for an election and running in it at the same time. "Some people do have that concern, but realistically the party's not in position to fund it any other way right now," Lasley told me. The hope, he said, is that an earlier caucus on March 5 will draw more candidates and voters than the traditional primary, which has been "an afterthought" in previous years due to its later date on the calendar.
While Paul's gesture is surely unusual, it doesn't appear to be illegal, according to experts in election law. "I don't know that there's anything to prohibit it," Wertheimer said. "Just put it in the category of a very strange way for politics to function." Paul is paying the money to the state party, which will then pay for, organize, and run the caucus. "Even if he wrote a check for the caucus itself, I'm not aware of any precedent that would prohibit that," said Josh Douglas, a law professor specializing in elections at the University of Kentucky. "The party is allowed to choose its nominee however it wants."
Whether the other Republican candidates choose to participate in an election paid for by a rival in his home state is another matter entirely. None of the GOP presidential campaigns I contacted would comment on the Kentucky caucus or Paul's move to pay for it. With Paul's campaign struggling to gain traction, it's possible he might not make it to the Kentucky election, since it will come after the gauntlet of early contests that typically winnows the primary field. Democrats, meanwhile, have been trying to use the drama to tarnish Paul's standing in Kentucky by pointing out how preoccupied he is with the presidency. "No matter how Rand Paul games the system to allow him to run for both president and Senate at the same time it's clear that he views representing Kentucky as a consolation prize," said Justin Barasky, a spokesman for the party's Senate campaign committee.
Paul is trying to, as Douglas said, "have his cake and eat it." But the same Republicans signing off on his scheme would probably breathe easier if his presidential campaign continued on its current, unimpressive course. If he won the GOP nomination, he'd likely drop out of the Senate race, and because of Kentucky rules, it'd be difficult if not impossible for the party to replace him on the ballot. On the other hand, if Paul is struggling or out of the race come March, Republican candidates would be more likely to contest the state without a strong favorite son.  "Ironically, if people have more doubts about his ability to win the presidential nomination, it might actually help him win the vote" on Saturday, Lasley said. Paul's Kentucky colleagues, then, might take his money and hold an election, but that doesn't mean they think—or even hope—he's going to win.