Rand Paul Isn't Getting His Hands Dirty with the Senate's Criminal-Justice Negotiations
The Kentucky Republican is sitting on the sidelines on criminal-justice reform, but it may be more strategic than it first appears. Just ask Marco Rubio.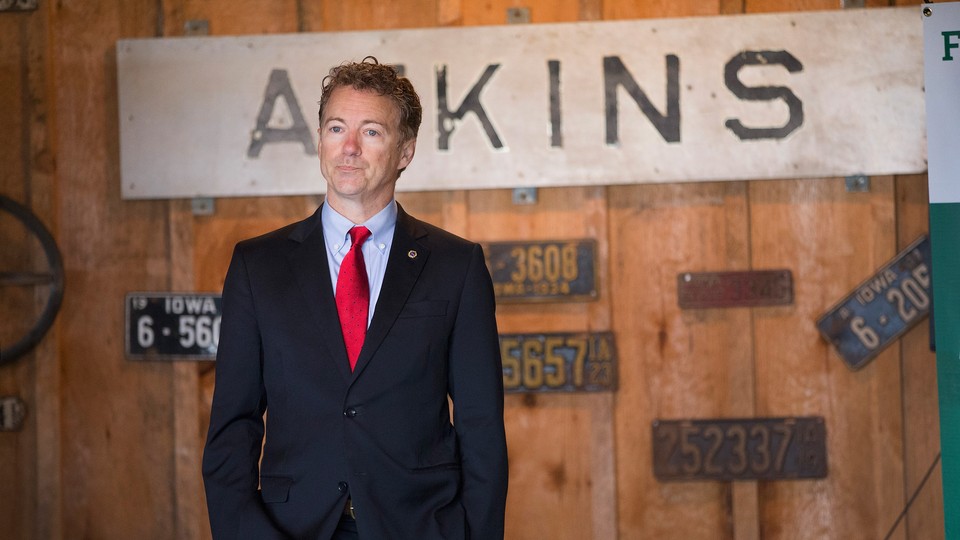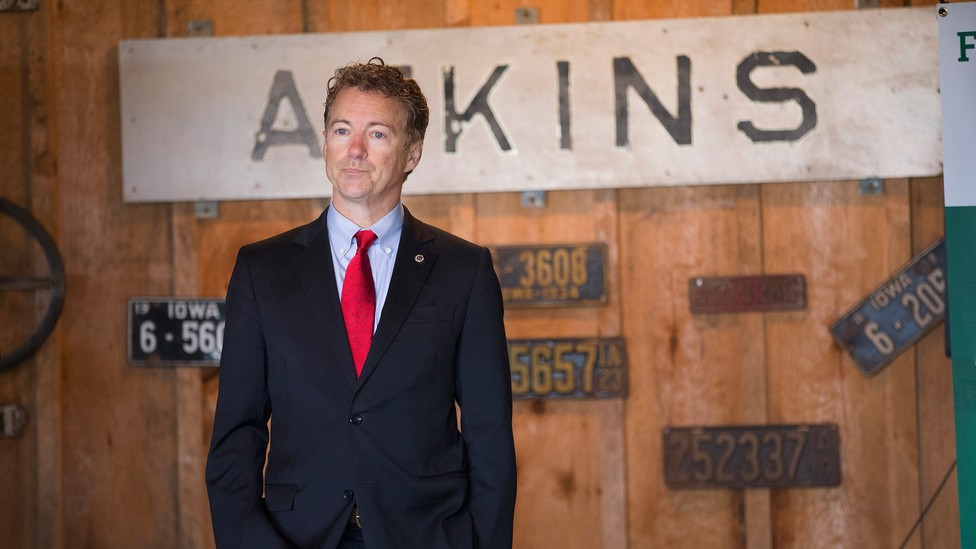 The Senate is expected to soon unveil a bipartisan, comprehensive justice-reform bill that would restructure mandatory minimums and fundamentally reshape the way thousands of Americans transition out of prison. But one of the body's biggest, self-proclaimed advocates for criminal-justice reform wasn't sitting at the table during the tireless negotiations.
Even before launching his presidential campaign, Sen. Rand Paul prioritized outreach to minority voters. A major part of his push revolved around reworking America's justice system.
"We should stand and loudly proclaim, 'Enough is enough.' We should not have laws that ruin the lives of young men and women who have committed no violence," the Kentucky Republican said during a 2013 speech at Howard University, a historically black college in Washington. "That's why I have introduced a bill to repeal federal mandatory minimum sentences. We should not have drug laws or a court system that disproportionately punishes the black community."
But as a bipartisan group of senators have toiled behind the scenes to convince reluctant Judiciary Chairman Chuck Grassley to strike a compromise, Paul has ramped up his presidential campaign and left the legislating to colleagues back in Washington.
"He has had no involvement in bipartisan criminal-justice reform negotiations whatsoever," a Democratic aide close to the negotiations told National Journal.
A spokesman for Chairman Grassley said that while Paul has "weighed in" with Grassley at the member and staff level, he "has not been involved in the deliberations among the committee members."
While Paul has been involved in discussing and promoting changes to the criminal-justice system, one explanation for his lack of involvement may stem from the fact he does not serve on the Senate's Judiciary Committee. That has not stopped Paul, however, from being involved on issues before the committee in the past. He actually served as a witness earlier this year during a committee hearing on asset forfeiture.
And a review of Paul's sponsored legislation reinforces that the junior senator from Kentucky has a strong interest in reforming the criminal-justice system. With Democratic Sen. Patrick Leahy of Vermont, Paul has introduced the Justice Safety Valve Act, a bill that gives judges more discretion on sentencing in federal courts. He has brought forward the Civil Rights Voting Restoration Act, which gives nonviolent ex-felons the right to vote in national elections after they have served their time. And while some of his proposals have been stalled in committee, he signed on as a co-sponsor of the Smarter Sentencing Act, which provided a starting point for the Senate's current criminal-justice reform negotiations.
His actions have earned him praise and headlines like Slate's "Rand Paul, Criminal Justice Hero." In an op-ed in The Huffington Post aimed at millennial outreach, Paul wrote this week, "I'm inspired because the youth of America believe in justice, and I'm leading the fight to reform our criminal-justice system."
But Paul's lack of involvement in the nitty-gritty negotiations reveals one of the key political obstacles of running for president as a sitting senator. Without executive experience, candidates are forced to run on their records as legislators. But what happens when your signature issue bubbles up in Washington just as you are fighting to break through in the presidential campaign?
For senators like Paul, getting entangled in the back-and-forth of policy discussions carries enormous risk this close to the election. It's easier, instead, to remain on the periphery — free to highlight the parts of the bill Paul supports while distancing himself from aspects that could prove trying for him on the campaign trail. And, as Paul is attempting to campaign against "the Washington machine," he can't be viewed as a negotiating with Democrats in those old, smoke-filled, backdoor rooms.
Sen. Marco Rubio, a Republican from Florida, learned this lesson the hard way. After prioritizing immigration reform in 2013, Rubio worked for months to craft a comprehensive, 1,000-page bill that sought to secure the border and put millions of immigrants in the country on a path to citizenship. Instead of being praised for crossing the aisle, Rubio heard an earful from conservatives on the Right. Eventually, Rubio backed away from the bill saying he would have preferred, instead, a more incremental approach. It has still, though, proved to be a tricky obstacle to navigate during his own presidential campaign.
Rand Paul may be in just the position he wants to be in. He is perceived as a leader on criminal-justice reform without being tied down to the type of comprehensive legislation that has tripped up 2016 candidates before.