Rand Paul: Donald Trump Is a 'Bully' and an 'Empty Suit'
The Paul campaign is punching up in the wake of a bad news cycle.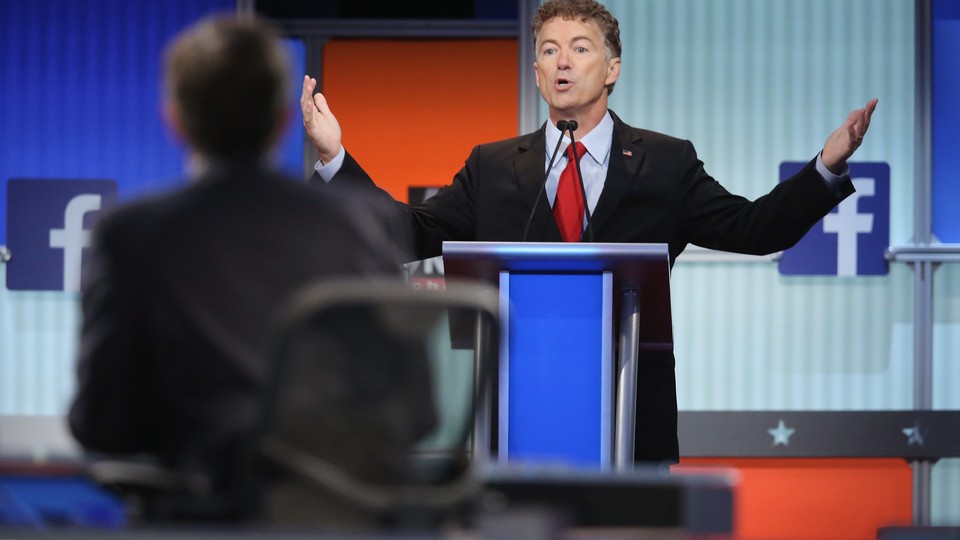 Sen. Rand Paul's presidential campaign has a new strategy since last Thursday's GOP debate: Go after Donald Trump, and don't let up.
On Monday, Paul went as far as to hold a conference call with reporters for the explicit purpose of trash-talking Trump.
Paul started out talking about how he got his start in politics with the tea party, an antiestablishment wing of the Republican Party aimed at primarying candidates who were not true conservatives. Paul said conservatives should doubt Trump's sincerity, given Trump's past moderate views on issues like health care and abortion.
In an anti-Trump column Paul wrote for IJ Review Sunday night, he sounded completely baffled by Trump's popularity among Republicans:
No conservative in America supports a single-payer government-run healthcare system, and yet around 25 percent of Republicans seem to favor Trump. How can this be possible? How can a quarter of the GOP support a guy who was a Republican, then an Independent, then a Democrat, and then a Republican again?
The stark reality for Paul is that, while Trump continues to surge in the polls, his own campaign is lagging. And while it's still very early — we're still almost six months out from the Iowa caucuses — Paul clearly considers Trump a threat to the credibility of his own campaign.
"I think that if no one stands up to a bully, a bully will just keep doing what they're doing," Paul said. "We've got an empty suit here, full of bravado but not full of anything really meaningful for the country."
When asked to react to candidates like Sen. Ted Cruz, who has not openly criticized Trump, Paul declined to attack his Senate colleague.
"I'm not sure, I can only speak for myself," he said, adding that "it's high time someone does stand up and really call nonsense nonsense."
For Paul, all the attention given to Trump has served at least two positive purposes: allowing him to piggyback on Trump coverage while distracting the press from some negative news that hits close to home. Last Wednesday, Jesse Benton — a former aide to both Paul's father, former Rep. Ron Paul, and Paul himself, and who is married to Rand Paul's niece — was indicted by the Department of Justice for alleged involvement in a conspiracy to bribe an Iowa state senator into endorsing Ron Paul for president in 2012.
When the indictment came down on Wednesday, Paul's campaign called it a political attack timed to hurt his performance at the debate Thursday night. But on the conference call on Monday, Paul switched tactics, implying that the indictment amounted to nothing more than a misunderstanding of campaign-finance law.
"I think campaign-finance regulations are very complicated," Paul said. "I'm sure that the accountants will eventually sift through of that, but I don't really have anything pertinent to add about any of the details."