Rand Paul Allies Indicted on Conspiracy Charges From Ron Paul's 2012 Campaign
Two of the people behind the main super PAC backing the younger Paul's presidential bid are being charged as part of a pay-for-endorsement scheme.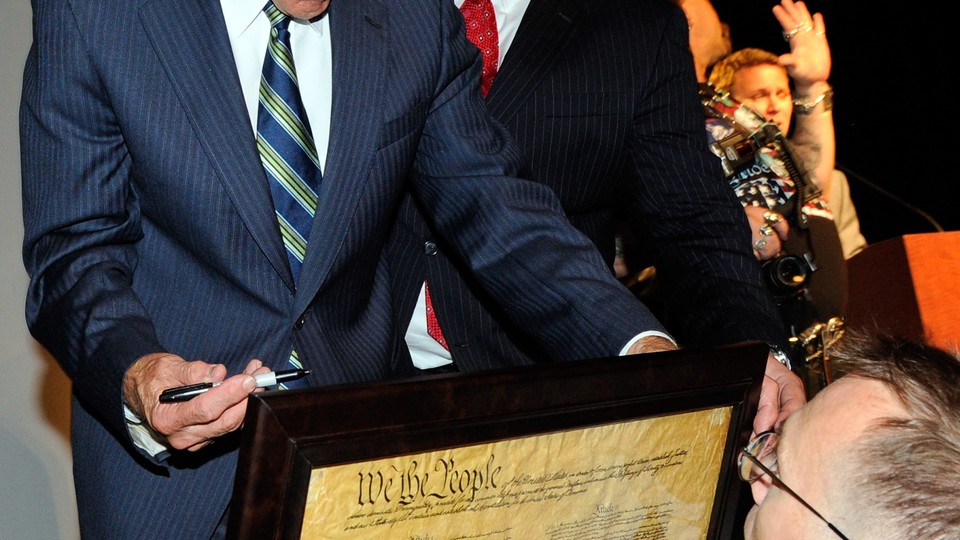 Jesse Benton, who's currently running the Rand Paul-sanctioned America's Liberty PAC, has been indicted on charges of "conspiracy, causing false records to obstruct a contemplated investigation, causing the submission of false campaign expenditure reports to the Federal Election Commission (FEC) and engaging in a scheme to make false statements to the FEC."
John Tate, the founder of America's Liberty PAC, and Dimitrios Kesari, a deputy national campaign manager during Ron Paul's 2012 presidential campaign, were also indicted.
According to the Department of Justice, Tate, Benton and Kesari all engaged in a pay-for-endorsement scheme during Ron Paul's 2012 presidential run. The Iowa state lawmaker at the center of the alleged scandal, Kent Sorenson, pleaded guilty to related charges in 2014.
Sorenson had initially endorsed Republican presidential contender and then-Rep. Michele Bachmann, but according to court documents was approached to switch his endorsement in 2011. The DOJ charges that he was paid "in monthly installments of approximately $8,000 each and ultimately amounted to over $70,000."
In order to try and escape scrutiny, the DOJ alleges that payments to Sorenson were recorded as "as campaign-related audio-visual expenditures" to Film Production Company. Then the money was transferred from film group to another business that Sorenson owned.
According to the official indictment, presidential contender Rand Paul had no idea about the arrangement. A spokesperson for Paul's presidential campaign said that the indictment has nothing to do with Paul's campaign, but the indictment was politically motivated.
"Senator Rand Paul is disappointed that the Obama justice department chose to release this just prior to the highly anticipated first Republican presidential debate," read the statement. "It certainly appears suspiciously timed and possibly, politically motivated. Additionally, these actions are from 2012 and have nothing to do with our campaign."
After allegations swirled that Sorenson had engaged in a pay-for-endorsement scheme, the DOJ accuses staffers of seeking to keep Sorenson quiet.
"The conspirators arranged for Sorenson to issue public statements denying allegations that he was offered money for his endorsement and noting that the campaign committee's FEC filings would show that it made no payments to Sorenson," court documents show.
In September 2013, media outlets began reporting on an ongoing investigation into the alleged incident. At that point, according to documents, Kesari flew to Omaha, Nebraska and then made his way to Sorenson's house to discuss the best way to reduce the paper trail of the transactions.
After verifying that "neither was wearing a recording device," Kesari asked Sorenson to either "return" or "alter" the initial $25,000 check. According to the indictment, Sorenson would not agree to do that.
Reached by phone on Wednesday, Kesari told National Journal: "Can't talk. There's a gag order on it. I can't talk." When asked what he meant by a gag order, Kesari said, "It's an Iowa thing, I guess. I don't know."
The DOJ alleges that Benton first lied under oath to the FBI in July of 2014. In a subsequent session a day later, Benton said "I'm not splitting hairs, Sorenson was not getting paid."
Benton has worked for both sitting Kentucky senators. He managed Rand Paul's 2010 campaign for Senate, and in 2014, Benton signed on as campaign manager for Senate Majority Leader Mitch McConnell. Benton received $500,000 — more than twice McConnell's Senate salary — for his work on the campaign. But shortly before the election, Benton resigned from the campaign because of the ongoing investigation into the pay-for-endorsement scheme from 2012.
In a 2014 interview with a Kentucky news station, Rand Paul defended Benton's record. "I think Jesse is honest, he's good at politics and I don't think he's done anything wrong," Paul said at the time.
The younger Paul noted that Benton, who is married to Ron Paul's granddaughter, is close to his family. "Jesse is married to my niece and was a big help in the Kentucky election here in 2010 and a big help for Sen. McConnell," Rand Paul said in the same interview. "And, yes he'll help us."
In a statement sent out Wednesday afternoon, Ron Paul implied that the DOJ indictment was a veiled political attack on his son's presidential campaign, according to BuzzFeed's Rosie Gray:
RON PAUL on indictments: ""I am extremely disappointed in the government's decision." 1/

— Rosie Gray (@RosieGray) August 5, 2015
"I think the timing of this indictment is highly suspicious given the fact that the first primary debate is tomorrow." 2/

— Rosie Gray (@RosieGray) August 5, 2015
"My thoughts and prayers are with the families of those involved. I will not be commenting further on this matter at this time." 3/3

— Rosie Gray (@RosieGray) August 5, 2015
Roscoe Howard, Benton's attorney, also accused the Department of Justice of attacking his client for political reasons.
"We are deeply disappointed to learn of today's indictment by the Department of Justice," Howard said in a statement, according to the Washington Post. "Jesse Benton, a prominent conservative Republican, has cooperated with the government during its multi-year investigation. That this indictment is now suddenly announced on the eve of the first Republican Presidential debate strongly supports our belief that this is a politically motivated prosecution designed to serve a political agenda, not to achieve justice. Mr. Benton is eager to get before an impartial judge and jury who will quickly recognize this for what he believes it is: Character assassination for political gain."
---
Andy Kroll contributed to this article