Presidential Candidates: Your Mega-Donors May Be Cheating on You
At least 130 different Republican donors supported more than one presidential candidate in the first half of the year.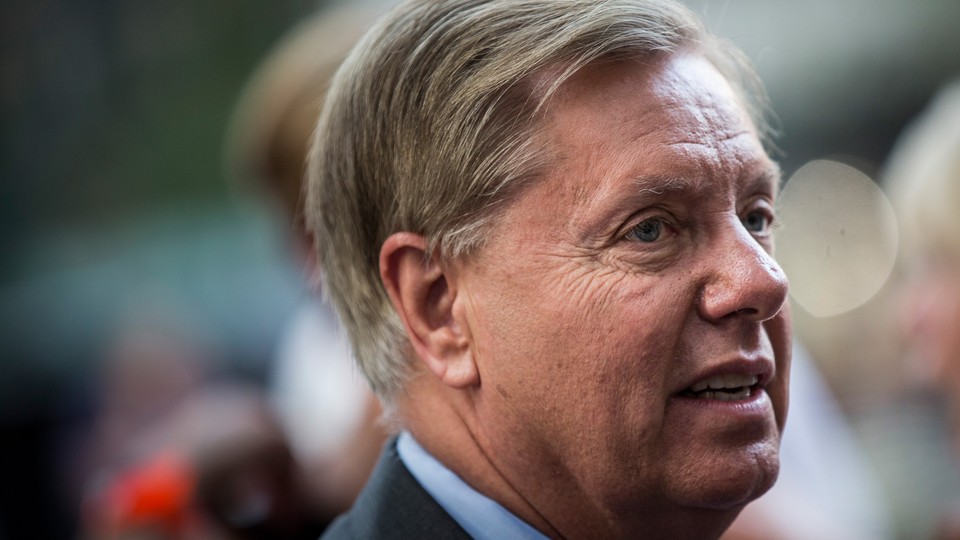 Republican presidential contenders spent much of the past year trying to lock up exclusive support from the party's biggest financiers. Despite their wooing, many of those donors have chosen instead to play the field.
At least 130 Republican donors have contributed to multiple presidential super PACs, according to a National Journal analysis of Federal Election Commission and Internal Revenue Service financial disclosures. Those who are double- or triple-dipping (or even financially backing as many as seven different candidates) account for a massive $42 million in super PAC contributions so far.
That means that in the first half of the year, around one out of every seven dollars given in the Republican presidential race came from contributors who had yet to line up exclusively behind a single preferred candidate. Instead, they are spreading money around, extending their influence and giving second-tier candidates more staying power in a crowded GOP race.
"There are three or four people I really like," said John Catsimatidis, a New York City businessman who gave $75,000 to a super PAC supporting George Pataki, the former New York governor who endorsed Catsimatidis for mayor in 2013. But Catsimatidis and two of his companies have also distributed another $137,500 to super PACs backing four other candidates: Scott Walker ($70,000), Jeb Bush ($50,000), Bobby Jindal ($10,000), and Carly Fiorina ($7,500).
All told, Catsimatidis and others have collectively given more than $10.7 million to the super PACs of their second-favorite candidate, despite having given at least as much money to elect another candidate. (And there may be more: Other funders could have given through limited-liability corporations that shield their identities or through political nonprofits that don't have to disclose donors.)
"If I like people, if I can be a contributory factor to their success, I don't mind spending a few dollars," Catsimatidis continued. The businessman, who paused at one point to schedule a conversation with Rick Perry, said he feels no pressure from the candidates or their outside groups to pick one horse. "How do the British say it? Let it take its course."
The list of double-donors includes some of the biggest funders in Republican politics. Hedge-fund billionaire Robert Mercer already donated $11 million to one pro-Ted Cruz super PAC, but that group distributed $500,000 of it to CARLY for America, a pro-Fiorina group, in June. Mercer also gave another $250,000 directly to Believe Again, the super PAC backing Jindal. Marlene Ricketts, part of the family that owns the Chicago Cubs, donated $10,000 to six different super PACs on top of the $4.9 million she gave to the pro-Walker Unintimidated PAC.
Others are spreading their love equally. Houston Texans owner Robert McNair made matching half-million-dollar donations in support of four candidates: Bush, Cruz, Walker, and Lindsey Graham. Chicago hedge-fund manager Ken Griffin cut $100,000 to groups supporting Bush, Walker, and Marco Rubio.
"It's not the first time I've backed two people in a primary," said Terry Kohler, a Wisconsin businessman who has supported Walker's campaigns over the years. "You like to keep competition in play to find out where it's going to end up."
Kohler gave $100,000 to Walker's super PAC on the last day of June—but two months earlier, he and his wife, Mary, made matching $50,000 contributions supporting Jindal. "I happen to be a friend of Governor Walker, and it was impossible for me to avoid supporting him, let's put it that way—not that I don't think he'd do a great job," Kohler laughed. "My wife happens to be very partial to Bobby Jindal because she's been following his career for years. We each do our own politics. She knows Scott, but she doesn't want him to leave Wisconsin!"
Dozens of smaller donors who respect multiple candidates are also backing multiple contributors.
"I've known Scott Walker and admired Scott Walker, and I've known Jeb Bush and admired Jeb Bush," said Sandy Stuart, an investor from the Chicago suburbs. He gave $50,000 to the pro-Bush Right to Rise super PAC but also donated $25,000 to Walker's 527 group, Our American Revival. ""... I didn't feel bound, as you are with marriage vows, to forsake all others and make a single choice. I gave to both because I admire them."
Bush backers have already given nearly a million dollars to groups supporting Walker, despite the likelihood that they could become heated rivals once the caucuses and primaries start.
But the super PACs backing some long-shot candidates have felt the biggest effect. Double donors have supplied major shares of their funding so far. Over 70 percent of the money raised by the pro-Fiorina CARLY for America came from donors like Mercer who have also backed other candidates.
Over $1.5 million of the $2.9 million collected by the pro-Graham PAC, meanwhile, came from donors who gave at least as much to support another candidate. One of them, Access Industries, made a $500,000 contribution to Graham's Security Is Strength PAC but also directed $1.25 million to pro-Walker committees. About one-quarter of the $3.7 million Jindal's super PAC raised came from donors who gave at least as much to other campaigns.
There's a good chance, though, that some of those funds will dry up as the primaries get closer and voters and donors alike make firm decisions about candidates. That already happened to Stuart, the Bush/Walker donor from the Chicago area, who was watching closely as the candidates reacted to events including the Supreme Court's gay-marriage decision earlier this year.
"I came to realize that Governor Walker is much more socially conservative than I am, or than I think the party should be," Stuart said. "So I'm all in for Jeb. "... I still admire Scott Walker, but he's just more socially conservative than I think the party should be.
"As matters developed, I made a decision," Stuart continued. "I think that's what'll keep happening. I don't think people will continue funneling money to two or three or four candidates" for long.
DONORS WHO GAVE AT LEAST $100,000 APIECE BACKING TWO OR MORE REPUBLICAN PRESIDENTIAL CANDIDATES
—Robert Mercer: $11 million to Cruz ($500,000 of which was redirected to Fiorina), $250,000 to Jindal
—Robert McNair: $500,000 each to Bush, Cruz, Graham, and Walker
—Access Industries: $1.25 million to Walker, $500,000 to Graham
—Jerry Perenchio: $1.57 million to Fiorina, $100,000 to Bush
—Bernard Marcus: $1 million to Bush, $600,000 to Walker
—Robert Day: $1 million to Bush, $100,000 to Fiorina
—Ronald Perelman: $500,000 each to Bush and Graham
—Lawrence DeGeorge: $500,000 to Rubio, $100,000 to Chris Christie
—Willis Johnson: $500,000 to Walker, $100,000 to Jindal
—Douglas and Patricia Leone: $250,000 each to Bush and John Kasich
—ETC Capital LLC: $150,000 each to Christie and Walker, $100,000 to Jindal
—Stanley Druckenmiller: $103,000 to Bush, $100,000 each to Christie and Kasich
—Ken Griffin: $100,000 each to Bush, Rubio, and Walker
—Lee Roy Mitchell: $190,000 to Cruz, $100,000 to Perry
—August Busch III: $100,000 each to Bush and Christie, $10,000 to Jindal