Presidential Candidates on Stock Market Downturn: "Vote for Me!"
Some of the contenders differ on what caused the plunge, but they can agree on one thing: It's clear evidence each should be president.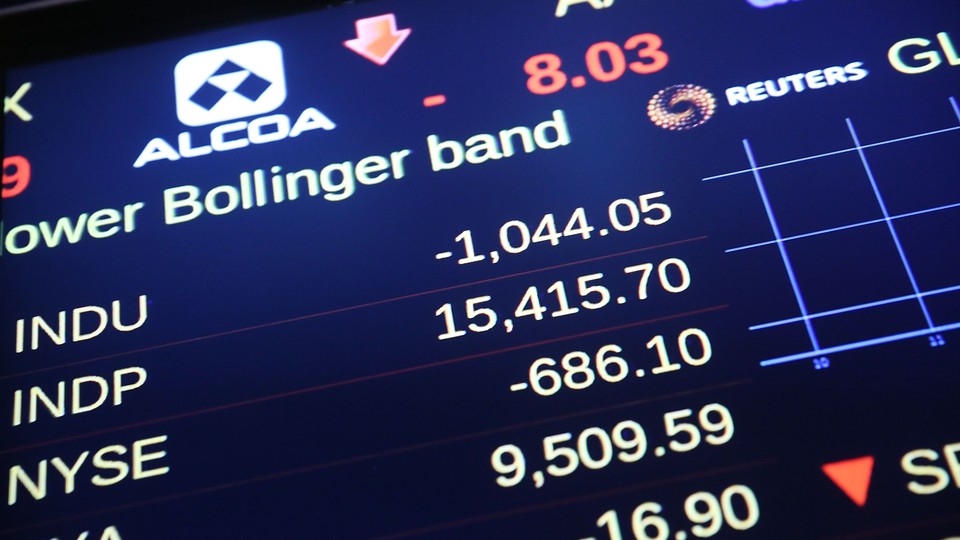 The U.S. stock market took a dive Monday morning, joining a global "plunge" that started in China and soon befell European markets. To some presidential candidates, it marked an opportunity to tout themselves and their plans as the clear solution to the world's economic woes.
Investors worldwide have been worried for weeks, spooked by China's devaluation of its currency this month. The Wall Street Journal wrote Monday that the devaluation signaled an "alarm that the world's second-largest economy may be in worse shape than many had thought," and that "weak economic data have fueled worries that a drop-off in Chinese growth could cause a global slowdown."
A financial services strategist told The New York Times that investors wanted China to intervene to "support the markets" over the weekend. No such intervention happened, "contributing to the pessimism" of Monday morning. In the U.S. on Monday, the Dow Jones, NASDAQ, and S&P 500 saw major dips early in trading, though each had partly recovered within an hour.
During that decline, some of the 2016 presidential contenders saw an opportunity to blast the financial status quo—and tell followers, listeners, and viewers about how they would address the root causes of the market instability.
Sen. Bernie Sanders blamed the downturn on Wall Street, the "billionaire class," and "unfettered free trade":
Meanwhile, GOP primary frontrunner Donald Trump went off on China on a variety of social media.
Other Republican candidates put the onus squarely on President Obama's own monetary policies. Appearing on Fox News on Monday morning, New Jersey Gov. Chris Christie said the market downturn can be blamed on Obama's "history of failed policies."
"What's happened is, because this president has run up more debt than any president in American history, that debt has been given to us in large measure by the Chinese. And so now, as the Chinese markets tend to have a correction, which they're doing right now, it's going to have an even greater effect," Christie said.
"This president doesn't know how to say no to spending, doesn't know how to say no to a bigger and more intrusive government," Christie continued. "So what you have to do in the Oval Office is rein this government in. Stop running up so much debt. That's what I did in New Jersey as governor of New Jersey and it's what I would do as president of the United States."
In her own Fox appearance Monday, former Hewlett-Packard CEO Carly Fiorina took a more moderate tack—focusing more on inside-baseball economic policy than party politics—but got in a couple of shots against the Federal Reserve's role in propping up economic growth. She referred to quantitative easing—a policy put forth by the Fed to stimulate growth—as an "easy-money policy."
"I actually have been expecting a correction for some time," Fiorina said. "I think the stock market has hit record highs over and over again because the Federal Reserve has ensured through its easy-money policy that the stock market's the only place you can earn a return. And now the Federal Reserve finally is going to back off of that easy-money policy. So I think this is warranted, honestly."
Louisiana Gov. Bobby Jindal put out a statement on Monday placing the blame for the market plunge on the Obama administration.
"By increasing taxes and creating new entitlements when we can't afford the ones we've got, the Obama administration has structurally weakened our economy. Flooding the markets with printed dollar bills is a recipe for short term gains, followed by volatility and losses," Jindal said in the statement. "We cannot grow the government economy and the American economy at the same time. You have to choose. Obama and Clinton chose the government economy. I choose the American economy.
If elected, Jindal said he would lower individual tax rates, lower corporate tax rates, "fire the EPA," and shrink the size of the federal government.
Wisconsin Governor Scott Walker called on Obama to scrub a state dinner planned for next month with Chinese President Xi Jinping, saying Americans are dealing with market fallout "driven in part by China's slowing economy and the fact that they actively manipulate their economy."
"Given China's massive cyberattacks against America, its militarization of the South China Sea, continued state interference with its economy, and persistent persecution of Christians and human rights activists," Obama must cancel, Walker said in a statement. "There's serious work to be done rather than pomp and circumstance. We need to see some backbone from President Obama on U.S.-China relations."
And while he isn't running for president anymore, Ron Paul has some thoughts on what to do about the stock market correction: Shutter the Federal Reserve and return to the gold standard.
In a live YouTube chat Monday, Paul—as he is wont to do—zeroed in on the Fed, where "a few people" set interest rates and (according to Paul) artificially prop up the market in the process.
"It'll be interesting to see what happens in the presidential election because everybody wants to help the middle class, including myself," Paul said. "The big job is to explain why the middle class is getting wiped out. And If you really want to know, go study the Federal Reserve because they are the culprits who cause the most damage to the middle class."
While talking about the presidential race, Paul did not mention his son, Sen. Rand Paul. "Whether you have a Bernie Sanders or a Trump, they argue the same case, 'We're gonna cut down on Wall Street,'" he said, adding that Sanders and Trump are "both authoritarians."
The other presidential contenders have been quiet so far about the market turmoil. We'll keep this story updated if and when they weigh in—whether that's while the news is still fresh or when it's politically safer to do so.