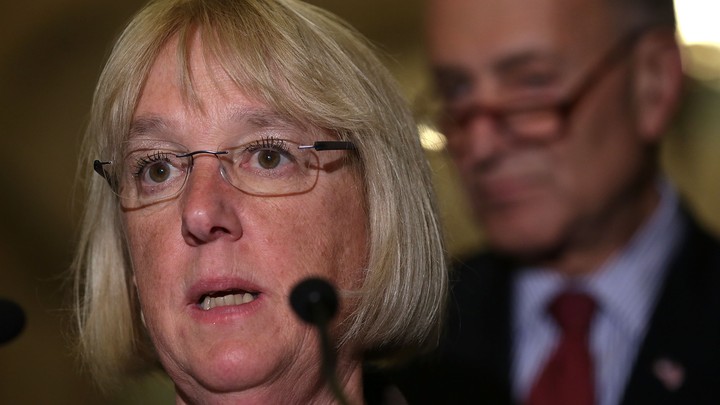 Sen. Patty Murray of Washington is lining up behind President Obama's Iran nuclear agreement, providing a shot in the arm to the pact's supporters as its opponents attempt to assemble a veto-proof majority to block the deal.
"This is not a perfect deal, and there are several elements I would like to be stronger," said Murray, a member of the Democratic leadership, on Tuesday. "But after working my way through the details and the alternatives, losing a lot of sleep, and having a lot of good conversations with so many people, I am convinced that moving forward with this deal is the best chance we have at a strong diplomatic solution, it puts us in a stronger position no matter what Iran chooses to do, and it keeps all of our options on the table if Iran doesn't hold up their end of the bargain."
Murray's statement comes a few days after Senate Minority Leader Harry Reid announced his support, pushing the total to 29 senators in favor and only two Democrats—Sens. Chuck Schumer of New York and Robert Menendez of New Jersey—in opposition out of 44 total. Both independent senators who caucus with Democrats have come out in favor of the deal.
Obama needs either 34 senators or 146 House members to sustain a veto should the Republican-controlled Congress vote to disapprove the pact next month, barring the administration from lifting congressional sanctions and potentially blowing up the deal. Secretary of State John Kerry has said that if Republicans can convince enough Democrats to find a veto-proof, two-thirds majority—a very tall task now—it would be "the ultimate screwing."
Murray said that the deal, which lifts billions of dollars in economic sanctions in return for limiting Iran's nuclear program for at least a decade, is better than the alternative.
"I believe that rejecting this deal would continue Iran down the path they are currently on, it would do nothing to stop their short-term ability to develop a nuclear weapon, and it would limit our ability to verify Iran's nuclear activity," said Murray.
We want to hear what you think about this article. Submit a letter to the editor or write to letters@theatlantic.com.
Alex Rogers covers Congress as a staff correspondent for National Journal. He previously worked as a political reporter at TIME. He is a native of Bethesda, Maryland and a graduate of Vanderbilt University.