Outsider Candidates Rising in Bernie Sanders's Vermont Wake
Both major parties in Vermont are concerned about a potential four-way race for governor that could feature a wealthy independent and a third-party Sanders-style liberal agitator.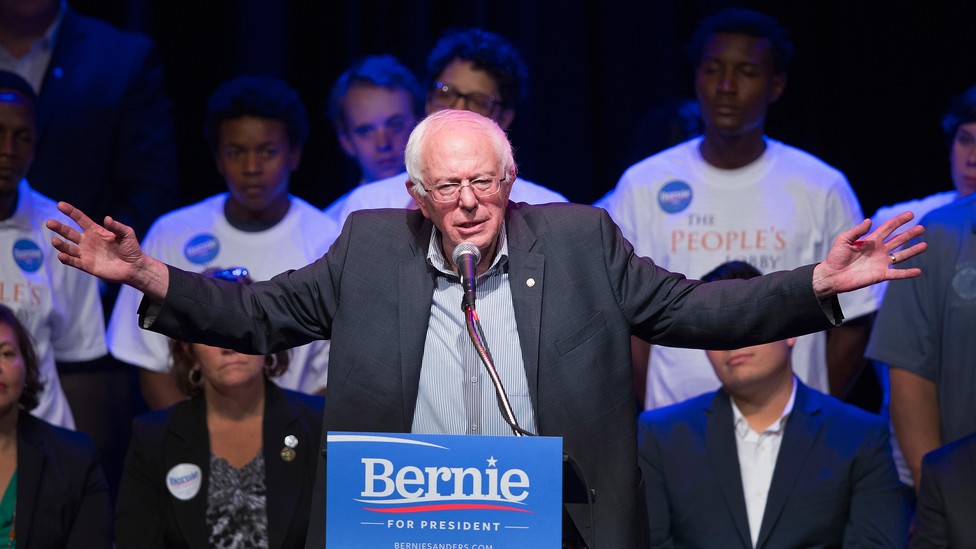 Vermont has been a launch-pad for an independent, self-described socialist's run for the Democratic presidential nomination. But Bernie Sanders is only the best-known story in what's shaping up to be a weird, wild year in Vermont politics.
The state's 2016 governor's race could be one of the most fluid in the country. Though Vermont has elected Sanders for decades, it could also elect a Republican governor next year. But there's really no telling what will happen in a race that could feature four major general election candidates, including one from a local political party with ties to Sanders, whose presidential momentum has emboldened the group.
Despite the state's liberal leanings, Republicans are hopeful that Lt. Gov. Phil Scott will run and run well in next year's race for the state's top office. Retiring Gov. Peter Shumlin, a Democrat, faced unrest in 2014 and failed to secure a majority of the vote in his reelection run. And Scott is popular, well-respected, and has already been elected statewide in his own right.
But both Democrats and Republicans could face complications in the form of candidates from other parties. Vermont's ultra-liberal Progressive Party, which has deep ties to Sanders dating back to his Burlington mayoral campaigns, is hoping to field a candidate, and wealthy businessman Bruce Lisman is pondering his own run for governor as an independent, potentially creating a chaotic four-way contest.
The Progressive Party is a standing third party that traditionally runs candidates to the left of Democrats and is itching to make their mark on the 2016 gubernatorial race. "Given that Bernie's gaining so much traction, which we're so excited about here in Vermont," said party chair Emma Mulvaney-Stanak. "I'm hopeful that will energize progressives and progressive-leaning liberals to open up their minds" to supporting the party's candidate.
The Progressive Party was born out of the coalition that worked to first elect Sanders as mayor of Burlington in 1981, and most of the party's state-level officials endorsed Sanders in the presidential race this year in a press release titled "Give 'Em Hell, Bernie." Sanders has also endorsed Progressive Party candidates in past statewide races.
However, a credible Progressive candidate could split the usual Democratic vote enough to boost the Republican candidate. It's happened before: In 2008, Progressive Party candidate Anthony Pollina actually earned more than his Democratic opponent in November, ultimately helping the incumbent Republican governor secure reelection. Mulvaney-Stanak said Pollina is "seriously considering" another gubernatorial bid in 2016.
"On paper I'm totally scared of a Progressive," said a longtime Vermont Democratic operative. "But in reality I just don't think they have the candidate."
Outside Pollina, who currently serves in the state Senate, the Progressive Party has a relatively thin bench of elected officeholders.
Whether Pollina or another candidate runs may depend on who Democrats select, but so far the Progressive Party isn't impressed with their choices. Vermont House Speaker Shap Smith formally launched a campaign earlier this month, and former state Senator Matt Dunne—who lost in Democrats' 2010 gubernatorial primary—is widely expected to enter the race.
"Both for different reasons are not really going to provide a progressive alternative in the race," Mulvaney-Stanak said. Smith's work in the legislature has associated him with Shumlin, whose popularity has waned. "Shumlin I would put in the same category as Matt and Shap in terms of moderate Democratic leadership that hasn't moved the state forward to benefit working people," Mulvaney-Stanak said.
Both Shumlin and Smith opted to endorse Hillary Clinton in the Democratic presidential primary over their hometown candidate, Sanders.
A third Democrat also considering running, state transportation Secretary Sue Minter, has all sorts of family ties to liberal activists and could potentially win their support. But as Sanders has gained support in the Democratic presidential primary polls, there is clearly an opportunity for third-party liberal candidates at home, too.
That makes Lisman's interest in an independent run particularly frustrating for Vermont Republicans. Almost no one thinks he could win either a GOP primary or a general election, but Republicans fear the wealthy ex-Wall Street executive could be a general election spoiler if he does run as an independent.
Lisman would be able to put serious money into a race where TV ads and other paid media come cheap. The former Bear Stearns executive has put over $1 million toward the public-policy group he founded in 2011, the Campaign for Vermont—including at least $300,000 spent on TV ads featuring himself.
Asked if Lisman would complicate the race for Republicans, Vermont Republican Party chair David Sunderland said, "It clearly would."
"Mr. Lisman and his thoughts and his message about the challenges that Vermont's facing are very much aligned with the Republican Party, and with the very issues that we've been raising and the solutions that we've been promoting," Sunderland continued. "An independent run by Mr. Lisman, first off would not be successful, and beyond that I think it would solidify the continuance of single-party Democrat rule in Vermont."
Then again, Sanders had to fight to shake the "spoiler" label three decades ago. And running as an independent has taken him pretty far since then.