On Energy, Obama's Got No Friends In Alaska
Environmentalists don't like permits for offshore drilling, while state officials want to see more.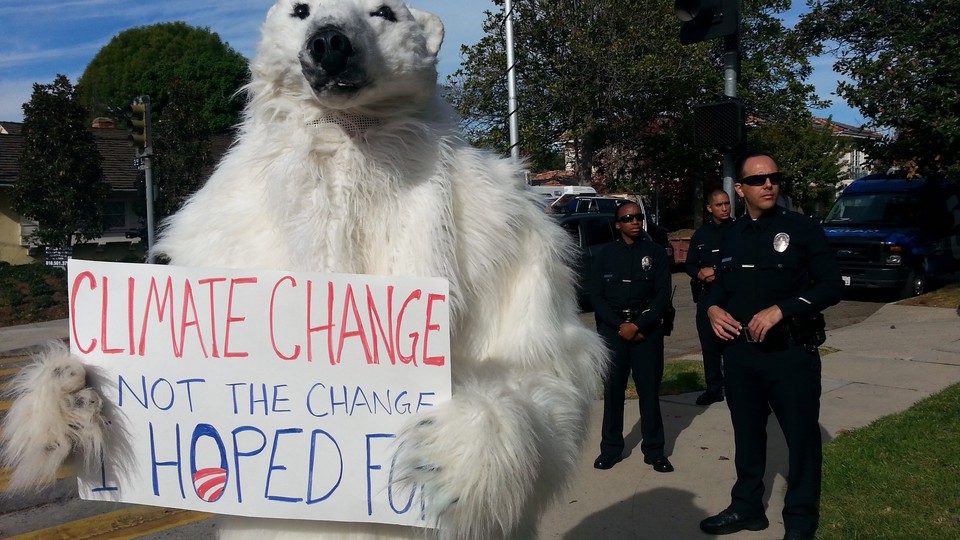 When President Obama visits the Alaskan Arctic this weekend, he'll be greeted by a familiar face: Frostpaw the Polar Bear.
Although Obama is traveling to Alaska to talk up the administration's work on combating climate change, environmentalists are eager to point out what they see as a hypocritical decision to approve Shell's bid to drill for oil in the Arctic. And they'll use Obama's three-day appearance in the state to shine a spotlight on what they're calling a black mark on his record.
Greens are organizing a rally across the street from a State Department conference in Anchorage where the president will speak Monday. The liberal group CREDO Action is even circulating avideo and petition comparing Obama's trip to President George W. Bush's tone-deaf declaration of "Mission Accomplished" in Iraq.
"We want Obama's actions to match his rhetoric on climate change, and that first and foremost means keeping Alaskan oil in the ground," said Rebecca Noblin, Alaska director for the Center for Biological Diversity, which is sending its trademark polar bear costume as part of the rally.
But while environmentalists want the president to clamp down on drilling, Alaska Gov. Bill Walker said he's going to use Obama's visit to push a different message.
"We have an excellent pipeline in Alaska, except it is three-quarters empty," Walker said on a press call Tuesday. "So I'll talk to him about what we need to do to put more oil in the pipeline."
In a letter to Obama, Alaska Republican Sen. Lisa Murkowski urged the president to use his trip to learn about the diverse energy development in the state, but cautioned that "climate change must not be used as an excuse to deprive Alaskans of our best economic prospects."
It all speaks to the tightrope that Obama has had to walk when it comes to energy production, especially in Arctic waters. Green groups don't want to see any drilling, even under conditions that the administration says would make it as safe as possible. And energy boosters in the state say the White House has clamped down too much, especially by setting aside large swaths of the Arctic National Wildlife Refuge as wilderness.
Obama arrives in Alaska on Monday to deliver remarks at a State Department conference on the Arctic, then will spend two more days traveling around the state. In a video announcing the visit, Obama said Alaska provided a "wake-up call" on climate change, and the White House says the trip is part of a month-long push on the issue after the release of the administration's Clean Power Plan.
The state is feeling the brunt of climate change—and Obama could meet with native Alaskans in the Arctic facing the first-hand challenge of sea-level rise.
But Alaska is also ground zero for a massive debate over expanded drilling, as oil companies look to Arctic waters for potentially vast oil fields. The debate kicked into high gear this summer when the Obama administration gave the green light for Shell to start drilling in the Chukchi Sea.
The White House has defended the permit, saying the Interior Department is making sure that the drilling is being done safely. But environmentalists say any movement towards oil production in the Arctic is going too far.
"Issuing Shell a permit to drill in the Arctic is going in the opposite direction of things like the Clean Power Plan," said Kirby Spangler, an organizer with Alaska Rising Tide. "It can't be done safely."
Arctic drilling is rapidly becoming a flash point for the environmental movement, especially with the fight over the Keystone XL tar sands pipeline nearing a close. Protesters in Seattle used kayaks to try to block a Shell vessel from leaving port, and protesters have been pushing on major Democrats to speak out against Arctic drilling (and were given a boost when presidential front-runner Hillary Clinton said she was opposed to it).
For Alaskan greens used to living on the fringe of the movement, they're hoping the trip can bring their issues back to the center.
"Normally in Anchorage, we're turning out 100 or 200 people if we're lucky, so it's really hard for us to know what's going to happen," said Spangler, who is helping to put together the rally in Anchorage. "There's a spotlight on us now, and that gives us a chance to point out the injustice of what's being done in the Arctic."
Spangler said organizers are even seeing interest from a variety of groups, including faith-based and indigenous organizations, for protesting the president's visit, a sign of how widespread concerns are about Arctic drilling in the state. The fact that it's the first presidential visit to the Alaskan Arctic offers a unique—and timely—platform.
But Alaskan officials are also eager to make their case. Speaking to reporters, Walker said he was encouraged by what he's heard from Obama, especially after the approval of the Shell permit, but planned to emphasize the need to open up ANWR and other offshore areas.
And drilling backers say they've got their own deep bench of allies. An ad out Thursday from the Arctic Slope Regional Corporation uses the voices of native Alaskans to promote oil and gas development.
"As stewards of the land, we have the most at stake in protecting an environment that is fundamental to our way of life," ASRC president Rex Rock Sr. said in a statement. "We also understand that environmental stewardship does not come at the expense of the responsible development of our natural resources, which is essential to our economic future."
If Obama does weigh in on the drilling controversy, it's unlikely he'd use the trip to make any major announcement. But greens said there's still plenty of room for him to turn his critics back into allies during the week.
"It would be almost a 360 for him to say Shell can't drill any more, but in an ideal world we'd like to hear him say that the best thing we can do to be a leader on climate … is to keep fossil fuels in the ground in the first place," said Marissa Knodel, a climate change campaigner with Friends of the Earth. "He has the authority to stop leasing on federal lands and water. A pledge to do that would be ideal."