A Rare Red-State Accord for More Voter Access
Voting-rights groups and Republican-led Oklahoma reached a settlement that could help get more people to the polls.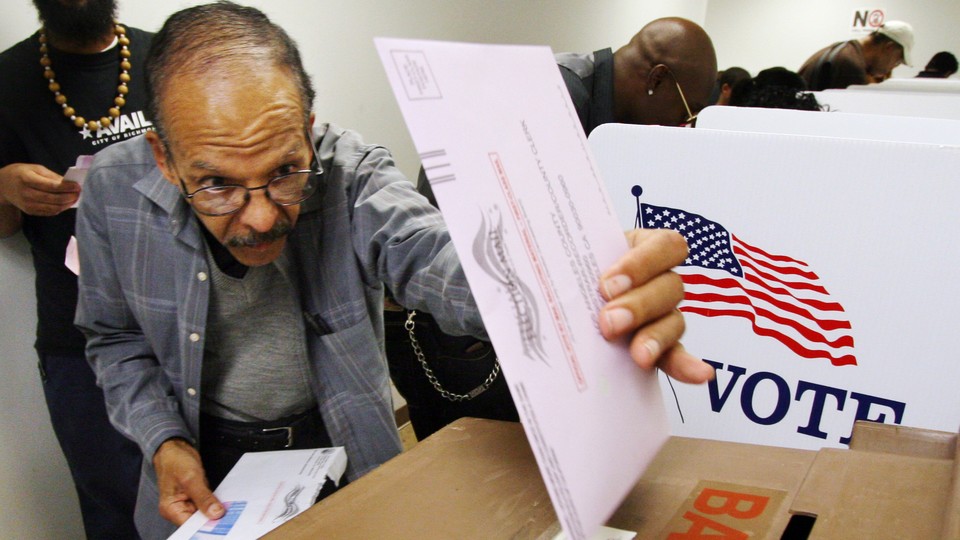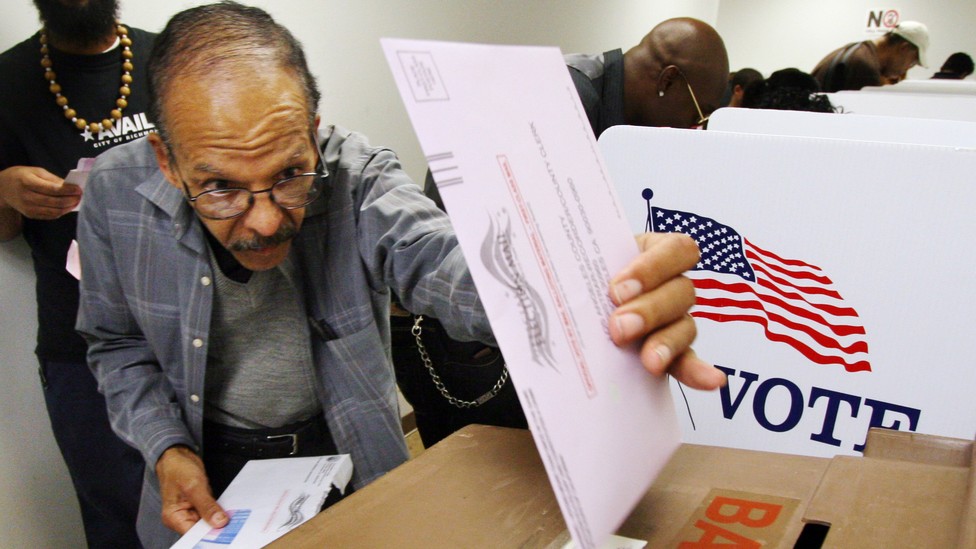 Nearly a year ago, a coalition of voter-advocacy groups wrote a letter to Oklahoma's top elections official to deliver a stark, but not uncommon, message: The state had failed to comply with federal law. Specifically, the groups charged, Oklahoma was not giving citizens receiving public assistance an opportunity to register to vote, which is a requirement of the 1993 National Voter Registration Act.
"We hope to work amicably with you to remedy Oklahoma's non-compliance," the advocates wrote. "However, we will pursue litigation if necessary."
Such warnings are often a precursor to lawsuits, the kind of knock-down, drag-out legal fights that are filled with accusations of voter suppression and partisan chicanery. In North Carolina and Texas, the courts are weighing challenges to new voter-ID laws, and the Supreme Court recently delivered voter advocates a victory when it ruled that Arizona and Kansas could not require people to show proof of citizenship when they register to vote.
Like those other states, Oklahoma is dominated by Republicans, producing a strong recipe for conflict with organizations, like Demos and the American Civil Liberties Union, that are often aligned with liberal causes. Yet to the surprise of the advocates, Oklahoma's case never reached a courtroom.
Last week, the coalition and Oklahoma's election board announced an agreement in which the state committed to asking any person who interacts with welfare agencies whether they want to register to vote and then to helping them through the process. That includes assistance with helping them register online. The state also agreed to establish a new website with information about the National Voter Registration Act.
The scope of the settlement is clearly modest when compared to the fights over voter ID laws, but Jenn Rolnick Borchetta, senior counsel for Demos, praised Oklahoma for agreeing to address what she said was "a disconcerting number of people who should have gotten voter-registration assistance and didn't get it at all." Demos and other organizations pursued the case based on statistics showing a disproportionately low number of low-income people who were registered in Oklahoma, which sparked an investigation.
"They were cooperative from the beginning," Borchetta said of state officials. "We get different responses from different states, and you can't predict the responses based on the color of the state. It's often difficult. We often have to file lawsuits, and the fact that we didn't have to file one here speaks itself volumes about Oklahoma's willingness to do this."
Bryan Dean, a spokesman for Oklahoma's election board, said there was a consensus among the state's top officials—including Governor Mary Fallin, a Republican—to work with the advocates rather than defend the challenge in court. "There was not a real reason to fight," he said. "The key thing for us is this agreement isn't asking us to do anything that goes beyond enforcement of the NVRA."
"We take the enforcement of this very seriously," he added. Dean also noted that the plan to which the state has committed "isn't costing us money."
The nationwide fight over access to the polls can be divided into two strains: efforts to expand access and make it easier for people to vote, and the battle against laws or policies ostensibly aimed at boosting the "integrity" of elections but which in practice are seen as limiting the vote. As a win for advocates of expanded access, the Oklahoma agreement represents "incremental steps," said Myrna Pérez, director of the voting rights and elections project for New York University's Brennan Center for Justice. "The Oklahoma case highlights that voter registration in this country leaves a lot to be desired," Pérez said.
The more controversial efforts are in the 17 states that are considering legislation to enact some form of automatic voter registration, along with other changes that shift voter registration from a pen-and-paper platform to an online system. (Hillary Clinton gave a boost to this push by endorsing automatic, universal voter registration during a speech in June.) Oregon in March became the first state to enact a law to require the state to mail a ballot to any citizen with a driver's license. Lawmakers in New Jersey passed a similar bill in June, but Governor Chris Christie, a Republican presidential hopeful, has indicated he's likely to veto the proposal.
Voting-rights advocates are playing defense in Texas and North Carolina, two states that implemented strict voter-ID laws and other restrictions after the Supreme Court ruling in 2013 invalidated a key section of the Voting Rights Act. The North Carolina trial began in mid-July and centers not on the state's ID requirement, but rather, on whether the law that ended same-day registration and preregistration for 16- and 17-year-olds, and scaled back early voting, constitutes discrimination against younger voters and minorities. In Texas, organizations including the Brennan Center are challenging the state's photo-ID requirement for a second time. They initially won their challenge after the law was first passed in 2011, but after Texas went ahead with the new rules following the Supreme Court decision two years later, the advocates brought a second suit under a different section of the Voting Rights Act. They are now awaiting a ruling from the 5th Circuit Court of Appeals.
A half-dozen other states tried and failed to pass new photo-ID laws earlier this year, and Pérez said most of them could try again when legislatures reconvene early in 2016. The state-level action also comes amid a renewed push in Congress—mainly by Democrats—to reauthorize the Voting Rights Act and respond to the Supreme Court ruling, 50 years after the landmark law was first enacted.
So while the accord in Oklahoma offers some hope that even red states can make gains on access to the polls, is it any more than an outlier? With another huge national election just over a year away, the prospects for federal legislation appear dim. The bigger fights are occurring over laws that make it harder, rather than easier, to vote. The modest victory for advocates in the Sooner State might just be the best they can hope for.