Obama Uses Arctic Backdrop For Stern Climate Warning
In Alaska Monday night, the president skirted talk of Arctic drilling as protesters rallied nearby.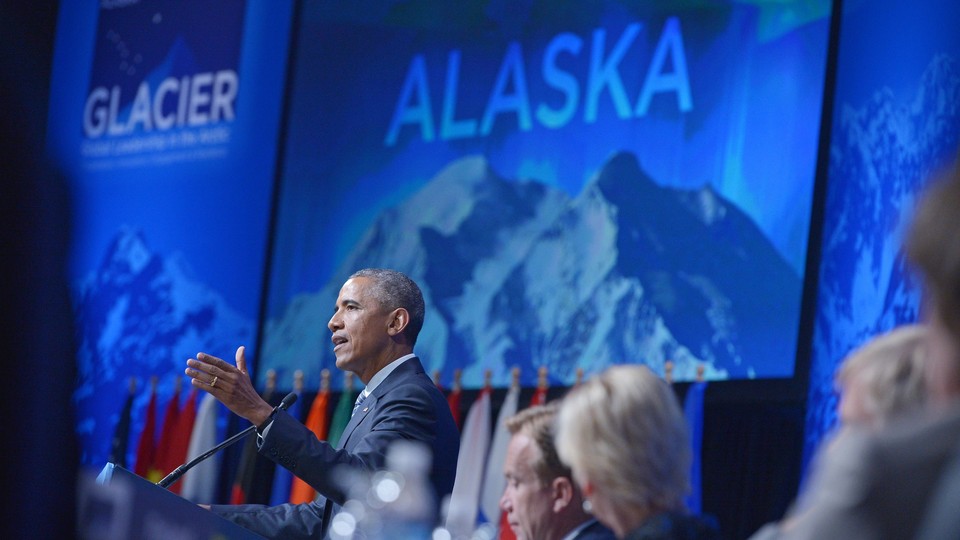 The road to Paris leads through the Arctic.
That was the message from President Obama, who said Monday at a speech in Alaska that the Arctic region was "a leading indicator of what our planet is facing" on climate change. The melting glaciers and rising sea levels, he said, should serve as an impetus for the world's governments to act and combat climate change.
"This year in Paris has to be the year that the world finally reaches an agreement to protect the one planet we've got while we still can," Obama said, referring to the United Nations climate change talks at the end of the year.
Obama's remarks at a State Department conference on climate change in the Arctic are part of a multiday swing through the state, where he will bring the White House's spotlight on climate change. But he skirted the environmental controversy that's loomed over his trip—his administration's decision to allow Shell to drill for oil in Arctic waters.
Environmentalists have said the move is a black mark on Obama's climate record, and tried to take the message directly to him Monday night. Green groups held a rally outside of the State Department conference, saying that opening up oil drilling in the risky Arctic waters is hypocritical and puts the fragile Arctic region at risk.
Obama has pitched his trip as a chance to spotlight about the impact climate change is having on the Arctic. Over the next two days, Obama will tour Kenai Fjords National Park and hike Exit Glacier, meet with fishermen in Dillingham and visit the Arctic village of Kotzebue. Obama will also film an episode of a reality show with survivalist Bear Grylls, all stops that will offer grand visuals to illustrate his message on climate change.
But greens say it's tough to square that with the Interior Department's decision to open up Arctic waters for drilling. The administration gave Shell a final permit to drill in August and has defended it as requiring the most advanced safety measures (it's also possible that future lease sales may not happen while Obama is in office).
The move, however, has threatened to overshadow the stated reason for the trip, as environmentalists are determined to use the visit to attract attention to oil and gas exploration.
Obama's also getting it from the other side, as oil and gas boosters have said they'd like Obama to open up even more drilling and exploration off the coasts. Alaska Gov. Bill Walker, who flew on Air Force One with Obama, said he wanted to use the trip to push Obama on promoting a balanced energy agenda that included clean energy and an expansion of fossil fuels. According to pool reports, Walker also thanked Obama for the administration's decision on Shell.
Obama's speech Monday carried a stern tone, listing through the impacts being felt in the Arctic such as raging wildfires, submerged villages, and collapsing glaciers. He left no room for debate, saying that the science on climate change was settled and that "any so-called leader who does not take this issue seriously or treats it like a joke is not fit to lead."
Earlier in the day, Secretary of State John Kerry had compared the scale of the threat of climate change to that of World War II, saying world leaders needed to band together to solve it.
Obama emphasized the work countries have already done to address climate change, including his own emission-reduction regulations on the power sector finalized this month, but underscored that there was much more for all world leaders to do.
"We're not acting fast enough," he said. "I have come here today, as the leader of the world's largest economy and its second-largest emitter, to say that the United States recognizes our role in creating the problem, and we embrace our responsibility to help solve it."
"We're making progress," he added, "we're just not making it fast enough."