Obama Renamed Mount McKinley. Ohio Isn't Happy.
Ralph Regula spent years in Congress protecting the memory of the Buckeye State's native son. Now he worries Obama might change the name of the Ohio River, too.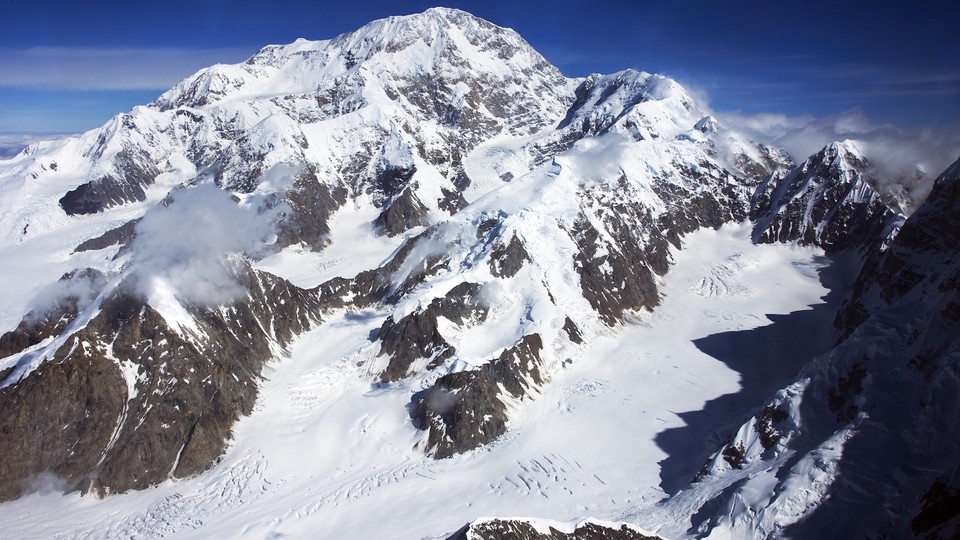 There may have been cheering in Alaska when the White House declared that the tallest peak in North America will revert back to its native name of Mount Denali after more than a century of being known as Mount McKinley. But on a small farm outside Massillon, Ohio, the announcement brought anger from the one man who had staved off that re-naming for decades.
Ralph S. Regula, a proud night-school graduate of the William McKinley School of Law in Canton, represented McKinley's home turf in Northeast Ohio for 36 years before his retirement in 2009, amassing significant clout as one of the "cardinals" on the House Appropriations Committee. Year after year, he used some of that influence to keep the name of Canton's most famous son on that mountain in Alaska.
Monday, he was dismayed at the president's announcement on his way to a three-day visit to the 49th State. "It's a political stunt," snapped Regula, now 90, during a phone interview with National Journal. "If he's serious about it, I would think he would at least visit Mount McKinley. He's going to be there three days and he's not even going near the place."
Regula was not alone in his anger among past and present Ohio politicians, some of whom grumbled privately that Obama would not have taken this step while he was so ardently wooing Ohio voters and their precious 18 electoral votes.
Rep. Bob Gibbs, R-Ohio, blasted the president in an all-caps statement in which he said, "This political stunt is insulting to all Ohioans. And I will be working with the House Committee on Natural Resources to determine what can be done to prevent this action." Speaker John Boehner said he was "deeply disappointed in this decision." In a statement, he cited McKinley's service during the Civil War and his "great legacy" as president and as governor of Ohio. Sen. Rob Portman, R-Ohio, also said he was "disappointed" with the decision, accusing the president of over-stepping his authority. It is, he said, "yet another example of the president going around Congress."
Democratic Rep. Tim Ryan, D-Ohio, who represents McKinley's birthplace in Niles, Ohio, also had been a champion of McKinley inside Congress. Once Regula left the House, Ryan stepped into the void and introduced the bill every year to block any renaming. "We must retain this national landmark's name in order to honor the legacy of this great American president and patriot," he said.
Ohio Gov. John Kasich, a Republican candidate for president, also tweeted his indignation, stating that the president "once again oversteps his bounds." He attached several paragraphs telling the tale of how McKinley was assassinated in 1901 only moments after he gave away the "lucky" red carnation he wore in his lapel every day. McKinley did that because his district included Alliance, the city where the red carnation was first developed in the United States. "Ohio knows," said Kasich, "every carnation is a monument to our own William McKinley."
Democratic Sen. Sherrod Brown offered cautious support for the president's action. But he was quick to couple that with praise for McKinley, whom he called "a great Ohioan." He said that "streets and schools throughout the Midwest bear testimony to his legacy." He promised to work with the administration "to ensure that future generations of Americans are aware of McKinley's legacy."
But it is back on that small farm in Ohio where the reverence for McKinley is the greatest and the anger today is greatest. Regula – who often handed out carnations in memory of the slain president -- had been focused on which head of Hereford cattle his grandchildren would take to the county fair when the calls from reporters started coming early Monday. He even laughingly talked about coming out of retirement. "I could probably block it again if I were in," he said. "I did it for years and years and years."
He accused the president of being "confused" about his role. "He thinks with an executive order he can change the law," said the former congressman. "But you can't change the law with an executive order. Only Congress can do that." The White House counters that the secretary of the Interior already has sufficient legal authority to make the change without congress.
Unpersuaded, Regula warned Obama may not be finished. "If they do this to a highly regarded, highly respected president like McKinley... are they going to go around the United States and change every landmark named after somebody?" And he suggested Obama may still have Ohio in his sights. "What's he going to change next? Is he going to rename the Ohio River because it is named after the state of Ohio even though it goes through a lot of different states?"