Obama: Iranian Hard-Liners 'Making Common Cause' With GOP on Nuclear Deal
The president responded to the deal's criticisms point by point in a major speech Wednesday.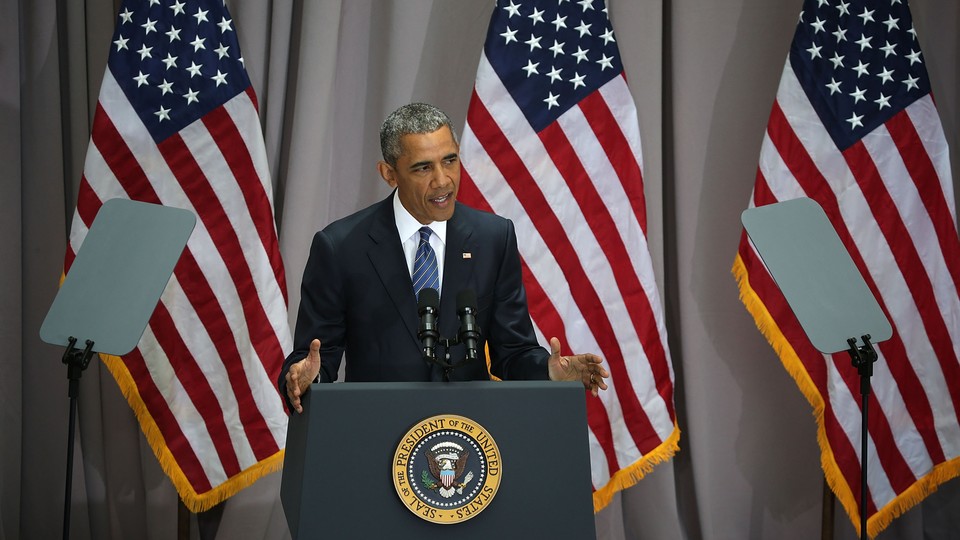 Before the Republican field launches a 17-candidate attack on the Iran deal Thursday night, President Obama made his most forceful case yet for the nuclear agreement, directly taking on the GOP opposition.
On Wednesday at American University in Washington, D.C., Obama again pushed the accord, meant to prevent Iran from developing a nuclear weapon. And while giving a point-by-point rebuttal to arguments against the deal, the president also let some of his frustrations loose, comparing GOP opponents to extremist Iranians.
"It's those hard-liners who are most comfortable with the status quo. It's those hard-liners chanting 'Death to America' who have been most opposed to the deal," Obama said. "They're making common cause with the Republican caucus."
Obama drew similarities between the run-up to the war in Iraq and the danger of another extended conflict in the region should the deal falter.
"Let's not mince words. The choice we face is ultimately between diplomacy or some form of war," he warned. "Maybe not tomorrow. Maybe not three months from now, but soon."
More than 10 years after the invasion of Iraq, Obama said, "we still live with the consequences of the decision." He urged Congress — and indirectly, the American people, whom he called on to contact their representatives — to "set aside political concerns, shut out the noise, consider the stakes involved with the vote that you will cast.
"How can we in good conscience justify war before we've tested a diplomatic agreement that achieves our objectives, that has been agreed to by Iran, that is supported by the rest of the world?" he asked. "How can we justify that to our troops? How can we justify that to the world or to future generations?
"In the end, that should be a lesson that we've learned from over a decade of war," he continued. "On the front end, ask tough questions. Subject our own assumptions to evidence and analysis. Resist the conventional wisdom and the drumbeat of war. Worry less about being labeled weak, worry more about getting it right."
Going point-by-point down the list of the major criticisms levied against the deal, he responded with vigor. The debate around an up-to-24-day wait for inspectors to enter Iranian nuclear facilities? A suspicious site will be watched around the clock, and nuclear material can leave a long trace. Yes, the limitations on Iran's peaceful nuclear program expire in 15 years, but "that's how arms-control agreements work." And is there a better deal to be had? "Those who say we can just walk away there from this deal and maintain sanctions," he said, "are selling a fantasy."
Obama also addressed concerns about the security of Israel, a country that some Iranian leaders have said must be destroyed. The agreement, he argued, was in service of that security, as it would prevent Iran from getting a nuclear weapon that could annihilate Israel — despite what Israeli Prime Minister Benjamin Netanyahu has said to the contrary.
"A nuclear-armed Iran is far more dangerous to Israel, to America, and to the world than an Iran that benefits from sanctions relief," Obama said. "I recognize that Prime Minister Netanyahu disagrees — disagrees strongly. I do not doubt his sincerity. But I believe he is wrong."
It will likely be the White House's last public word on the subject for the next two weeks: On Friday, Obama leaves Washington for his summer vacation on Martha's Vineyard. And it comes just a day before the first GOP primary debates, set for Thursday in Cleveland. The candidates are staunchly opposed to the deal, and many have declared that they would end it on Day One as president.
It faces an uncertain future in Congress. Nearly all Republicans oppose it, often in blistering terms — see Ted Cruz's charge that, should the deal proceed, Obama would be the leading state sponsor of terrorism. And though some prominent Democrats, such as Rep. Adam Schiff, the ranking member of the House Intelligence Committee, have come out in favor of it in recent days, others have been hesitant to lend their support. Convincing Democrats is the key to securing a veto-proof majority for the deal.
The historic agreement, reached in mid-July after years of diplomatic tug-of-war and a stretch of grueling talks in Austria, would prohibit Iran from producing the highly enriched uranium and plutonium necessary to build a nuclear weapon, and ensure inspectors access to the country's nuclear facilities to verify that the country doesn't undermine the terms.