Obama Cracks Down on Natural Gas
With proposal to limit methane, the White House climate plan is crashing against the gas boom.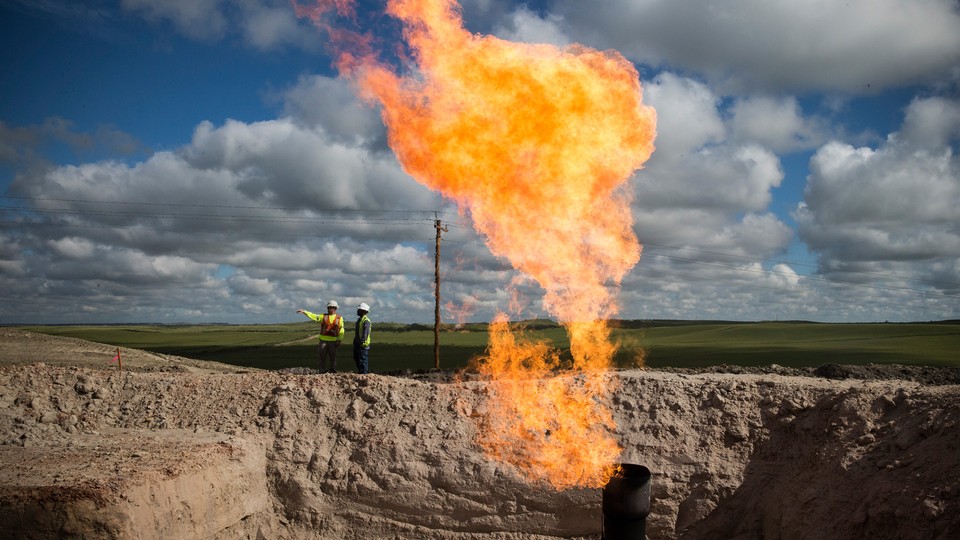 After years of full-throated support for the country's natural-gas boom, President Obama's climate plan is starting to take precedence.
The White House on Tuesday proposed new rules limiting emissions of methane and other pollutants from the oil and natural-gas industry, part of a strategy to cut methane emissions by up to 45 percent of 2012 levels by 2025. The rules — which will apply only to new and modified gas wells — are meant to address a harmful byproduct of the natural-gas boom.
Methane accounts for roughly 9 percent of total U.S. greenhouse-gas pollution, according to 2012 statistics, with nearly a third from the extraction and transport of oil and natural gas. But even in small amounts, it's still a potent polluter; pound for pound, methane traps 20 times more heat than carbon dioxide.
The boom in natural gas has divided environmentalists. As a power source, it burns more cleanly than coal and has contributed to a downturn in domestic emissions. But it carries with it concerns about water and air pollution from development and fracking, and many no longer see it as a viable bridge fuel between coal and renewables, despite its availability and low cost.
"We're encouraged that the Obama administration is beginning to ask the oil and gas industry to bear the burden of its pollution," said Sierra Club President Michael Brune, who has opposed natural-gas development. "Controlling methane, however, is not an end in itself, and it will not make fracked oil and gas safe."
According to the Environmental Protection Agency, the proposed regulations are projected to reduce between 340,000 and 400,000 short tons of methane in 2025, the equivalent of 7.7 to 9 million metric tons of carbon dioxide. The EPA is also proposing to reduce between 170,000 to 180,000 tons of pollutants known as volatile organic compounds that contribute to the production of ozone, or ground-level smog.
The proposal requires that companies adopt technology to find and repair leaks, capture natural gas from fracked oil wells, and limit emissions from its pneumatic pumps and other transmission equipment.
"Today, through our cost-effective proposed standards, we are underscoring our commitment to reducing the pollution fueling climate change and protecting public health while supporting responsible energy development, transparency, and accountability," said EPA Administrator Gina McCarthy.
The rules are part of a strategy announced in January to reduce methane pollution by 40 to 45 percent by 2025, which will come through several agencies. As part of that strategy, EPA last month proposed a voluntary program to get oil and gas companies to reduce methane emissions.
It's also part of the U.S. climate pledge to reduce greenhouse-gas emissions by up to 28 percent of 2005 levels by 2025. The methane announcement comes two weeks after the White House announced regulations cutting carbon emissions from the nation's power sector, the centerpiece of the administration's climate agenda.
But the natural-gas industry says that the new methane regulations are going to be an unnecessarily costly burden for a goal companies are trying to meet already and could put a dent in the surge in natural-gas production. The American Petroleum Institute said in July that companies have reduced methane emissions from natural-gas systems by 11 percent since 2005.
For years, coal had taken the brunt of the regulatory force from the Obama administration, and on Monday the Interior Department did approve Shell's bid to start drilling in the Arctic, opening up a new avenue of support for the oil industry. But just a day later, the new proposals represent a crackdown on the oil and gas industry, which had previously been lavished with praise for its role in boosting domestic production and bringing down energy prices.
Heading into United Nations climate talks in Paris this year, Obama's support for natural gas was waned. The final power-plant rules dramatically de-emphasized the role of natural gas from its proposed state, and now the White House says that the use of natural gas is identical to a business-as-usual scenario. In a speech announcing the rules, Obama made just a single mention of natural gas as part of a laundry list of energy options for states.
Announcing the proposal Tuesday, EPA acting air chief Janet McCabe said the rules would foster production of natural gas, but clarified that "this valuable resource must be developed responsibly and safely."
Still, those in the environmental community say that the regulations don't go far enough. The proposed rules affect only new and modified sources, while existing gas wells are left to be regulated as part of a voluntary program. According to the Environmental Defense Fund, 99 percent of the industry hasn't bought into voluntary programs.
"We have a serious problem with existing and abandoned wells, and the final rule needs to address them. The real solution to climate change is to leave fossil fuels in the ground and to clean up the abandoned wells that continue to poison our air," said Kate DeAngelis, climate and energy campaigner with Friends of the Earth.
Conrad Schneider, advocacy director of the Clean Air Task Force, said in an interview that eventually there would have to be action on existing sources, but Tuesday's announcement "sets the stage both as a legal matter and from the perspective of gaining more information and data for eventually regulating existing sources."
As for concerns about a crackdown on oil and gas, Schneider said that the sector's methane emissions were a logical place to start as part of a larger climate plan.
"If the U.S. wants to demonstrate global leadership on climate change, then all different sources of greenhouse gases are going to come under regulation," he said. "The oil and gas industry offers some of the lowest-cost greenhouse-gas reduction of any sector in the economy, and most of these measures either pay for themselves right away or in a few years. It's hard to imagine anything cheaper if you're talking about emissions reductions."