Obama Blames Inequities 'Brewing For Decades' In Katrina Commemoration
The president visited New Orleans Thursday to commemorate the 10th anniversary of what he called a partly "manmade disaster."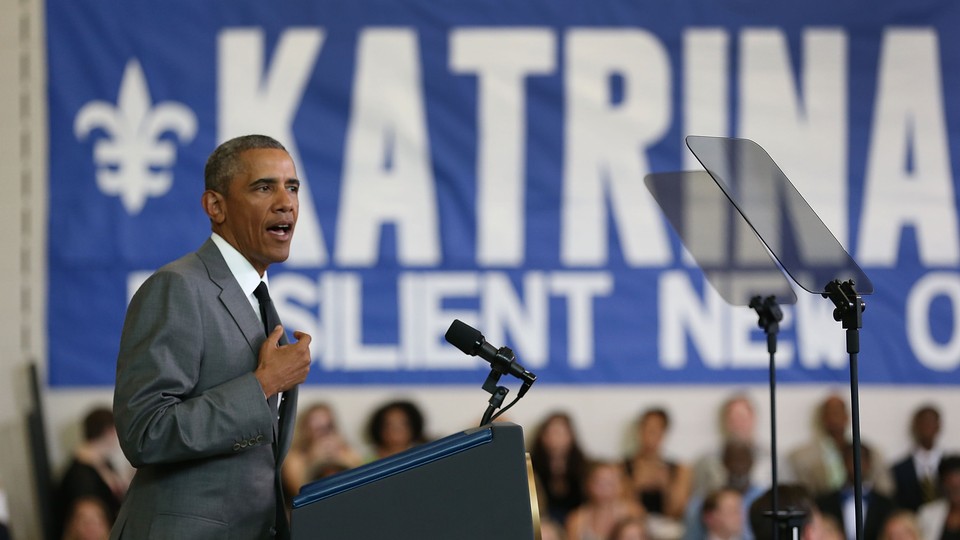 Ten years after Hurricane Katrina, President Obama visited a very different New Orleans Thursday and praised the "extraordinary resilience" of the city and its people. But he also acknowledged the work left to do, as well as the inequality and "failure of government to look out for its own citizens" that turned Katrina from a natural disaster into a "manmade" one.
"The storm laid bare a deeper tragedy that had been brewing for decades," he said, speaking at the newly built Andrew P. Sanchez community center, in the hard-hit Lower Ninth Ward. "We came to understand that New Orleans, like so many cities and communities across the country, had for too long been plagued by structural inequalities that left too many people, especially poor people, especially people of color, without good jobs or affordable health care or decent housing. Too many kids grew up surrounded by violent crime, cycling through substandard schools where few had a shot to break out of poverty. And so like a body weakened already, undernourished already, when the storm hit, there was no resources to fall back on."
It was important to look back on those previous injustices, he said, not to wallow in them, but "to understand what it is that we've learned, and how far we've come."
"The project of rebuilding here wasn't just to restore the city as it had been," Obama said. "It was to build the city as it should be, a city where everyone no matter what they look like, how much money they got, where they come from, where they're born, has a chance to make it."
The Lower Ninth Ward, where the president spoke, has had an uneven recovery. Though the multi-million dollar community center that hosted him opened in May, abandoned houses and lots sit just blocks away. Even Obama acknowledged that not long ago, gathering in the neighborhood "might have seemed unlikely."
"Certainly we know violence still scars the lives of too many youth in this city," he said. "As hard as rebuilding levees is, as hard as rebuilding housing is, real change, real lasting structural change, that's even harder."
African Americans—59 percent of whom said in a recent poll that New Orleans hadn't fully recovered, compared with nearly 80 percent of white residents who said it had—and people in harder hit areas were less likely to feel like the city had recovered, Obama said. But he praised the gains made in the city's public school system, including a higher high school graduation and college enrollment rate than before the storm, and housing assistance that will continue "until everybody who wants to come home can come home."
"This city is moving in the right direction," he said. "You inspire me. Your efforts inspire me, and no matter how hard it's been and how hard and how long the road ahead might seem, you're working and building and striving for a better tomorrow."
Despite the administration's previous statements that Katrina was caused by rising temperatures, Obama mentioned environmental concerns only briefly, warning "we're going to see more extreme weather events as a result of climate change." The White House has that topic well-covered this month: Earlier this week, Obama spoke at a clean energy summit in Las Vegas, and he is scheduled to visit the Alaskan Arctic on Monday for a three-day tour to see the effects of climate change in person.
He spent the afternoon before his address touring the Faubourg Lafitte area in Tremé, one of the most historic neighborhoods in the city, visiting with local residents and families, according to pool reports. He also met with a group of local young men affiliated with the My Brother's Keeper program, a White House initiative working to bring opportunity to minority boys and men, and participated in a "resilience roundtable" with Federal Emergency Management Agency administrator Craig Fugate, homeland security adviser Lisa Monaco, and others.