The Laboratory of New Orleans
Following the destruction of Katrina, the city has—in many ways—become a site of experimentation.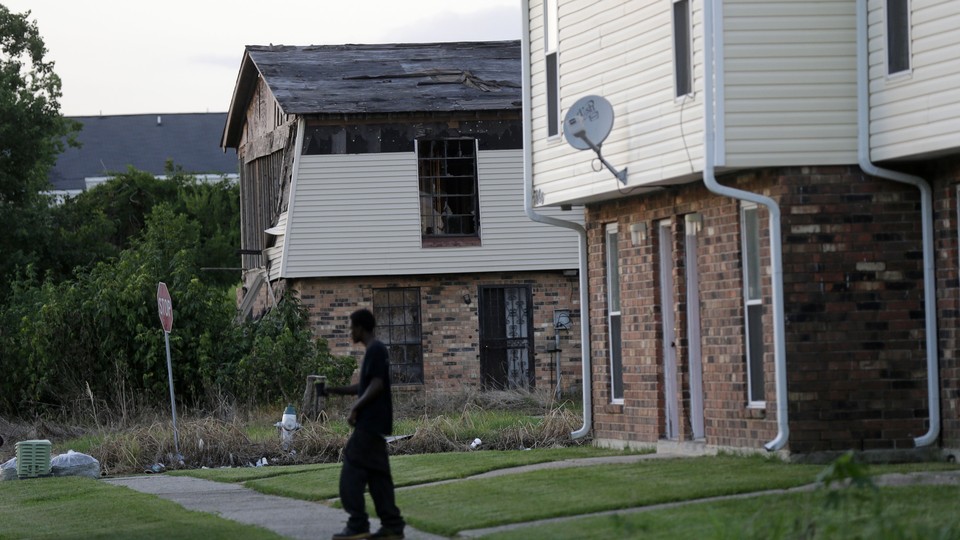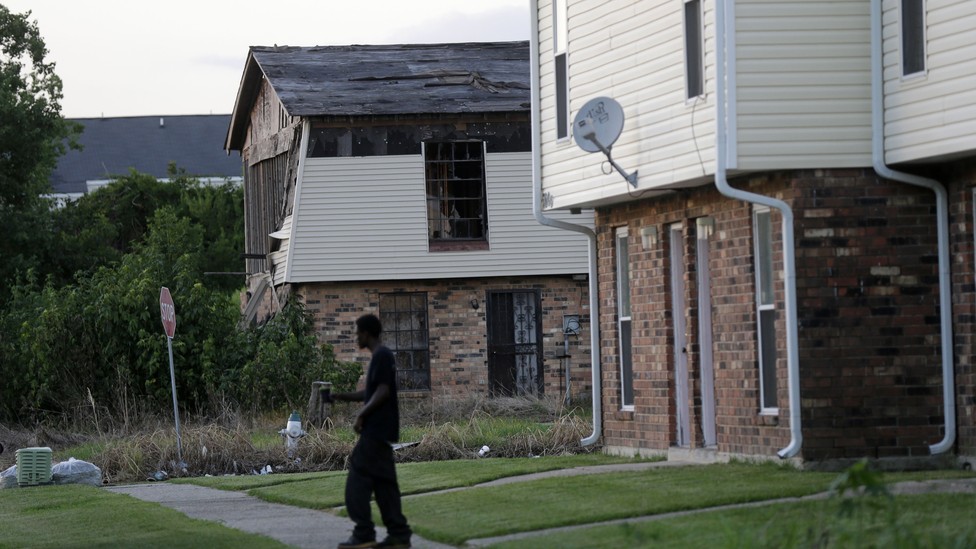 Referring to New Orleans as anything like a "laboratory" during the first weeks and months after Hurricane Katrina's floodwaters receded would have been a bad move. As displaced residents trickled back into the city, they were first and foremost seeking help with piecing their old lives back together: How were they going to pay for a new roof? Where could they find their displaced aunts and nephews? How would they soothe their traumatized children back to sleep during rainstorms? Any conversation about "experimentation" wasn't going to fly with already-rattled residents.
And yet, public hypothesizing about a "new" New Orleans began nearly immediately. James Reiss, an avatar of Uptown wealth and chairman of the Regional Transit Authority, helicoptered back into New Orleans after the floods to declare, "Those who want to see this city rebuilt want to see it done in a completely different way: demographically, geographically and politically."
If there was any ambiguity about what that meant, Louisiana state representative Richard Baker was more plainspoken: Katrina had "finally cleaned up public housing in New Orleans. We couldn't do it, but God did." Baker was referring to the city's shuttering of the "Big Four" federally subsidized housing complexes—even though most endured minimal flood damage. Meanwhile, most of the city's schools were beyond ruin, leading economist Milton Friedman to call the disaster "an opportunity to radically reform the education system."
Indeed, much of the built environment of New Orleans—including City Hall, thousands of private homes, roads, and other infrastructure—was ravaged during the city's weeks-long submersion under flood waters. Many of these structures—and institutions—were already disintegrating before Katrina hit, and it was going to take a storm of ideas to revive them. Like it or not, the city needed to experiment with solutions nearly across the board. And 10 years later, looking back at all of the reform policies that were instituted city wide, it's difficult to argue that New Orleans didn't benefit from becoming the world's learning lab.
Today, the word "laboratory" seems less loaded than it did in those early days. New Orleans Mayor Mitch Landrieu recently called the city "the nation's leading laboratory for social change." New Orleans-based journalist and Floodlines author Jordan Flaherty called it a laboratory for progressive, grassroots organizing.
Still, it's important to unpack that word—"laboratory"—in terms of rebuilding and recovery because, depending on who's using it, it still triggers some wincing. Discomfort with the term has not totally subsided in New Orleans, where experiments are still running.
'People ... Didn't Want Their Lives Experimented With'
"I think the city did become a laboratory, notwithstanding the challenged prism through which we see experimentation in the black community," says Flozell Daniels, the president of the Foundation for Louisiana, the entity that in some ways was the laboratory for the larger laboratory of the city itself. Formerly known as the Louisiana Disaster Recovery Foundation, it was the primary hub for granting proposals around economic development, housing, cultural preservation, and neighborhood planning. It also helped channel millions of dollars from philanthropy to charities and nonprofits involved in the recovery effort.
"Beyond the obvious cultural stigma, laboratories are mysterious spaces for most people," says Daniels. "Complex science, secluded activities, and secrecy by design … doesn't bode well for building public confidence that what's being done is in their best interest."
The stigma may not be so obvious to everyone, though. The words "Tuskegee Experiment" came up often when I invoked the term "laboratory" when speaking with those who lived through Katrina.Tuskegee of course refers to how the federal Public Health Service left hundreds of African American men infected with syphilis, when they thought they were receiving treatment, from the early 1930s through the early 1970s in order to study how it developed.* Many of them died without learning that they were treated as guinea pigs for these trials.
The analogy between this and what happened after Katrina is real to many: The issue of whether the people of New Orleans understood or handed over "informed consent" for recovery trials is still widely debated—especially in a city where poverty and illiteracy run much higher than average.
"When looked at from this perspective, it's easier to see why discerning people have, at minimum, questions about this so-called 'experimentation'—and, at most, deathly concerns about it based on our collective memories about how this has typically worked out for African Americans, the poor, and the disenfranchised in America," says Daniels, himself an African American.
Others in New Orleans have less quarrel with the "laboratory" label.
"That's exactly what New Orleans has been: a laboratory for some quite interesting experiments in several sectors," says Jed Horne, former news editor of the New Orleans Times-Picayune and author of Breach of Faith: Hurricane Katrina and the Near Death of a Great American City.
Lolis Elie, a longtime columnist for the Times-Pic, as it's still often affectionately known, also showed little resistance to the term when I spoke with him. He's the son of a prominent civil rights attorney who helped spur racial integration in 1960s New Orleans. He was also a story editor on the Katrina-based, David Simon-produced HBO TV drama "Treme," which presented a critical view of the forces that shaped New Orleans' recovery. Given that his name is almost synonymous with the city, you might think Elie would have some sensitivity around the "lab" tag. But he only calls it a "funny term."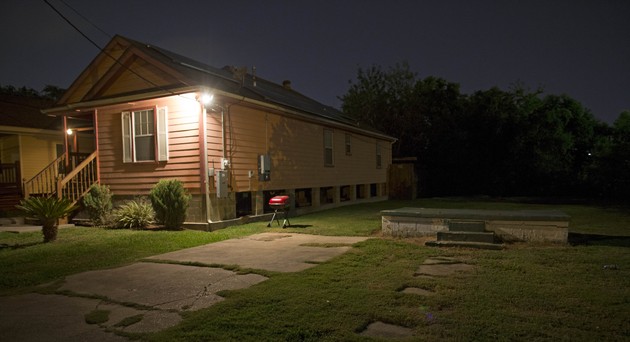 "I suspect that people's concern with that term had to do with the notion that they didn't want their lives experimented with," says Elie. "I didn't give much thought to the semantics of it. Rather, knowing how much about our system was not working, not only in New Orleans, but elsewhere, I welcomed the possibility of new approaches."
Not all of those new approaches were initiated by city natives, though, which often gave the recovery a pale, lab-coated feel. Some of this was rooted in distrust; some of it came from residents who just wanted their city built back to the way they always knew it, no matter how blemished.
Horne argues that "the resistance to various reforms was always noisier than it was widespread."
"Some of the opposition was sheer political opportunism—professional naysayers looking for a new way to say nay," says Horne. "But there was also a more conscientious concern: that the post-Katrina chaos opened up New Orleans—especially black New Orleans—to exploitation."
That was a concern few could ignore, especially when voices like Friedman and Reiss were talking about complete market-based overhauls to the city.
Says Daniels of that, "Maybe the most important question is whether one can take a private-experiment-laboratory approach with issues that are clearly a public good and not subject to market pedagogy."
One major trial that emerged in the Katrina recovery that put that question to the test was that of resuscitating local government.
Experiments in Participatory Democracy
Public participation in the city's political process was nothing stellar before Katrina. There were few channels that citizens could access to affect the process, and corruption among elected officials was so rampant that it probably wouldn't have mattered if they could. The Committee for a Better New Orleans had been working to change that culture since before the levees broke. But their efforts really took off when the post-flood recovery chaos forced the committee's Citizen Participation Program forward.
A smattering of similar citizen-participation efforts took hold in New Orleans in the years immediately following Katrina, including the city's own Unified New Orleans Plan (UNOP). But CBNO was one of the few organizations looking at government participation through a citizen-led and neighborhood-led lens before the storm. Many residents hadn't made it back to their home city between 2006 to 2009 to participate in complex public-comment and input processes for the recovery. But many of them were able to chime in through Skype-like video conferencing equipment, some of them beta-versions of the communications platforms we take for granted today.
Khalil Shahyd was project manager for CBNO's Citizen Participation Project back then. In this role, he tried incorporating the lessons he learned while traveling through Brazil and India, where he studied projects like the "Kerala experiment." Kerala implemented a decentralized, village-based planning process that ensured that as many people were able to participate as possible, and that the needs of the poor and disenfranchised weren't totally eclipsed by the greater good of the whole.
"It probably was the largest experiment in participatory democracy this country has ever seen," says Shahyd of the New Orleans recovery process, "the way we were able to talk to displaced people from around the country, and the fact neighborhoods were able to drive and guide their own planning efforts."
Timolynn Sams Sumter was also intricately involved in these efforts. As a young, African American single mother and New Orleans native struggling with her own family's recovery, she helped start the Neighborhood Partnership Network. It is one of the few community-based nonprofits launched during the city's initial recovery period that still stands today. NPN's goal was not only to help ignite planning in individual neighborhoods, but to coordinate efforts and share information between those neighborhoods—inter-mural community organizing to complement the intramural.
Like Shahyd, Sumter is still disturbed by the term "laboratory." She does admit, though, that the city as it existed before Katrina did require some kind of new order.
"It needed to happen," says Sumter. "There needed to be a dismantling of the civic processes, which weren't transparent nor open before Katrina."
The "laboratory" structure should have been "about how people spoke to power," says Sumter. But she doesn't believe that's how it ended up—at least not for everyone.
"I can guarantee you that ... in every city where the word 'laboratory' is being used, it's where there are large populations of poor and people of color," she says. "We're not experimenting with rich people or well-to-do white people."
It's true that many of the neighborhoods untouched by Katrina's floodwaters and levee failures were the high-ground, Uptown neighborhoods full of wealthy, upper-gentry folks like the Reiss family. And yet, those people had plenty of say in terms of how the city would be rebuilt. Meanwhile, working-class families like Sumter's worked hard to make sure people of more meager resources were still able to influence the recovery.
Through the turmoil of these public-participation exercises, New Orleans was able to produce a Master Plan, an official blueprint for urban planning and permitting. Incredibly, the city never had one of these. With it, New Orleans could finally update and, more importantly, enforce a new Comprehensive Zoning Ordinance—a body of land-use laws that was only finally approved this past May, almost 10 years after the disaster. Without mass-citizen input, these plans might easily have reflected mostly the desires of developers and other elites looking to capitalize on new building in New Orleans.
A Decade On, the Lab Results Are In
The avenues used to arrive at such plans were far from perfect, but at least the city would no longer abide by "planning by surprise." Here's how Dillard University researcher Robert A. Collins chalks up this near-triumph in a recent report for The Data Center in New Orleans:
The planning process organized neighborhoods and the citizenry in general to a greater extent than ever before. The result has been more citizens involved in the democratic process now than before Katrina. At the beginning of the post-Katrina planning process, most citizen participation was motivated by fear. Citizens felt that if they did not show up at public meetings and voice their opinions, their neighborhoods would be bulldozed and they would not be permitted to return. Many neighborhood residents also believed that the federal funding process was a zero sum game.
New Orleans is still a long way from claiming complete satisfaction in the participatory-government experiment, though. The comprehensive mechanism for including residents in planning decisions worked under the circumstances, but it's still dependent on politics to continue, writes Collins. Not to mention that most, if not all, of the funding provided by philanthropy and the federal government to create those mechanisms is gone now. Which is Sumter's other problem with the "laboratory effect."
"Yes, we have a master plan, but it has to be amended regularly. So putting together the plan is only step one," says Sumter. "If there's not a plan where both the investors and the participants can continue this engagement and have a conversation around sustainability, then I don't think it was ever authentic. Engagement cannot be a start-and-stop process, it has to exist at all times."
Meaning that, as with many laboratories, when the scientists use up their funding, the experiment stops. Where does that leave the subjects?
Race and income appear to be the biggest predictors of how New Orleans residents feel about their role in this experiment. A recent survey released by the Henry J. Kaiser Family Foundation finds that African Americans and people of low income today feel like they've not been helped as much in the recovery as have whites and the wealthy.
---
Residents More Likely to Believe Recovery Efforts Have Helped Whites, Wealthy People More Than Minorities, Poor People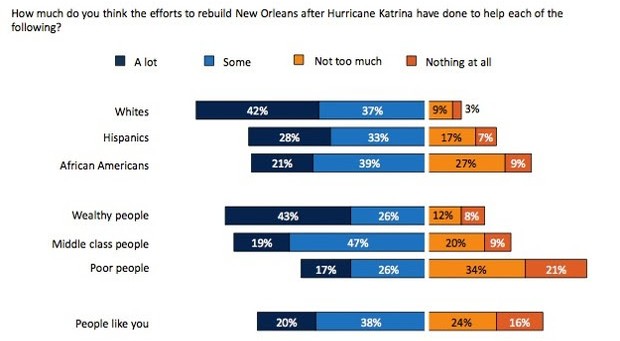 ---
All Cities Are Laboratories Now
New Orleans' experiment around participatory government was, of course, far from the only one conducted in the city. There were the trials on how to produce, or reproduce, affordable housing—an experiment that had already been replicated in many other cities thanks to the federal Hope VI and Section 8 voucher programs. There have not been a great deal of favorable outcomesfor low-wage New Orleanians that have come out of this.
Then there's the ongoing grand experiment of producing an entirely new K-12 education system for the city. This system-wide charter-ization of public schools in New Orleans is a project that has yet to be replicated at the same scale in any other American city. So far, the experiment has produced mixed results at best.
But another that has produced more favorable outcomes is the city's experimentation with its criminal justice system. New Orleans was once known as the incarceration capital of the nation, in a state with some of the highest incarceration rates in the world. The state is still working on those woes, but New Orleans itself has made some strides in reducing its local jail population. (For more on this, read Jeffrey Goldberg's "A Matter of Black Lives" in the August issue of The Atlantic.)
"In this case, you had people advocating and boldly pushing for efforts to experiment with different strategies to improve the system," says Daniels, whose Foundation for Louisiana was involved in funding some of those efforts.
Progress on crime and safety is the one area where black and whites equally agree on the level of progress, according to the Kaiser Family Foundation Katrina Survey Project. That said, it's also the one area that New Orleanians say has registered the least progress of the eight subject areas offered in the Kaiser survey:
---
African Americans Less Likely to Perceive Progress in Many Areas, With the Exception of Public Transportation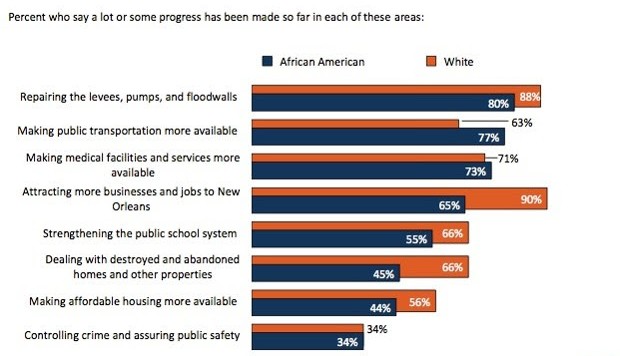 ---
Daniels says he understands the reluctance to fully embrace the "laboratory" term. He offers the term "inclusive innovation" as an alternative. Meanwhile, almost every major U.S. city is experimenting with how to do criminal justice differently, just as they are with affordable housing, K-12 education, voting reform, and more—with many of them looking to results coming out of New Orleans for answers. Given the way cities now approach climate-change planning alone, we can no longer avoid the fact that we're all living in laboratories now, regardless of our discomfort with the word's connotations.
When I proposed this to Sumter, she said that was "absolutely right"—but that we still had to keep our eyes on "who is being experimented on, and who's doing the experiment."
After all, says Sumter, "It's not the word itself that's problematic, it's the behavior within the word."
*CORRECTION: The original version of this article stated that the federal Public Health Service infected African American men with syphilis. We regret the error.
---
A version of this story originally appeared on CityLab. This project was made possible with support from the W.K. Kellogg Foundation.