New Legislation Adds Momentum to Cadillac Tax Repeal
But this opens the door for multi-layered Obamacare political drama, with risks for both parties.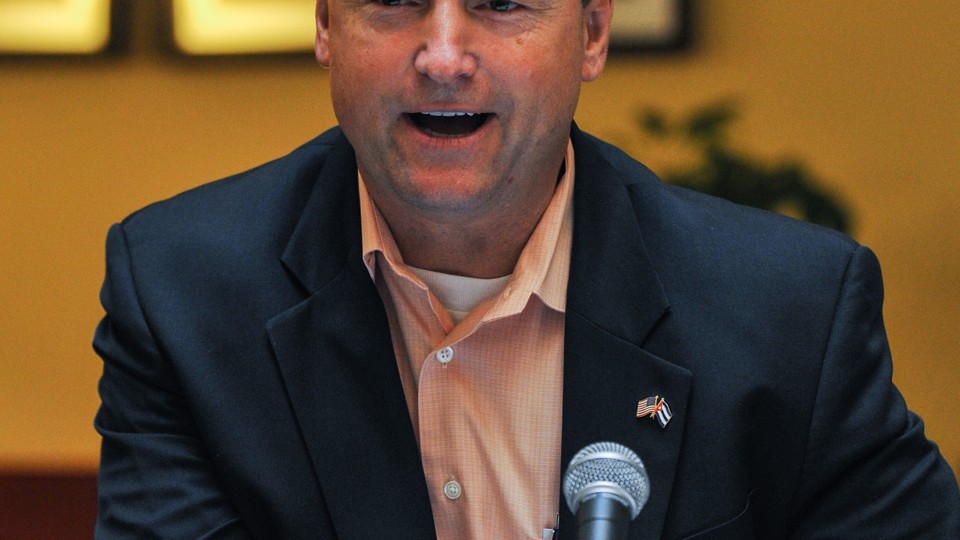 Republican Sen. Dean Heller will introduce legislation to repeal Obamacare's Cadillac tax after Congress resumes, National Journal has learned, and the fight to get rid of the tax will begin in the Senate.
But for once, Republicans are not alone in calling for a repeal of a piece of the Affordable Care Act. The tax on high-cost health care plans that goes into effect in 2018 is the subject of plenty of chatter within both parties, and dozens of groups off the Hill are lobbying to make sure it stays that way.
But the vicious politics surrounding Obamacare will complicate any effort to get a repeal across the finish line.
"Republicans want to, by and large, keep up a front against the Affordable Care Act, and Democrats are reluctant to admit there are some problems," said Timothy Jost, a law professor at Washington and Lee who is generally supportive of the ACA.
That's the simple version of a political drama with several layers, which will start to unfold when Congress ends.
"I think it's complicated, I guess is the short answer," said Lanhee Chen, a Stanford Law School professor. "But I just think it's slightly less complicated for Republicans, because Democrats own it. It's part of Obamacare and they own it."
Both parties face tricky politics in repealing the tax. Republicans will be working to repeal something that is not only an anti-Obamacare talking point, but is also actually similar to components of conservative health care policy. And Democrats are dealing with a provision of Obamacare that's unpopular with some of their constituents, yet one that helps pay for the law - something they want to continue to do.
"The fact that there is Democratic support for Cadillac tax repeal cuts both ways – it would give Democrats and unions a win, but it is an opportunity to repeal a key feature of the Affordable Care Act with bipartisan support," said Edward Lorenzen, a senior advisor on the Committee for a Responsible Federal Budget. "The bigger issue politically is whether conservatives who want to repeal the entire ACA would want to repeal one of the more controversial provisions which they may view as a liability to use to bring down the entire bill."
The so-called Cadillac tax is a 40 percent excise tax on employer-provided health insurance benefits over a certain threshold. It addresses the government revenue lost by the tax exclusion of employer-provided health care plans, while simultaneously attempting to contain health care costs and generate revenue for the Affordable Care Act.
"Economists have always believed that the tax subsidy for employer-provided health insurance leads people to be, in effect, over-insured," said Larry Levitt, senior vice president of the Kaiser Family Foundation, adding that the Cadillac tax is a "cost-containing effect because it discourages plans from hitting the threshold. It provides incentive to cut back on the cost of coverage."
But that's exactly the problem: Opponents of the tax say that employees are already seeing decreased benefits from employers, but are not being compensated by increased taxable wages - which was theoretically what was supposed to happen. While economists and budget hawks are generally fans of the tax, almost everyone else is not.
A Kaiser study found that in 2018, about a quarter of employers offering health benefits could be subject to the tax unless they change their plans.
A group of stakeholders ranging from unions to an organization representing Fortune 500 companies have teamed up and are calling themselves the Alliance to Fight the 40. And in the House, two bills have already been introduced aimed at repealing the Cadillac tax. One was introduced by Democratic Rep. Joe Courtney and has 132 cosponsors, 118 Democrats and 14 Republicans. A second bill was introduced by Republican Rep. Frank Guinta and has 81 cosponsors, all Republican.
But both parties have plenty of reasons to be hesitant about the legislation and unsure of its future. For Republicans -- who, as the majority party, will decide whether or not the legislation moves -- getting rid of the Cadillac tax also means eliminating one of the most unpopular parts of Obamacare as they continue to try to repeal the entire law.
"If you want to repeal the Affordable Care Act, you want to have the most opposition to the bill. If you were able to repeal some of the more controversial provisions, that might take some of the momentum away," Lorenzen said.
"Republicans by and large believe the President's health law should be repealed in its entirety and that includes Obamacare's Cadillac tax. It's a misguided provision that creates a draconian policy that will hit countless Americans with a 40 percent excise tax," said a spokeswoman for the Senate Finance Committee majority, which has jurisdiction over the tax.
Neither the Finance Committee nor the Ways and Means Committee, which has jurisdiction over the tax in the House, has indicated whether they will attempt to litigate the repeal. If they do decide to move forward on it, however, they are almost certain to receive backlash from some of the more conservative members of the GOP.
"Most GOPers don't believe reconciliation or any other parliamentary procedure will result in repeal, so they believe fixes are in order," said a lobbyist familiar with the situation. "Unfortunately, politics says they must do repeal first... Because if they don't people will wonder why they're fixing something they're going to try and repeal later."
Another catch for Republicans who want to repeal the Cadillac tax is it actually is pretty similar to their own policy prescriptions for tax treatment of employer-based insurance. Repealing it now may hurt them later if they try to do something similar in their own health care plan.
The lobbyist said that he believes Republican leadership will ultimately want to work across the aisle to pass the repeal. However, that's when the door opens for Democrats to have a big problem.
Taking up any reform to Obamacare admits the law is imperfect, although many Democrats have openly acknowledged the law isn't perfect and needs to be tweaked. But once they get into the negotiating process, the biggest hurdle will almost certainly be how to pay for a repeal of the tax.
"The one thing that will slow this down is if Democrats all of the sudden start talking about the importance of fiscal responsibility and opposing any bill that's not paid for. Or if they object to certain GOP proposals to pay for it," said the lobbyist. "The GOP will wonder why...do I have to use one...of my tax payfors, which I could use for overall rate reduction, to pay for the Democrats' Cadillac tax problem."
There are several reasons Democrats would want to pay for a repeal. First, the tax helps pay for the Affordable Care Act, and repealing it without a replacement will add to the deficit. Second, they have already put a stake in the ground that repealing pieces of Obamacare is only acceptable if the repeals are paid for -- a line central to several Democrats' opposition to the Republican-favored medical device tax repeal that has passed with bipartisan support in the House and is pending in the Senate.
"Repealing it would be very expensive because the congress decided to use these funds to pay for care under the exchanges and Medicaid expansion," said Dan Mendelson, CEO of Avalere Health. "This is like the very expensive suit you see in the window. Everyone likes the look of it, but it might just be out of reach."
Yet some of the biggest opponents of the Cadillac tax are unions, a group that has the ear of Democrats.
And then there's always the question of whether the president would ever sign legislation repealing any part of his signature domestic policy.
But to some Democrats, the answer is not necessarily black and white; there's plenty of room for gray when it comes to both the Cadillac tax and the law's medical device tax, another repeal target that has bipartisan support.
"It's not either no repeal or full repeal," said a Senate Democratic aide. "There are tweaks you can make to both of them…that don't cost as much."