Recovery or no, the housing news is grim for millennials. A new report from Goldman Sachs echoes the new findings from the Pew Research Center last month: The economic recovery has not shown any decline in the share of young adults who are living at home with their parents.
Since the start of the recovery (in 2010), the share of 18-to-34-year-olds who are living at home has, in fact, increased. According to the latest figures, about a third of millennials are sharing living quarters with their folks. While this percentage stopped growing during the second half of 2014, it hasn't shown any meaningful shift. Despite the recovery, they're still stuck.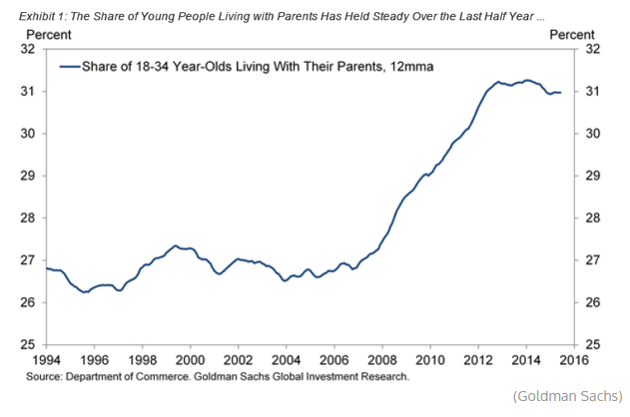 However, these findings appear to run contrary to a different trend in U.S. housing: The number of new households in the United States is rising steadily, according to Census data. Which raises a question: If the percentage of young adults who are living at home with their parents is still so high, how can the number of new households be growing? Who's forming these new households?
Jed Kolko, an economist, offers up one possible solution. In a report for the University of California, Berkeley's Terner Center for Housing Innovation, he writes that older adults are responsible for the growth in new households.
Despite expectations that millennials are the force behind household formation, older adults are driving household formation. Strikingly, age groups younger than 55 collectively had negative household formation between 2014 and 2015, while 65–74-year-olds accounted for more than two-thirds (860,000) of overall household formation.
Kolko compares household formation figures to the unemployment rate: Being employed is like being a homeowner. Being unemployed is like being a renter. Living in another adult's home, then, is like dropping out of the labor force.