Editor's Note:
This article previously appeared in a different format as part of The Atlantic's Notes section, retired in 2021.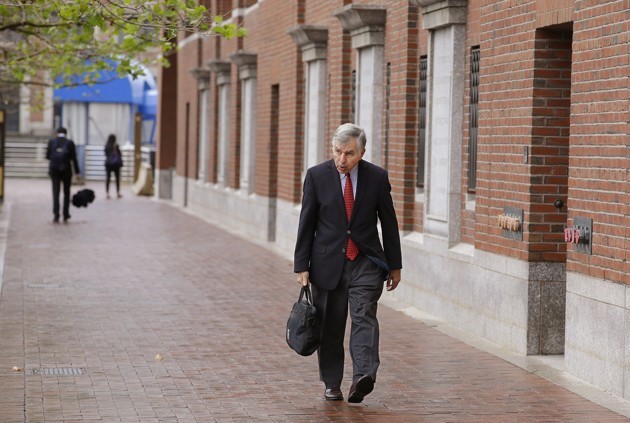 How rattled are Democrats by Clinton's campaign stumbles? Well …
That's right: The Duke is back. Not only is there a grassroots groundswell for him, but when contacted by The Boston Globe last week, he refused to rule out a campaign, saying he was "not sure" he wanted to run again. "I might just end up in the divorce courts of Norfolk County if I suggested another national campaign!"
Is that Shermanesque? It certainly isn't. True, it's been a while since the former Massachusetts governor was active in national politics. But think about all the reasons he'd make a great contender.
Unlike moderate '90s veterans like Clinton and Biden, he's a great fit for a Democratic Party moving steadily to the left. Unlike Clinton, he's proven he can win a presidential nomination. Unlike Biden, he was never too tough on crime. (Remember Willie Horton?) Unlike Biden and Clinton, he's been occasionally critical of Obama, offering him some distance from the White House. Unlike Lincoln Chafee, Dukakis, a second-generation American, is no one's idea of a patrician. Unlike Jim Webb, he's been a Democrat since the 1980s.
OK, sure. There are some flaws in the plan. He's 81 years old, but wisdom never expires. The "draft Dukakis" movement seems to consist entirely of a Twitter feed with fewer than 100 followers and a remarkably ugly Zazzle baseball cap. Americans who are wary of a Bush vs. Clinton race, reprising 1992, might not be a great deal happier about a 1988 replay of Bush vs. Dukakis.
Unfortunately, the Dukakis boomlet might be over faster than you can get in a tank for for an ill-advised photo op. In an email to The Huffington Post Friday, Dukakis wrote, "Absolutely not. Kitty and I are supporting Hillary." But it's a long campaign, and he has plenty of time to change his mind.