Legal Battle Flares Over Obama's Climate Legacy
Fifteen states ask federal court to block EPA's carbon-emissions rules for power plants.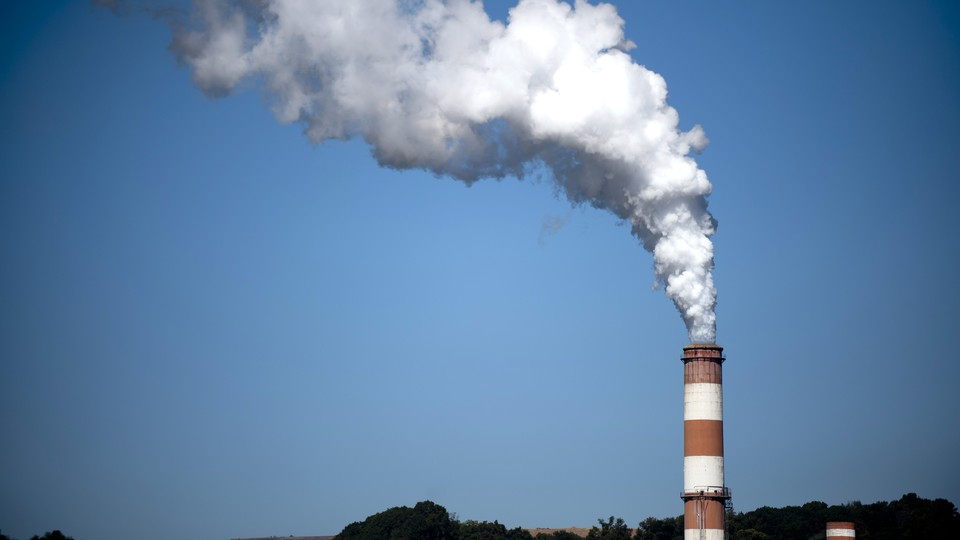 States opposing the Environmental Protection Agency's sweeping carbon-emissions rules for power plants say the ink is dry enough on the regulations to begin fighting in court.
Fifteen state attorneys general asked a federal court to put the rules on hold because the clock has begun ticking on their compliance, even though the regulation unveiled in early August has not been formally published in the Federal Register.
A petition filed Thursday led by West Virginia notes that preliminary state deadlines to submit compliance plans loom in September 2016. The lawsuit argues that absent a stay, states will be "irreparably harmed" because they must spend resources and begin reordering their energy sector.
"With this firm deadline, the Rule requires States to spend significant and irrecoverable sovereign resources now to begin preparing their State plans," the AGs write in a petition to the U.S. Court of Appeals for the District of Columbia Circuit.
But the states also want to upend the entire rule, so they are asking the court to put all the measure's deadlines on hold until the court fight over the rule's overall legality is completed.
The rule, a central pillar of President Obama's climate-change agenda, aims to cut emissions from power plants by 32 percent below 2005 levels by 2030, largely through speeding the shift away from coal-fired power with greater use of renewable energy sources and natural gas, and increased conservation.
It's expected to eventually land before the Supreme Court.
The new petition seeking a stay also makes a series of arguments against the legality of the underlying regulation, arguing, for instance, that EPA's interpretation of the Clean Air Act section governing the rule — 111(d) — goes far beyond what Congress authorized.
"The Clean Air Act was never intended to be used to create this type of regulatory regime, and it flies in the face of the powers granted to states under the U.S. Constitution," West Virginia AG Patrick Morrisey said.
The states of Alabama, Arkansas, Florida, Indiana, Kansas, Kentucky, Louisiana, Michigan, Nebraska, Ohio, Oklahoma, South Dakota, Wisconsin, and Wyoming joined the petition, part of what's expected to be a heavy legal assault on the rule by fossil-fuel-industry and business groups.
Environmentalists criticized the lawsuit, noting previous attempts to thwart the rule have failed.
"Multiple federal courts have already rejected premature attacks on the Clean Power Plan and EPA's carbon standards for new power plants. These attorneys general are wasting taxpayer dollars on a junk lawsuit just to attack life-saving clean-air safeguards," said Joanne Spalding, chief climate counsel for the Sierra Club.