Hurricane Katrina's Uncharted Diaspora
The storm displaced hundreds of thousands from their homes, and there is still no comprehensive picture of where they ended up.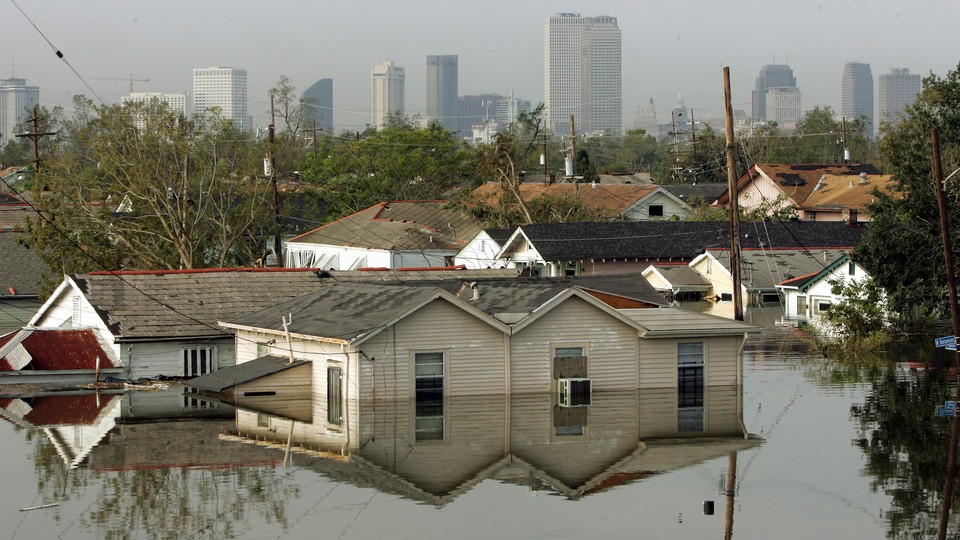 Hurricane Katrina made landfall in the city of New Orleans on the morning of August 29, 2005, swept in by winds traveling at 127 mph. But the true damage came after the levees broke, when about 80 percent of the city flooded. At least 400,000 residents, nearly the entire city, were displaced—some for a few days, some forever.
Ten years later, there is still no single, comprehensive source of information on what happened to displaced New Orleans residents—on where they went, or why. Beyond FEMA and U.S. Census data collected a year or less after the disaster, neither the local nor federal government had systems in place to systematically track Katrina's castaways.
What we do have are a handful of individual studies, lists, and mapping efforts, that, taken all together, paint a portrait of a decade of dramatic upheaval.
---
The New Orleans 'Diaspora'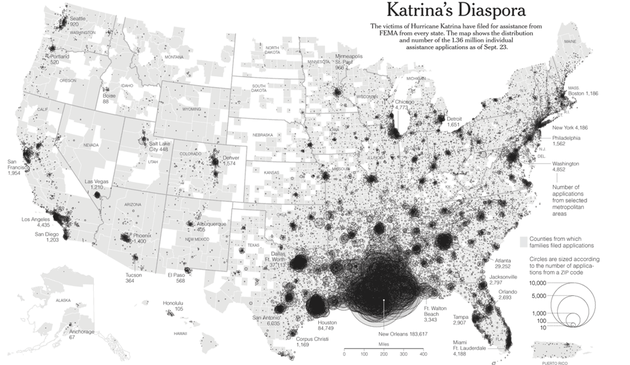 ---
In the hours before, during, and after the storm, New Orleanians evacuated to cities and towns all over the country. Sometimes they chose a destination in order to be with family or friends. Other times, FEMA sent them off to places unknown. "We have residents who were loaded onto buses bound for Memphis or Salt Lake City and only found out once they got there," says Michelle Whetten, vice president of the affordable housing and community development nonprofit Enterprise Community Partners, Inc.
By September 23, 2005, 1.36 million applications had been submitted to FEMA by former Gulf Coast residents for Katrina-related disaster assistance. As The New York Times' 2005 "diaspora" map above shows, applications came in from every state and, according to one researcher, almost half of all ZIP codes.
But FEMA captured just a snapshot of the displacement, and in the broadest stokes. Narayan Sastry, a scholar of population studies at the University of Michigan and a social scientist at the RAND Corporation, has been developing survey-based methods of tracking displaced New Orleanians since 2009. In a 2014 paper, Sastry used a sample of individual responses from the Census Bureau's American Community Survey (ACS) to examine where New Orleans residents wound up in the year after the hurricane, and what factors had influenced their moves.
By one year out, about 53 percent of displaced adult New Orleanians in Sastry's sample were back again, with less than a third at the home they'd lived in prior to Katrina. Of those who remained displaced, 12 percent were living elsewhere in Louisiana (particularly Baton Rouge), and 40 percent were in Texas (particularly Dallas and Houston, the latter receiving more evacuees than anywhere else). Most of the rest were scattered throughout the South, or New York, Ohio, and California.
"Most of the displaced adults likely faced considerable economic and institutional barriers in being able to move back to the city, such as the lack of affordable rental housing," Sastry writes. And most of those who remained displaced were demographically quite different from those who'd returned in the span of a year. Black residents, for example, were significantly less likely to have returned to New Orleans in the first year than non-blacks were, at 44 versus 67 percent.
---
Searching for the City's Most Vulnerable Residents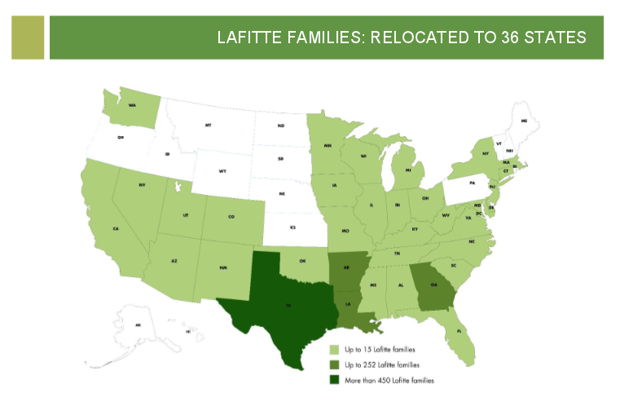 ---
Conditions at New Orleans' "Big Four" public housing complexes—B.W. Cooper, C.J. Peete, Lafitte, and St. Bernard—had been deteriorating for years before the levees broke. After the storm, federal funds and increased awareness around the city's decaying housing stock kicked discussions of how to redevelop the Big Four into high gear. In 2006, the city voted to demolish the buildings, and began the slow (and flawed) process of replacing them with mixed-income housing developments.
Whetten, who is involved with the Lafitte project, estimates that nearly nine months were spent trying to locate the members of the 865 households who had left Lafitte in the middle of the disaster. Enterprise contracted a local non-profit to sift through information from the New Orleans Housing Authority, emergency contacts obtained by the property manager, and FEMA's registry. Whetten says they were ultimately able to track down members of 550 households, scattered across 36 states.
She estimates that a little fewer than half of the 404 new, below-market-rate units at Lafitte (now called Faubourg-Lafitte) are now occupied by former residents. Why the others didn't come back is anyone's guess, she says. Some likely found better jobs or schools where they landed. Some may have used their housing vouchers to live elsewhere in New Orleans. And Lafitte's redevelopment is still years behind schedule: Construction on 100 new units reserved for seniors just broke ground this February.
"Frankly, redevelopment has taken a long time," Whetten says. "At a certain point, people may have decided to move on with their lives."
---
Katrina Student Population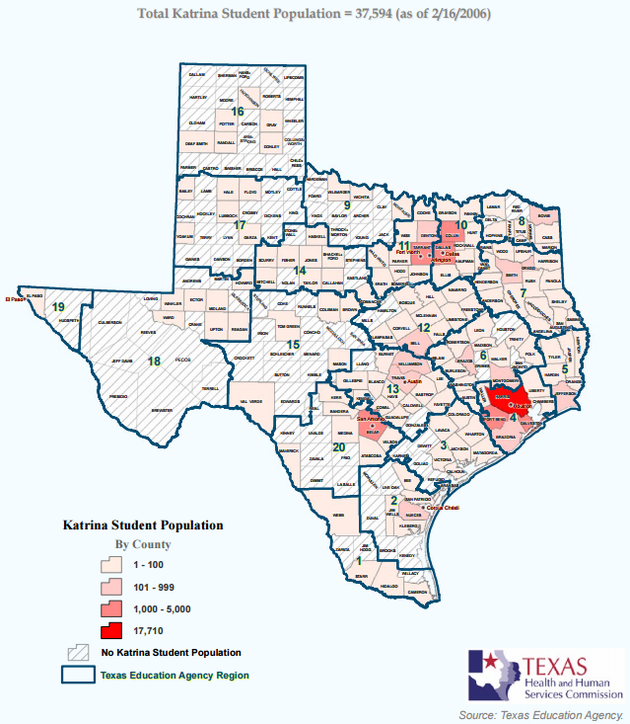 ---
The city of Houston received more Katrina evacuees than anywhere else in the country. As many as 250,000 arrived at the peak of the storm, many landing in the city's Astrodome. An estimated 150,000 were still living in Houston a year later. For thousands of those evacuees, living conditions in Houston were not good. According to a 2006 survey by the city of Houston, about a quarter of former New Orleans residents who were displaced to Houston (including those displaced by Rita, which hit the Gulf less than a month after Katrina) were staked out "in FEMA-funded apartments in high-crime, high-poverty neighborhoods on the city's southwest side."
The influx slammed Texas government. Housing was scarce and often unaffordable for evacuees. Schools, transit systems, and Medicaid programs were overwhelmed. A 2006 report from the office of former Texas Governor Rick Perry beseeched the feds for $2 billion in extra funding to cover the costs of this new, highly vulnerable population, which included Rita's victims. (The state, and others, did receive extra federal assistance to assist evacuees.)
To make matters much worse, longtime Houston residents were wary of Katrina evacuees, who were overwhelmingly poor and black. Residents complained of a crime wave connected to their new neighbors, which was later debunked. But the negative tone lingered. In 2010, an annual citywide survey revealed that 58 percent of Houstonians felt that the overall impact of the evacuees on the city had been "a bad thing."
Yet the displaced weren't there by choice; many didn't have the means to return to New Orleans, or much to return to. "I wish I could go back, but I know it's impossible," Carol Young, a young mother who'd settled in Houston, told Shelterforce. "Many days and nights I sit up in this apartment and I have cried. My whole life has been rooted up and I have been put somewhere else, somewhere I didn't ask to be at. You can mark my word; New Orleans is not coming back. It's a hard pill to swallow. It's like you're walking but your feet ain't going nowhere."
---
A Rare Opportunity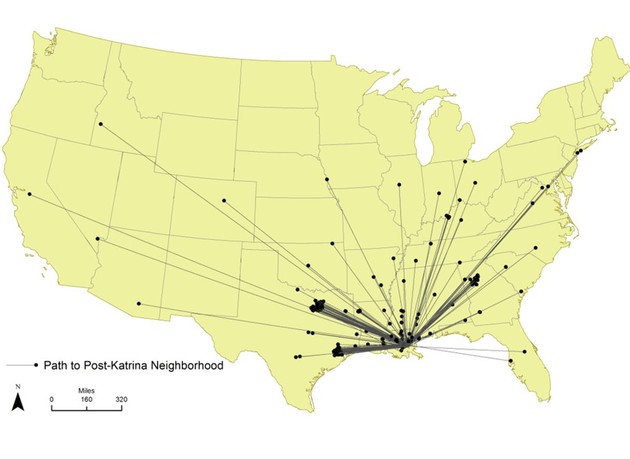 ---
One problem with studying the effects of disasters on individuals is that there's no way to compare "before" to "after"—unless you happen to be collecting information before the event occurs.
That's what happened with the Resilience in Survivors of Katrina (RISK) Project, which began in 2003 as a health study of about one thousand low-income parents enrolled in community college. When Katrina hit, the study's principal investigators seized the chance to trace the ripples of the disaster through the lives of the subjects. The people in the original sample—who were about 85 percent black, 95 percent female, and at 200 percent of the federal poverty line or poorer—have now been surveyed twice since Katrina, having scattered to 31 states (shown above).
By the second round of surveys in 2009 and 2010, about 65 percent of the sample had returned to New Orleans, while the rest remained away. Mariana Arcaya, assistant professor of urban planning and public health at MIT and a RISK project researcher, notes that one finding sets their study apart from others: By 2010, most of the study's participants were found to be living in neighborhoods with lower poverty levels than those they'd come from pre-Katrina. This held true whether they'd returned to New Orleans or not.
"We think this is because of the changing face of New Orleans," says Arcaya, referring to the uptick in affluence the city experienced amid population loss. She points out that some in the study owned homes themselves or had family members who did, enabling them to experience a more solid come-back than those who qualified for public housing vouchers.
For those who never returned to New Orleans, Arcaya clarifies that while some are now living in less impoverished neighborhoods, that doesn't necessarily mean that they're "better" places for the individuals. One participant put it this way in an interview conducted as part of the RISK survey:
[T]he first thing me and my husband decided [was that] we could have lost our kids. We all could have just died. To go back there [New Orleans] now would be for our own selfish reasons and we have kids to think about. The schools are not ready for kids. They get a better education here. The area that we are in [is] safer. To be honest with you, if I didn't have kids, I'd probably be right back in New Orleans. But I have kids and I have to think about them first before me.
---
Not Everyone Can Go Home Again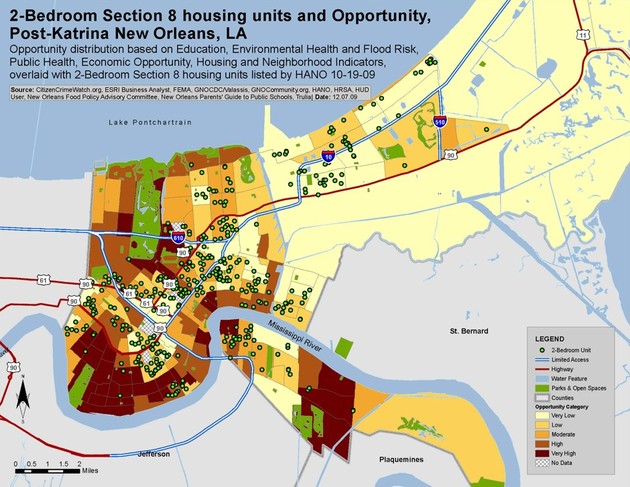 ---
Between the ravages of the storm and the city's sweeping demolition of public housing, New Orleans's affordable-housing stock was depleted after 2005. Not only were residents who lived in public housing before Katrina looking for somewhere to live, so were a whole new class of priced-out New Orleanians. According to NPR, the (long-closed) waitlist for subsidized housing in the city is, even now, 16,000 families deep.
"When the Big Four were taken offline, we lost over 5,000 units of public housing," says Cashauna Hill, Executive Director of the Greater New Orleans Fair Housing Action Center. "So public housing residents were given 'portable' housing vouchers, and they set out to find acceptable housing."
"Portable" housing vouchers were intended to help former public-housing residents spread out into neighborhoods with less crime, less poverty, and better educational and job opportunities. But according to a recent study by the Fair Housing Action Center and a New Orleans think tank called the Data Center, 42 percent of voucher holders have wound up packed into just 13 percent of the city's Census tracts. Overwhelmingly, they're living in neighborhoods of "low opportunity," marked by higher health hazards, lower-quality schools, less job growth, and inadequate transit.
Plus, a similar study found that properties that were specifically advertised to housing-voucher holders (and which are listed voluntarily by landlords on the Housing Authority of New Orleans' website) were overwhelmingly clustered in low-opportunity neighborhoods. That's what the above map shows.
---
Kids These Days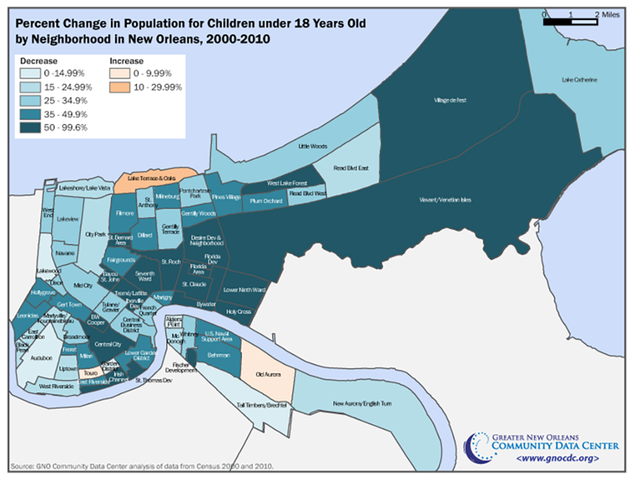 ---
According to the Data Center, more than half of New Orleans neighborhoods have now recovered to more than 90 percent of the occupied households they had prior to Katrina. Census estimates from July 2014 put the city's population at 384,320, about 79 percent of its 2000 population of 484,674. Compared to 2000, about 100,000 fewer African Americans and 9,000 fewer whites live in New Orleans. The city is more diverse now: Its Hispanic population has grown by a little more than 6,000. There are more Asian Americans, too. (Notably, studies have shown that the post-Katrina rate of return for Vietnamese citizens was faster than the citywide rate.)
Still, thousands have not returned to the city they used to call home. We don't know precisely how many or all of the reasons why. We do know that African Americans of low socioeconomic status, who lived in impoverished neighborhoods hit hard by Katrina, have been among the least likely to return. For example, as of 2013, only 30 percent of residents of the low-income, predominantly black Lower Ninth Ward had returned, according to Al Jazeera.
But out of all groups, it seems to be children who were the least likely to return to New Orleans. From 2000 to 2010, the Data Center reports, the number of children under the age of 18 living in New Orleans decreased by 56,193, or 43 percent. Presumably, their parents found better conditions outside the city, or found it too hard or expensive to move back.
Like the rest of New Orleans's population, the number of children in the city had been dwindling prior to Katrina. But it is telling to observe which neighborhoods children have disappeared from the most in the last 10 years. From a Data Center report:
The six neighborhoods that experienced the largest disproportionate loss of children encompass public housing sites that have undergone major redevelopment … These trends point to the fact that families with children in New Orleans tend to earn lower incomes than other families.
Though the child-poverty rate in the city dropped in 2007, it is now just as high as it was pre-Katrina. Today, a staggering 39 percent of children in New Orleans live in poverty, compared to 22 percent nationwide.
---
A Model Neighborhood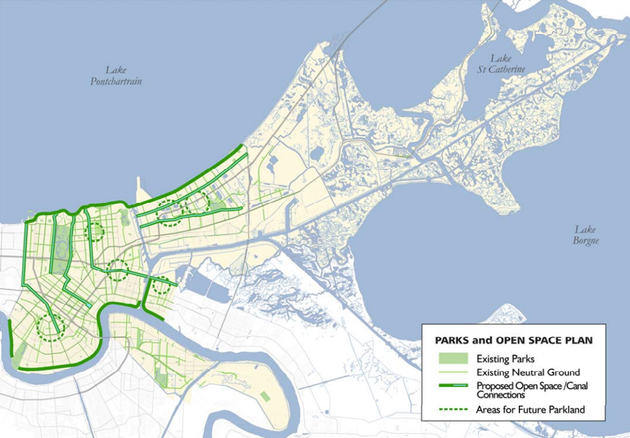 ---
New Orleans City Council member LaToya Cantrell likes to call Broadmoor a microcosm of New Orleans. Pre-Katrina, the pie-shaped neighborhood in the city center closely mirrored the racial makeup of the city: About 68 percent African American, 25 percent white, and 4 percent Hispanic. It was socioeconomically diverse, and it was ravaged when the levees failed. "Some parts took on 12 feet of water," says Cantrell, "which stayed for three weeks."
At the time, Cantrell was president of the Broadmoor Improvement Association. Surveying her home and others around it in the weeks after the storm, she recalls feeling empty. "I remember how the community garden we'd just planted was devastated," she says. "There was nothing green. There was no life, other than some residents coming back home to gut their properties."
But the BIA was one of the oldest neighborhood associations in the city, and one of the most active, by Cantrell's account. She credits its strength, organization, and credibility among residents for getting Broadmoor back on its feet faster than almost any other devastated part of the city.
The December 2005 release of the infamous "green dot" map (shown above) by then-mayor Ray Nagin's Bring Back New Orleans Commission also helped. That map charted a plan to shrink the city's footprint by tightening redevelopment and turning some heavily deluged areas into park space—Broadmoor included. It was as if the city was attempting to "disappear" certain neighborhoods.
"All hell broke loose," Cantrell says of the map's effect. But it also gave the BIA extra cause for mobilization.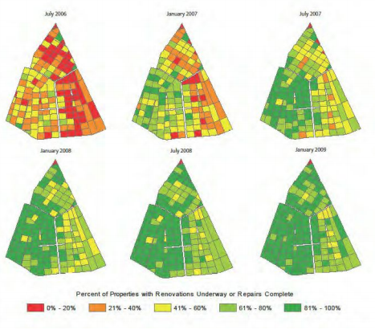 Under Cantrell's leadership, a revitalization committee was appointed to start replanning the community, from schools to parks to commercial nodes. The BIA partnered with private university planning programs for training and assistance. A repopulation committee assigned "block captains" to track down still-missing neighbors and find out their hopes and plans. Like the rest of the city, Broadmoor residents were "all over the globe," says Cantrell. "You say you're planning all day long, but if you don't know where your people are, or what their needs are, how can you really plan?"
Sure enough, people started coming back (reflected to an extent in the rates of renovation and repairs, mapped above). Based on Census data, by 2010, Broadmoor's population was 74 percent of what it had been in 2000, higher than the citywide repopulation rate of 71 percent. Cantrell points out that this happened in patches: White residents still came back faster than black residents, and higher-income parts of the neighborhood were rebuilt faster than others.
How many residents have returned to Broadmoor since Katrina? Cantrell isn't certain, but she believes most have. "We've had new people moving in, but they're not the majority," she says.
It's possible that more former residents still hope to return to Broadmoor, or to New Orleans. Mariana Arcaya says that a number of people surveyed in the RISK study said in 2009 that they were still planning to come back to the city. "Was that just a longing?" she wonders. "Or was that an intention to be acted upon?" She'll find out when the project conducts its third round of surveys next spring.
Cantrell, meanwhile, is still battling the forces of displacement—this time, displacement through gentrification. As a city council member, she's working in Broadmoor and throughout the city to help residents hang onto their properties and create more low-income housing.
"Everyone in New Orleans knows that we are in the midst of an affordability crisis," Cantrell told the Times-Picayune in July. In New Orleans, one decade after Katrina, hanging onto your home isn't a given.
---
A version of this story originally appeared on CityLab. This project was made possible with support from the W.K. Kellogg Foundation.