How Katrina Turned a Psychiatrist Into a Coroner
The aftermath of the hurricane left New Orleans reeling—and Jeffrey Rouse with an unexpected, unconventional career.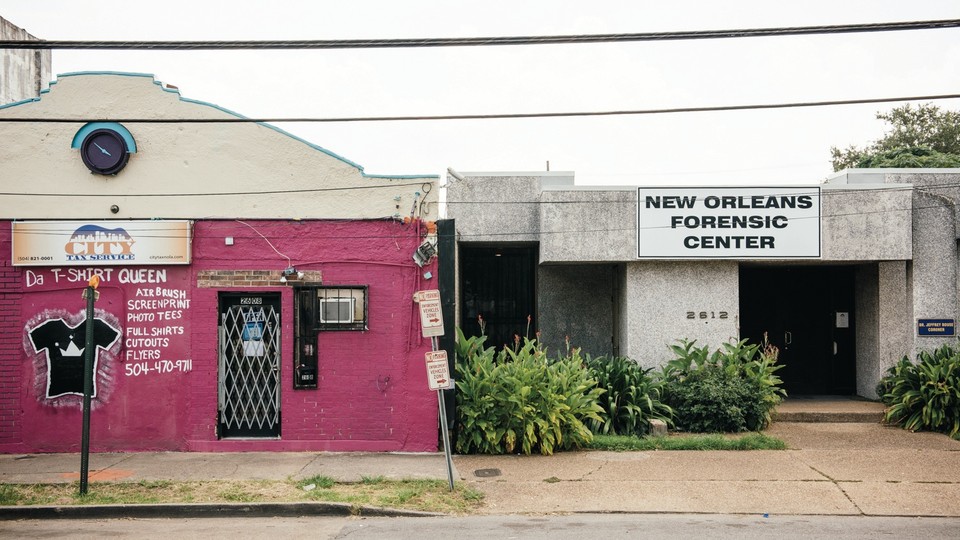 Ten years ago, psychiatrist Jeffrey Rouse was on a clear path toward academia. He spent most of his days hunkered down in a research lab, staring at MRI images of brains.
Then Hurricane Katrina upended his world.
The storm and its devastating aftermath set in motion a chain of events that would, less than a decade later, thrust the self-described "bookish nerd" into the very public role of coroner in a city that is consistently ranked as one of the deadliest in the country.
Prior to Katrina, while he was still working on his Ph.D., Rouse supplemented his family's income with part-time work as a psychiatrist for the coroner's office. In addition to determining the cause of suspicious or traumatic deaths, Louisiana coroners also handle involuntary psychiatric commitments—a quirk particular to his home state that Rouse admitted is "a little dark."
Rouse's part-time job came with an official badge from the coroner's office. That proved useful in 2005 when, several days after Katrina made landfall, he made his way back from Houston, to which his family had evacuated, into a locked-down New Orleans. "I had a backpack, my gun, medical supplies, everything I needed to be completely self-sufficient," he said. "I thought I was going to come in and do trauma debriefing and all those highfalutin things."
But the psychiatric work he expected was far from what he found in the downtown Sheraton gift shop where he helped set up a makeshift field hospital. "The need was to continue the diabetic medications for that police officer whose home was destroyed. The need was to take care of this woman … who was completely unresponsive and clearly dehydrated and start IVs and get her out of town," Rouse said. "It's Maslow's hierarchy of needs: You gotta tend to the basic stuff before you can get to mental-health response."
Rouse's own mental health suffered during the four days that he spent providing care. "Time starts to blend. I didn't sleep," he said. "I was halfway considering going and kidnapping an emergency-room physician … because intubating people is not something a shrink should be doing." When a team of volunteers finally showed up to relieve him of his duties, he broke down during his debriefing with a fellow psychiatrist. "I'll never forget bawling my eyes out," he said.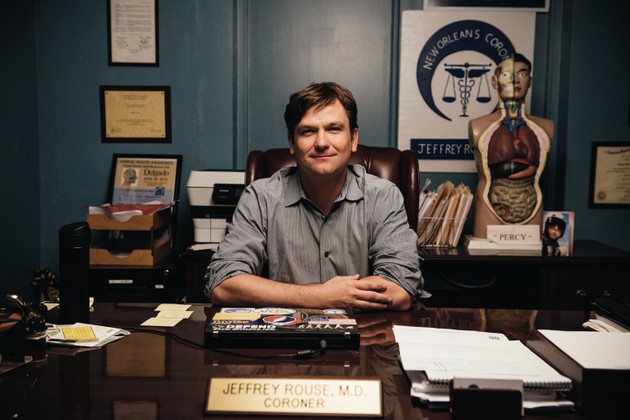 That experience during Katrina's immediate aftermath stayed with Rouse. And a few months after the storm, Rouse quit his Ph.D. program. "My time of studying trauma, from a research perspective, needed to be put on the side," he said. "It was time … to join a larger cadre of people assisting in disaster response in my hometown."
Rouse continued to work as a psychiatrist for various local government agencies, including a completely overwhelmed coroner's office—then helmed by the trumpet-playing Dr. Frank Minyard. The year after Hurricane Katrina, the murder rate in New Orleans was far above that of other cities in the U.S. And as the city began the daunting task of cleanup and recovery, it also faced a mental-health crisis. The suicide rate in New Orleans rose 300 percent in the four months after Katrina, according to the coroner's office. Police data showed that emergency calls regarding people in need of psychiatric treatment came in at a 15 percent higher rate than before the storm.
Despite the sheer volume of cases it handled after Katrina, the Orleans Parish coroner's office remained chronically understaffed and underfunded. "All respect to my predecessor," Rouse said of Minyard, "but even he will admit, he didn't fight much for this office for a number of years before he bowed out."
By "office," Rouse doesn't just mean budgets for pathologists and investigators—he also means the brick-and-mortar facility where the coroner's staff reports to work every day. Since Katrina, Rouse and his colleagues at the coroner's office have been working out of a converted funeral parlor, where refrigerated trucks out back house unclaimed dead bodies and an odor of rotting flesh and cleaning supplies wafts through the hallways. (After years of delays, a new $14.8 million facility is currently in the final stages of completion.)
In the years following the storm, Minyard—who began his first term in 1974, the year that Rouse was born—also came under fire for a number of his office's death classifications, including those that occurred while in police custody. Cases like Henry Glover, a man whose bullet-riddled body was found in a burned-out car in the days after Katrina and whose death was declared "undetermined" by the coroner's office—became national news.
In 2013, after Minyard had served ten consecutive terms in office, Rouse announced plans to run against his boss in the following year's election. Soon after, Minyard announced that he would not pursue another term as coroner. Rouse ran against three other candidates on a platform of sweeping reform and increased mental-health resources. "I'm an introvert. I'm not really a temperamentally the kind of guy who wants to go out and shake every hand in the room," he said. As a newcomer to New Orleans' political scene, he laughs now that he "jumped in with complete naivete." Despite his inexperience, Rouse won the election in a runoff.
Since taking office last year, Rouse has implemented some of those moves toward transparency that he promised during his campaign. In law enforcement-related deaths, Rouse has opened up his autopsy suite to the FBI, the police, and pathologists hired by relatives of the deceased. His predecessor did not allow similar access. "What I don't want ... is to have the families be left with questions," Rouse said. "For the families to think that because, you know, 'Rouse knows police, Rouse works with law enforcement' ... I don't want anybody thinking that that skews the diagnoses that come out of the office."
New Orleans's homicide rate reached a historic low last year. But 2015 appears to be a different story—as of this July, it jumped back up by more than 30 percent. Rouse classifies all of those deaths. And he's been open about the frustration he feels at the city's rising number of murders. Earlier this summer, he tweeted: "4 homicides in 6 hours this afternoon. Four, for Christ's sake." When asked about his outburst, Rouse said, "I get notified on every homicide and each one of them is ... a slight death of the soul of this city. I take that to heart."
"For all the deaths for which we sign a death certificate," Rouse added, "I send a personal condolence letter. It's a little something."
---
This story is published in collaboration with Death, Sex & Money.