A Telling Confrontation Between Donald Trump and a Univision Anchor
The remarkable exchange at a press conference may bolster the frontrunner's support, even as it undermines Republican outreach to Hispanic voters.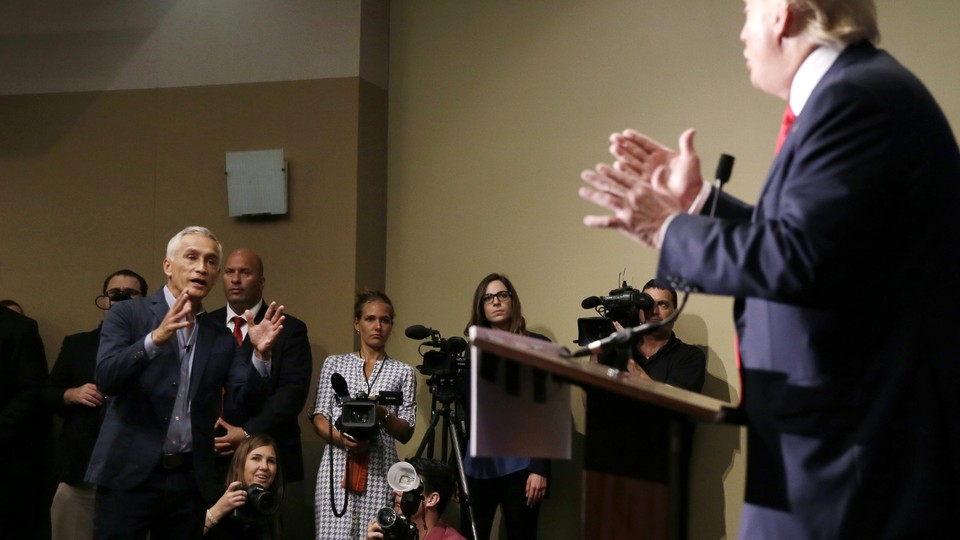 On Tuesday night, Jorge Ramos, an anchor for Univision, got into a heated exchange with Donald Trump in Iowa—an incident that may have broad ramifications not just for Trump, but for the Republican Party as a whole.
During the press conference, the Miami-based television anchor insisted on asking questions about immigration despite not being called upon. Trump refused to respond. The confrontation quickly escalated, with Ramos escorted from the room by Trump's bodyguards.
But despite that initial confrontation, Trump not only allowed Ramos back into the room, he twice called on him, as the press conference turned into a remarkable, extended debate on the merits of Trump's policies, and of the incendiary rhetoric he often deploys. "Here's the problem with your immigration plan. It's full of empty promises," Ramos said. Trump defended his plan and reminded Ramos about his $500 million lawsuit against Univision. He insisted that he could deport immigrants compassionately. "I have a bigger heart than you do," he said.
This isn't Trump's first confrontation with the media, and certainly not with Ramos. The host has criticized the presidential hopeful for his position on immigration and has accused him of "spreading hate."  Ramos also told CNN that when Trump talks about immigrants, "it's not politics, it's personal."
Ramos, who has been called the Walter Cronkite of Latino America, holds a position of tremendous influence within the Hispanic community. So does Univision, which has become perhaps the strongest voice on politics within the Spanish-language press—although not always an objective one. The New York Times provided insight on the coverage of Spanish-language news programs:
About 58 percent of all mentions of Mr. Trump in mainstream news media—broadcast, cable, radio and online outlets—in the past month have focused on immigration, while on Spanish-language news programs, the proportion is almost 80 percent, according to an analysis by Two.42.Solutions, a nonpartisan media analytics company. The Spanish-language news media has also been more critical in its coverage of Mr. Trump's positions on the issue, with nearly all of it negative in tone.
But the latest squabble may go beyond Univision and the Republican front-runner. The Republican Party likely needs to improve its performance among Hispanic voters to secure the White House. In 2012, for example, Mitt Romney received 27 percent of the Hispanic vote in comparison to the 71 percent received by Obama. As long as Trump is tied to the party, the backlash against his remarks may cost it support, even if it doesn't do much to disrupt Trump's candidacy.