Jimmy Carter on His Cancer Diagnosis: 'I'm Ready For Anything'
The former president, at a press conference speaking about his illness, said that he's "looking forward to a new adventure."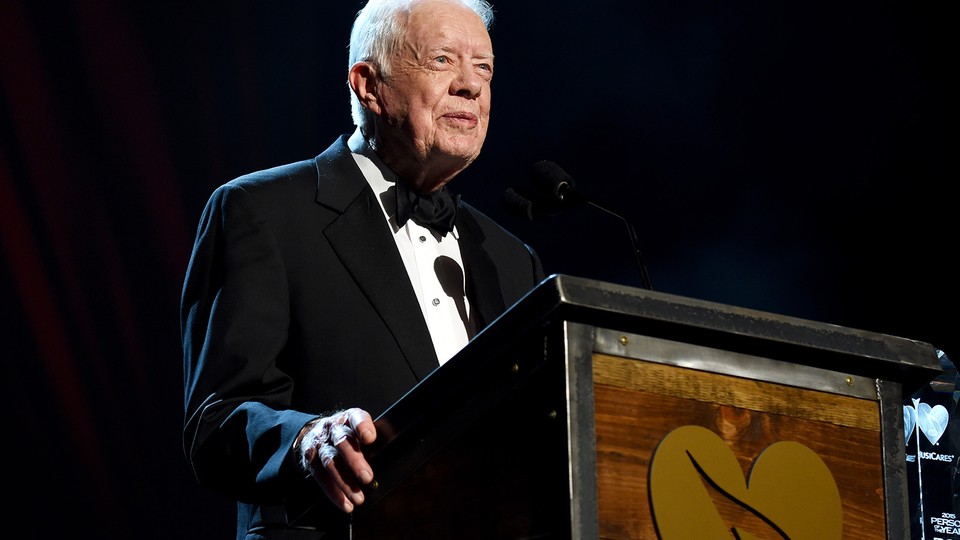 Former President Jimmy Carter announced Thursday morning that he has melanoma.
After a recent surgery extricating a "small mass" from his liver, physicians at Emory University Hospital learned that the tumor was melanoma, Carter said at a remarkably detailed and candid press conference in Atlanta addressing his recent cancer diagnosis.
"They had a very high suspicion then and now that the melanoma started somewhere else on my body and spread to the liver," he said. Doctors soon found four spots of melanoma in his brain.
He'll undergo his first radiation treatment for his brain this afternoon, and he has four treatments scheduled at three-week intervals for the future.
Asked by reporters for his reaction to the news, Carter, 90, said he has had "a wonderful life" and was "pleasantly surprised" that he did not despair.
"I have got thousands of friends and I have had an exciting and adventurous and gratifying existence, so I was surprisingly at ease," he said. "Much more so than my wife was. But now I feel, you know, it's in the hands of God and my worship, and I'll be prepared for it when it comes."
When Carter had the initial liver surgery, the Carter Center said in a statement that his prognosis was "excellent." But on August 12 he announced that he has cancer, and it has spread. He also indicated that he'd make a "more complete public statement" when he knew more, as he did Thursday.
Carter said he and his wife, Rosalynn, will scale back their involvement at the center, something they'd previously considered doing when he was 80, then 85, and then 90. He'll turn 91 in October.
Carter spoke about his cancer with fluency, describing particulars of his medical treatment and detailing how he learned a lot about the disease through the deaths of four family members: Carter's brother, two sisters, and father each died of pancreatic cancer. His mother developed it, too, he told The New York Times in 2007; her cancer started in the breast and spread to the pancreas.
Asked for reflections on what he'd have done differently in his life, Carter quipped about his one-term presidency.
"I wish I had sent one more helicopter to get the hostages and we would have rescued them, and I would have been reelected," he said, referring to the Iran hostage crisis. "But that may have "¦ interfered with the foundation of the Carter Center, and if I had to choose between four more years and the Carter Center, I think I would choose the Carter Center."
He gently contradicted a reporter who implied his cancer "fight" could be tough.
"It won't be tough on my part," Carter said. "I'm an acquiescent and cooperating patient, and within the bounds of my judgment, I will do what the doctors recommend to extend my life as much as possible. So I don't look on this as any hard hardship on me."
Back in 2007, Carter told the Times that he didn't concern himself too much about whether he'd develop cancer, despite his family history. "I'm deeply religious, I'm a fatalist, I'm 82 years old and I've had a good life," he said.
Eight years later, his attitude doesn't seem to have changed: "I'm ready for anything and looking forward to a new adventure."