Jeb Bush Embraces Deep-Fried Iowa and Gets Uncomfortable Questions in Return
The Republican presidential candidate got some support at the Iowa State Fair, but he's finding it tricky to separate himself from his family.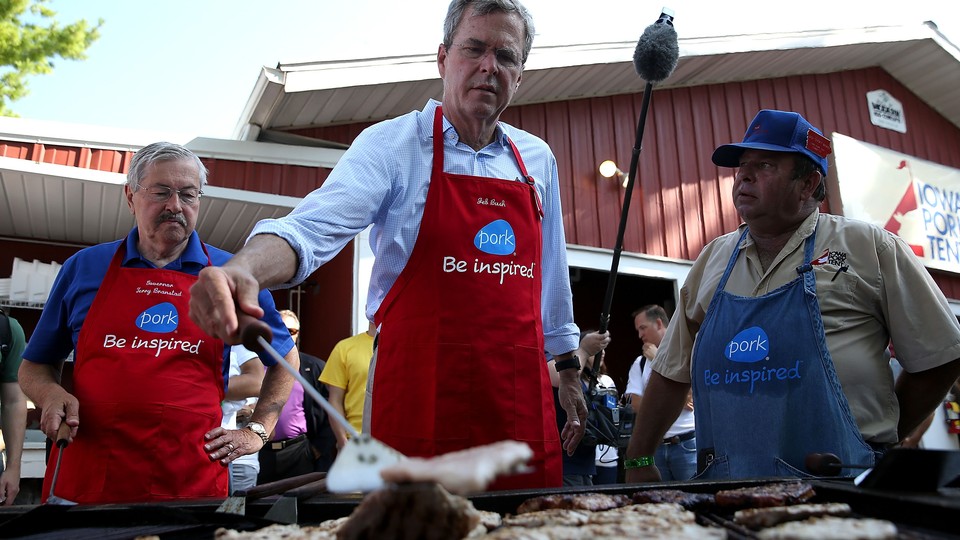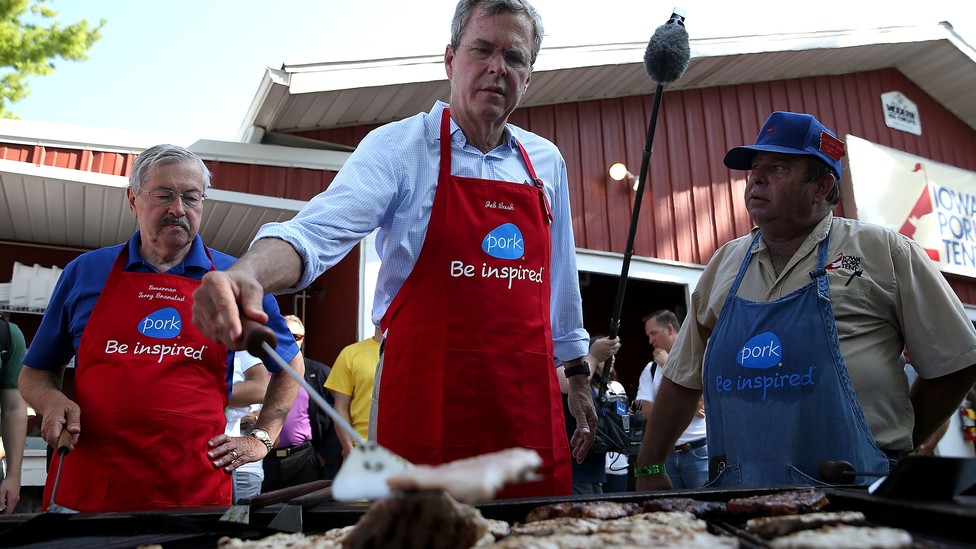 DES MOINES, Iowa — Struggling in the polls here and facing skepticism about his commitment to the state's first-in-the-nation caucuses, Jeb Bush went full Hawkeye Friday, grinning and glad-handing through a four-hour tour of the famed Iowa State Fair and its everything-on-a-stick culture. He sampled a deep-fried Snickers bar, ate a pork chop on a stick, drank a morning Budweiser in the beer tent — and debated business regulations with a man who claimed to be the world's leading authority on peacocks.
Fairgoers loved it, shouting his name from tractor-pulled trams and breaking through the hovering media horde for hugs, autographs, and selfies. But for all the good will the son and brother of two U.S. presidents earned among Iowans, there were clear signs that his family's political dynasty and his moderate positions on immigration and education are complicating his path to victory here.
After pitching himself as a competent manager and unifying leader who could fix a government run amok, Bush soon faced tough questions from a morning crowd about George W. Bush's administration.
One woman asked him if he supported his brother's unsuccessful plan to privatize Social Security. "I don't," he said, but quickly added that "it would have made sense back then. Now we're way beyond that." (Bush said he wants to "preserve and protect" the program for current recipients and overhaul it for future generations by raising the retirement age and changing income requirements.)
A minute later, when Bush turned to the Middle East and said, "The Iraqis want our help," a man interrupted him, shouting that troops were withdrawn in 2011 as part of a deal his brother signed as president with the Iraqi government, which strongly opposed the continued presence of U.S. forces.
"We didn't have to get out in 2011," Bush said.
"Your brother signed the deal," the man shouted back.
Another man asked about Paul Wolfowitz, the former deputy secretary of Defense in the George W. Bush administration and one of the architects of the Iraq War. Bush said that Wolfowitz was one of his foreign policy advisers, but he added, "I get most of my advice from a team that we have in Miami, Florida."
Nevertheless, Bush seemed flustered, acknowledging the tough task of finding advisers not connected to the administrations of his father and brother.
"If they have any executive experience, they've had to deal with two Republican administrations," he said. "Who were the people that were presidents. "¦ I mean, this is kind of a tough game for me to be playing, to be honest with you."
"I'm my own person," he concluded, urging the crowd to look at the foreign policy speech he delivered earlier in the week.
His loudest applause during the appearance at The Des Moines Register's Soapbox stage came when he criticized the nuclear agreement between Iran and six world powers. "No deal would be better than a bad deal," Bush said to cheers.
Bush pressed on, donning a red apron to grill pork burgers with Iowa Gov. Terry Brandstad.
As Bush broke a sweat and pledged his love for Iowan fare (it's better than New Hampshire's food, he said), Janice Singletary, a teacher and likely Republican caucusgoer, watched from behind a fence. She said she wants "fresh blood" in the White House and likes Donald Trump. "Another Clinton-Bush campaign, I'm not so sure," she said. "We need someone new in there."
Others were impressed, saying Bush's family was a bonus.
"He comes from a really good family, and he has really good values as a result of that," said Jason Mikesell, a Republican who snagged Bush's autograph. "Jeb governed a huge state and did very well with that, and I think he'd be a great president."
That said, Mikesell is also eyeing Ohio Gov. John Kasich and Texas Gov. Rick Perry.
Iowans peppered Bush with questions as he made his way up the main concourse, and he leaned into criticism of his stance on immigration — defending his support for legal status for immigrants in the country illegally but also emphasizing tougher enforcement on the border and in the workplace.
By the time he reached the beer tent, the stiff and sometimes awkward candidate many voters saw at last week's Republican debate was gone. Hoisting a Budweiser, Bush proclaimed, "God Bless America," and worked the pavilion.
Inside, Chris McLinden, a Republican businessman, said he had been considering supporting Carly Fiorina, who called to ask for his help, but signed on as a county chairman for Bush because "he has the infrastructure to go further than the Iowa caucuses." "I've seen other people try to catch lightning in a bottle" and then they collapse, he said. "He can go the distance."
When it was all over, Bush asked for more, turning from the black Chevy Tahoe waiting to whisk him to the airport and wading back into the crowd for more campaigning.
At the fastball cage, he fired two pitches: 43 mph and 47 mph. His prize? An inflatable bat patterned with $100 bills. It was a fitting, if inconvenient, souvenir for a candidate who spent the day talking about income inequality while also leading the Republican field in super PAC fundraising.
Bush pledged to return to Iowa — often.
"At this point last time around, Michele Bachmann was winning the Republican polls in Iowa," he told reporters. "We're in it for the long haul."