Iran Deal Gets a Powerful Foe: Chuck Schumer
The presumptive next Senate Democratic leader won't back his own president's signature foreign policy initiative.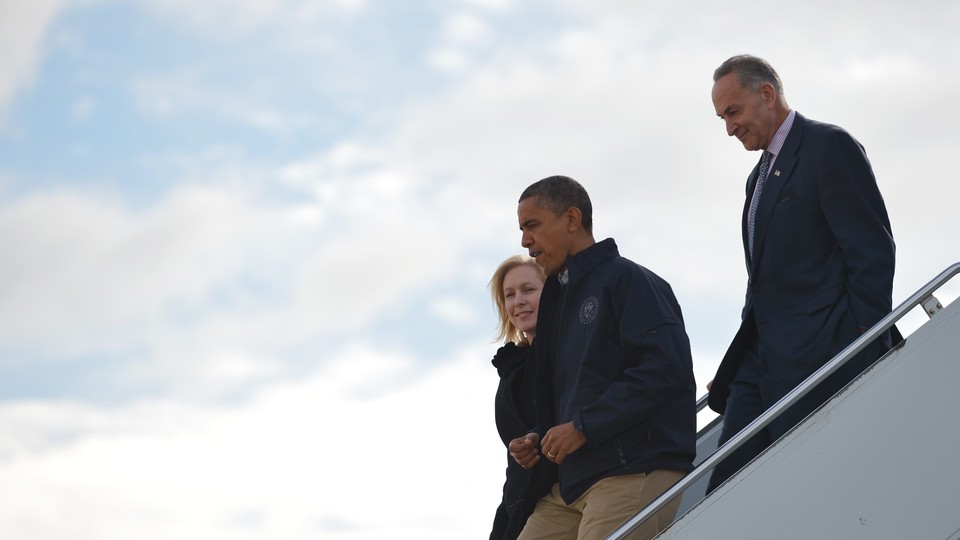 The Senate Democrats' future leader announced his opposition to the Iran nuclear deal, repudiating President Obama's signature foreign policy achievement.
"I will vote to disapprove the agreement, not because I believe war is a viable or desirable option, nor to challenge the path of diplomacy," said Sen. Chuck Schumer of New York in a statement. "It is because I believe Iran will not change, and under this agreement, it will be able to achieve its dual goals of eliminating sanctions while ultimately retaining its nuclear and non-nuclear power. Better to keep U.S. sanctions in place, strengthen them, enforce secondary sanctions on other nations, and pursue the hard-trodden path of diplomacy once more, difficult as it may be."
"For all of these reasons, I believe the vote to disapprove is the right one," he added.
The announcement is a blow to the administration's all-out effort to whip Democrats and sustain a potential veto. It's also sure to frustrate the president, even though Schumer's statement was well timed for minimal impact, a day after the Senate went into August recess and while Fox aired the first GOP presidential debate.
Senate Minority Leader Harry Reid has not stated his position on the historic deal and his number two lieutenant, Illinois Sen. Dick Durbin, is in charge of rallying support over widespread Republican opposition.
One Obama ally quickly fired back at Schumer.
"The base won't support a leader who thought Obamacare was a mistake and wants War with Iran," tweeted Dan Pfeiffer, a former Obama senior adviser.
Schumer cited "serious weaknesses" in the inspection regime the pact would put in place for the next 10 years and a "cumbersome" process in which to issue "snapback" sanctions should Iran cheat. He also expressed concern that Iran could use some of the at least $50 billion it gets in the near future on "harmful military and terrorist actions" and ballistic weapons.
"If Iran's true intent is to get a nuclear weapon, under this agreement, it must simply exercise patience," said Schumer. "After 10 years, it can be very close to achieving that goal, and, unlike its current unsanctioned pursuit of a nuclear weapon, Iran's nuclear program will be codified in an agreement signed by the United States and other nations. To me, after 10 years, if Iran is the same nation as it is today, we will be worse off with this agreement than without it."
Should two-thirds of Congress vote to disapprove the deal, President Obama will not be able to lift congressional sanctions, allowing Iran to back out of the deal and charge that the United States has not held up its end of the bargain. But so far, there have not been nearly enough Democratic opponents in either chamber to suggest a veto override is possible.
This article has been updated.