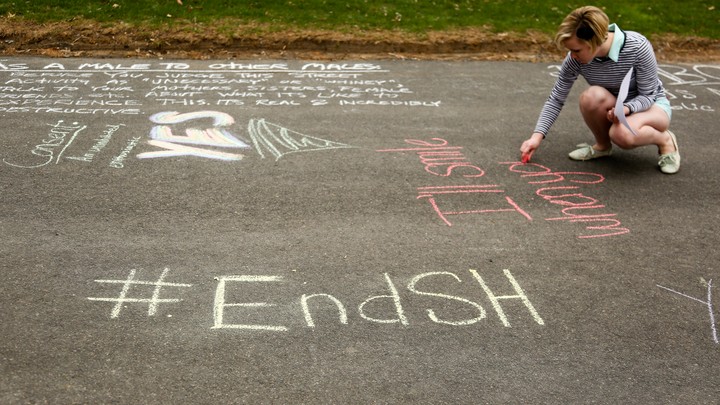 If you're a girl growing up in New York City, you learn about street harassment at an early age. The lesson is not optional. As soon as you approach adolescence, as soon as your shape starts to change, men on the street start saying things to you. It's a confusing and often scary realization that girls come into suddenly: The simple act of walking your body down the street is something you have to learn how to do all over again. With a game face on.
When I went through this learning experience, I was attending an all-girls school in Manhattan. We had an assembly where we were taught how to respond if men made lewd remarks or flashed us on the street. I distinctly remember getting the instruction to walk out into moving traffic rather than get too close to a man lurking in a doorway and saying dirty things to you. Because if he laid hands on you — if the harassment went beyond words — you might not escape in one piece. Better to risk getting hit by a car.
It's a confusing and often scary realization that girls come into suddenly: The simple act of walking your body down the street is something you have to learn how to do all over again. With a game face on.
That was a long time ago, in a city that was far more dangerous than it is today. But despite the record-low crime numbers that the "new" New York regularly racks up, the city's young women still have to learn the same lesson I did: By the time you are 12, 13, or 14, depending on how quickly you mature, you can expect regular and sometimes disgusting comments on what you look like and what men want to do to you. The issue is getting much more attention now, thanks to groups like Hollaback, but it hasn't gone away — in New York or in pretty much any other city where people actually walk down the street.
I am the mother of a 13-year-old myself, now, but my child is not a girl. My child is a boy. And I have to teach him a different lesson.
Let's face it, parents of boys often don't see street harassment as an urgent issue, because they don't have to. Unless they're queer, adolescent boys and young men are likely not going to be the objects of such harassment as they move about the city. (LGBTQ kids do face dangerous harassment regularly, and it can escalate into violence.)
Boys do tend to get parental advice on how to reduce the risk of getting mugged, or how to avoid getting into fights with other boys on the street. I've given my son those talks, for sure. But I've also given him another one that I think is equally important: I have tried to explain to him exactly what it is that the girls he knows are facing out there, and how important it is for him to never become part of that problem.
The other day, on a call-in show on WNYC, anti-harassment activists talked about how catcalling — a relatively harmless-sounding phenomenon — is part of a continuum of behavior that can include sexual assault. In the words of Holly Kearl of Stop Street Harassment, "disrespect and lack of consent" are the common themes of this continuum, which includes everything from insisting that a woman or girl smile on command to groping her when she's standing next to you on the train. And worse.
Women draw eyes from a group of New York construction workers — who didn't harass any of the passers-by — during a lunch break in 2010. (AP Photo/Tina Fineberg)
My kid is a gentle soul and a generally decent young man. I trust his instincts and his heart. But that doesn't mean I don't feel the need to be quite direct and explicit about his responsibility to be a young man who always treats girls and women with respect — on the street and everywhere else. It's his responsibility to be conscious and empathetic about what women deal with every day. We talk about it the way we talk about any other duty he has to be a good citizen of the world, and while he occasionally rolls his eyes when I get going on the topic (yes, he is a teenager), I feel confident that he's listening.
Because parental lectures only go so far, I'm happy to report that he's not just hearing this from me. The other night, he watched Aziz Ansari's latest standup special, Live at Madison Square Garden, on Netflix. The show has a whole section on street harassment and what women have to put up with from guys. "Women have to worry about creepy dudes all the time," Ansari says in the show. "And it's very unfair, because men never worry about creepy women." It's a kind of amazing message for the comedian to be putting out there, as a guy talking to other guys.
When I asked my boy how he liked Ansari's routine, he shrugged and said it was pretty good, but that a lot of it wasn't as funny as he expected. Like the part about street harassment, he said. It was kind of serious, and he hadn't really been looking for serious.
"I mean, I get it," my kid said.
I told him I was glad he did. And hey, Aziz — thanks for the backup.
Republished with the permission of City Lab. The original version can be found here.
We want to hear what you think about this article. Submit a letter to the editor or write to letters@theatlantic.com.