How Well Does Jeb Bush Habla Español?
"We speak Spanish at home. We eat Mexican food at home. Our children are Hispanic."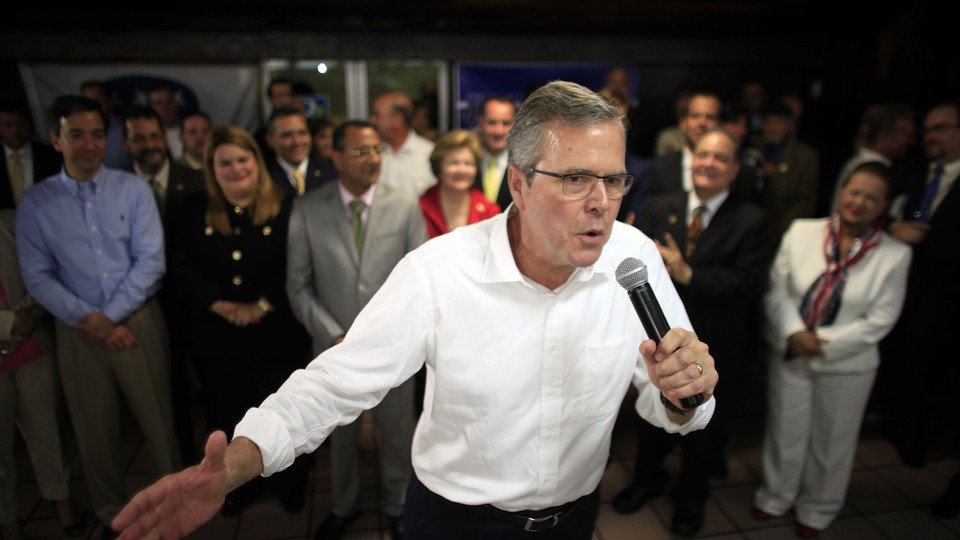 There was no que bola? or que onda? during Jeb Bush's debut on Spanish-language network television this weekend. The former Florida governor left out the Mexican slang and Cubanisms during his 25-minute interview Sunday with Telemundo's José Dí­az-Balart.
It's clear that the Republican presidential candidate speaks Spanish fluently (with a gringo accent, of course). During the sit-down interview, Bush discussed immigration reform, Cuban foreign policy, and the Puerto Rican debt crisis with only a handful of minor word-gender mistakes.
Bush, who is married to a Mexican woman and who has been embraced by Miami's Cuban exile community, kept his Spanish mostly neutral during the chat. You could only hear a slight trace of Miami in his accent, when he dropped the last "s" in some of his words. He did refer to himself as a niño popis when he met his wife, Columba, during a high school trip to central Mexico. That's Mexican slang for "spoiled boy."
If Jeb made it to the White House, he would be the first bilingual U.S. president in 70 years. The last one was FDR, who spoke French and German fluently. Past presidents have brushed up on their Spanish, knowing how important it is to reach Latino voters. But few, including President Obama, can really say much.
Jeb's older brother, George W. Bush, could hardly speak Spanish beyond mi casa es tu casa. But he was the first presidential candidate to pay attention to Spanish-language media, and it paid off. After his nomination at the Republican National Convention, he gave his first interview to Univision's Jorge Ramos. In 2000, Bush won 35 percent of the Latino vote, reversing a downward trend in the GOP.
During his presidency, Bush gave equal White House access to Spanish-language media, and in 2004, he won 44 percent of the Hispanic vote.
No other Republican nominee since has matched his appeal among Latino voters. Mitt Romney, who played down the fact that his father was born in Mexico, ended up losing the Hispanic vote to Obama by a margin of 71 percent to 27 percent.
During Sunday's interview, Jeb Bush did his best to distance himself from other Republican presidential candidates. He said "it hurt" to hear Donald Trump disparage Mexicans as criminals and rapists. Then he emphasized the Latino-ness of his family.
"We speak Spanish at home," he said. "We eat Mexican food at home. Our children are Hispanic."
Jeb Bush said his children have suffered discrimination for their darker skin color. He mentioned his dismay when his son and other Miami friends were insulted in central Florida.
"It's a good lesson to learn, to always remember that we still don't have a country that is full of justice for all," Bush said.
The most amusing part of the interview had to be Bush's response to a question about the kind of music he likes. Bush, flustered, rattled off every genre that seemed to come to mind. Then he mentioned how much he likes Cuban-American rapper Pitbull.
"I met Pitbull, so, you know, Mr. Worldwide," Jeb says, referring to the rapper's nickname.
Dí­az-Balart tries hard not to laugh. It must be hard picturing Bush listening to "Hey Baby, Drop it to the Floor."