How Hillary Clinton's Campaign Is Making Its Play for Native American Support
The campaign's "no-stone-unturned" philosophy recently took a team of organizers to a Native American reservation.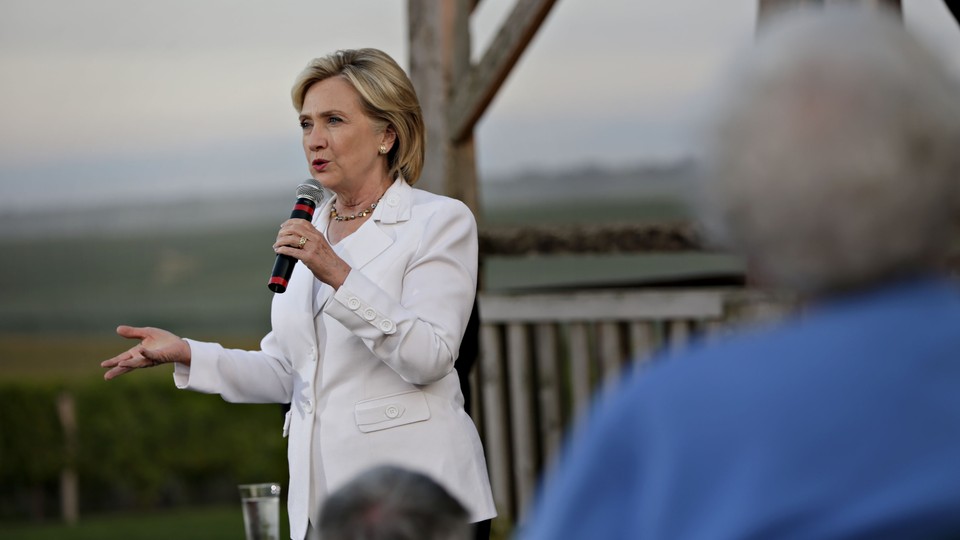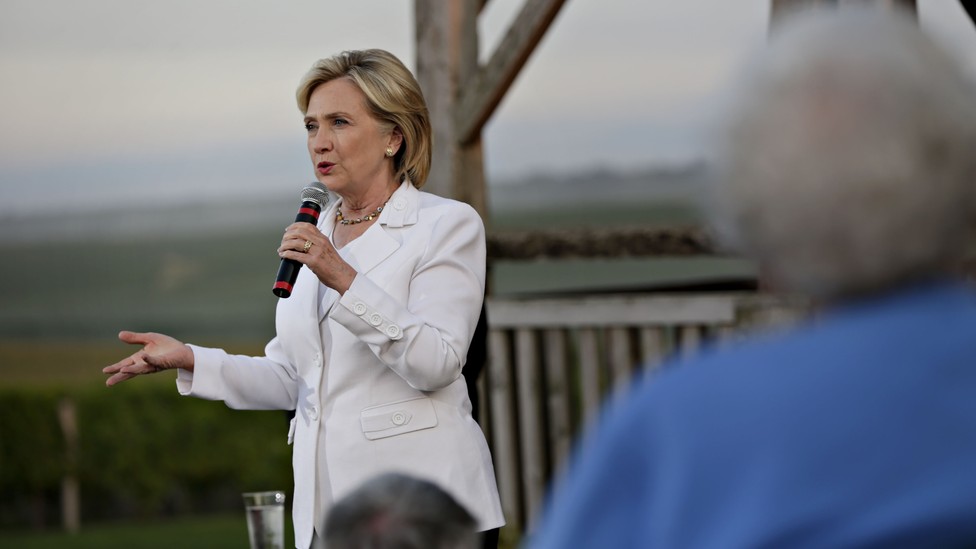 SCHURZ, Nev.—The three organizers from the Clinton campaign had traveled all the way to this small town nestled between jagged mountains and broad plains in ultra-rural Mineral County, more than 350 miles from Las Vegas and 100 miles from Reno, to meet with five people on a Native American reservation.
With a small circle of folding chairs in the Walker River Paiute Reservation's Agai-Dicutta ("Trout Eaters" in the Paiute language) Community Center, the room was set up like any other organizing meeting: Handwritten posters hung on the wall, waiting to be filled in, featured prompts like "I support Hillary because"..." and "These are the issues that are important to me."..." But there were two others that don't often appear in campaign organizing materials: "I know for a fact that the Indian vote can sway a statewide election." And: "I caucus/I vote because I know the power of the native vote."
There's little payoff for the Clinton campaign to spend its time in such a far-flung part of the state. From a dollar-per-caucus-goer perspective, the campaign could score a broader audience in Nevada's urban centers. But meetings like these are part of the hyper-granular organizing strategy helmed by Clinton's national campaign manager, Robby Mook, and a real-life manifestation of the campaign's unrelenting motto of 2016: flood the early states with field organizers in order to leave no stone unturned and no potential Democratic voter untouched.
The visit to Schurz was the campaign's eighth Native American outreach event of the summer in Nevada—which is also the state where Mook got his start, directing Clinton's 2008 operation here. Some of the meetings have been with tribal leaders, like a presentation to the Inter-Tribal Council of Nevada or one to the Nevada Tribal Youth in early August. And when the Nevada team launched its "Every Nevadan" statewide rural tour in July, the itinerary included stops here in Schurz and also one with the Te-Moak Tribe in Elko.
Jaynie Parrish, a Reno-based organizer for the campaign who's also a member of the Navajo tribe from Arizona, has been a crucial part of the efforts in Nevada's Indian Country. "[Clinton] is, I think, pretty well-rounded in tribal issues," Parrish said as she opened the meeting, pointing to Clinton's visits to Native American reservations as first lady and her campaign events in 2008.
The tribal members present were skeptical—of Clinton, and of politicians in general. Despite President Obama's status in Indian Country as one of the most engaged presidents in recent history—he holds an annual meeting with tribal leaders at the White House and has made several visits to reservations since he took office—the Walker River Paiutes said they feel presidential candidates always overpromise and under-deliver for their communities once they take office, on issues as wide-ranging as access to health care and voting rights and education.
Native Americans face proportionately higher rates of poverty and unemployment than the U.S. population at large, and have lower life expectancies: Almost a quarter of Native American families were living below the poverty line in 2010, according to the Bureau of Indian Affairs, and current statistics put the Native American unemployment rate at above 10 percent in 2013. The group's life expectancy is a full 4.2 years less than that of the overall U.S. population, according to data from the federal government's Indian Health Service.
Professed interest in native issues is "a bone that keeps getting thrown at us" by politicians, said Myron Dewey, one of the tribal members at the meeting. "We can't keep waiting for one of these presidents to hold up these promises. "... I want to know a little more about where she is before I put my energy and my support her way. I'd really like to see at a higher level of what she's doing for the tribes."
Parrish replied that Clinton's campaign hasn't yet released any in-depth policy proposals relating to Native Americans, but that meetings like these are what will drive and shape those policies throughout the campaign. "How is that going to happen if you don't hear directly from the people?" she said, taking notes in a black-and-white marbled notebook throughout the meeting.
Traditionally, the country's 5.2 million Native Americans vote overwhelmingly Democratic—but they also tend to be one of the lowest-turnout demographic groups, which is why the Native American vote is unlikely to play a decisive role in 2016 (either in the caucuses or the general election). That said, they've been a pivotal vote in a handful of elections: The most famous example is the 2002 Senate race in South Dakota, where Sen. Tim Johnson won reelection by just 524 votes, helped along by strong turnout and support from the state's native vote.
"Even though we're a small minority of the population "... we make key differences in key elections, especially when there is a tight race," said Jacqueline Pata, executive director of the National Congress of American Indians.
Census estimates from 2013 put the Native American population in Nevada at 1.6 percent of the state's total population, split up among 27 tribes (all either Paiute, Washoe, or Shoshone). The Walker River Paiute tribe—which chairman Bobby Sanchez said has over 3,300 members, 600 to 700 of whom live on the reservation—has unusually strong turnout because they have a caucus precinct right on the reservation.
"People vote here," said Elveda Martinez, 56, a member of the tribe. "This is probably one of the biggest voting reservations in Nevada. "... There might not be anybody here, but we vote. We've won elections for people."
In the past, repeated outreach to Native American tribes has been minimal, largely because it's difficult to do and so rarely affects the outcome of an election. "To the extent you court them, it's really very hard," said Russ Lehman, a scholar who has researched the role of Native Americans in U.S. politics. "[Politicians] realize there's just not much payoff there."
That was different in 2008, when both Clinton and then-Sen. Obama spent some time meeting with tribal leaders and holding events on reservations—but that happened largely because the primary dragged on into states that normally don't play a role, like Montana and South Dakota. In May 2008, Clinton held a campaign event on the Pine Ridge Indian Reservation in Kyle, South Dakota, where she told the gathered tribal members: "I will be your champion." (Neither candidate came in person to Schurz in 2008, but tribal members here remember seeing both Clinton and Obama in neighboring Fallon, Nevada.)
PaaWee Rivera, the director of Native American engagement at the Democratic National Committee, said Obama's record on native issues has helped give Democrats strong support on reservations that will reverberate in future elections. "President Obama's attention to Indian Country has been unmatched by any president in recent history, and that's why Democrats will continue to earn support from native communities in 2016 and beyond," he said.
This year's Indian Country outreach indicates Clinton's team has learned an important lesson from 2008: Winning the delegate vote requires organizing in smaller and more rural parts of the state, not just the big population centers in Las Vegas and Reno. Eight years ago, Clinton won the caucuses in Nevada by five points—but Obama, whose campaign had done more to organize in rural areas, still won the overall delegate count here. That's clearly on the mind of Clinton organizers, who made it clear to the tribal members in Schurz how important they are.
"Here in Schurz "... you have the highest delegate count in the county, you guys are able to really have some sway here, and get some things heard," Parrish told the group, handing out charts showing the delegate counts for precincts in Mineral County. "So now "... let's put some action behind it."
Clinton's campaign is able to come to such small and often-forgotten parts of the state because of the sheer size of her Nevada-based staff: 22 between the Las Vegas and Reno offices, a number that's likely to grow between now and the caucuses next year. By comparison, no other Democratic campaign has staffers or organizers on the ground in the state at all.
Megan Jones, who served as then-Senate Majority Leader Harry Reid's political director during his reelection campaign here in 2010, said the size of Clinton's Nevada operation gives her team the luxury of being able to organize outside of the two most populous counties. "Nevada's a small enough state where you can do that and still focus tremendous resources in Clark County and Washoe County [Las Vegas and Reno]," she said. "They've utilized the summer months here, where I think other campaigns took for granted that people are out of town, to do some great early organizing—and they have the staff to do it."
Eric Taylor, Clinton's regional field director for Northern Nevada, said the campaign would plan to be back in Schurz about once a month until the caucuses—starting with an organizing and training meeting for tribal members in September. "It's not a box we're checking off," he assured. "We will be back."
For their part, the Walker River Paiutes who showed up to the Clinton camp's meeting professed that they weren't completely sold yet. Martinez, who supported Obama in 2008, said she's also going to be taking a close look at Sen. Bernie Sanders. "I just see he's been getting a lot of big crowds—it kind of reminds me of Obama," she said.
But they're listening—and they're happy that a national campaign is taking the time to listen to them, too. Martinez, though, put it this way: "Hillary, if she wants our vote, she needs to come to Schurz."