How Hillary Clinton Learned to Stop Worrying and Love the Iowa Caucus
"Shock and awe" has been replaced by "awww and shucks."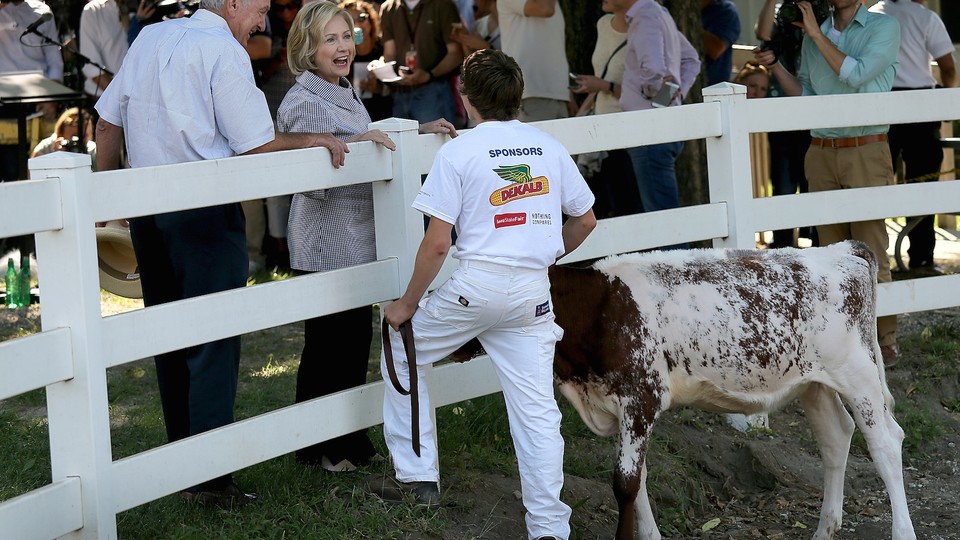 DES MOINES, Iowa—Gone are the big rallies, chartered helicopter, and "Hillary" snow shovels. A little more than five months before Iowa's first-in-the-nation caucuses, Hillary Clinton is all about house parties, vans, and the pork chop on a stick.
Determined to avoid the mistakes of her last campaign, Clinton is giving Iowans considerable face time and building a robust field operation aimed at winning over the state that pierced her veil of inevitability in 2008—a crack that cascaded into her eventual loss to Barack Obama.
Her team is putting a premium on organizing, opening 10 field offices and hiring 47 organizers—more than any campaign in either party. Notably, the growing army of foot soldiers is overseen by some of the same political operatives who helped lift Obama to victory in the state.
The moves reflect the Clinton team's new—and more sophisticated—understanding of the stagecraft and mechanics required to win in Iowa, as well as the key to victory in a system tilted toward the party's most dedicated activists. In short: Voters can win you an election, but to win a caucus, you need zealots.
This time around, Clinton is visiting more frequently and campaigning in smaller settings, such as house parties and coffee shops, where she can speak one-on-one with supporters. She billed the first phase of her campaign a "listening tour" and is incorporating the concerns of Iowans into her speeches. "I want to have this continuing conversation about what's on the minds of Iowans and Americans," Clinton told reporters before touring the Iowa State Fair last week, "and I will fight as hard as I can to earn every vote here and across the country."
The campaign's success with Andrea Phillips, a homemaker and mother of two from Ankeny, reflects the approach it has to duplicate. When Phillips called the campaign to ask about volunteering, she thought she'd make a few phone calls, maybe knock on some doors. But an organizer asked her to sit down for coffee, and before long, Phillips was an "engagement director," an uber-volunteer responsible for recruiting more volunteers.
"I thought it was weird that they were taking the time to meet with me," she said, still glowing from the personal attention. "They're doing a really good job of turning supporters into passionate supporters."
But even as she looks to escape a repeat of 2008, Clinton faces a challenger in Vermont independent Sen. Bernie Sanders, who's looking to pull an Obama-style upset. And when it comes to generating raw enthusiasm, few candidates from either side of the 2016 field can match him.
"I will be knocking on a lot of doors for the next six months," said Jenny Gernhart, a college science professor from Fort Dodge who packed four friends into her car and drove nearly 90 miles last week to hear Sanders speak at a party fundraiser. "My knuckles are going to be bleeding by the end."
Sanders is drawing large crowds across the state—so many people stopped to listen to his populist pitch at the state fair last week that it brought traffic on the main concourse to a near-standstill—and hiring dozens of organizers to convert that energy into a campaign infrastructure. (His campaign says it has 13 field offices and 31 organizers, with plans for more staffers by Labor Day.)
Clinton retains a commanding lead in the polls, but as she looks to stay ahead of Sanders, she faces two main challenges: There's local skepticism from Iowa Democrats who question her liberal credentials—particularly on issues such as the trade pact and the Keystone XL pipeline—and there's the national email controversy that the campaign has been unable to shake for months.
"I guess I shouldn't drop Hillary. The poor woman is getting in a lot of hot water," said Mary Jane Niggemeyer, a retiree who supported Obama in the last two presidential elections. "But I like Bernie."
Clinton's advisers and allies are open about their belief in Iowa's potential to blunt another surprise insurgency. "If Hillary wins in Iowa, it will be very difficult for anyone to stop her," said Jerry Crawford, a senior Clinton adviser in Iowa. "Our job is to try and build that firewall and make sure she wins."
In 2008, many Iowans saw Clinton as distant, a candidate who acted like the presumptive nominee, staging big rallies and chartering a helicopter—or, as the campaign called it, a "Hill-a-copter,"—to tour a state that prizes retail politics. The effort was overseen by outsiders who took a top-down approach, spurning local volunteers. In an episode that came to symbolize how out-of-touch Clinton was with the Hawkeye State, her campaign purchased hundreds of snow shovels for supporters, a thoughtful, if useless, gesture in a place where most people already own a shovel, if not a snowblower.
This time, local Democrats are seeing a greater personal touch."She's more hands-on. She's more available," said Pat Bailey, a retired nursing aide from Clear Lake. "The campaign is more involved with us." A Clinton organizer even attends the weekly taco night at the local VFW, she said.
"Hillary's doing everything right," said former Sen. Tom Harkin, the beloved Iowa Democrat who stayed neutral in the presidential race seven years ago but now backs Clinton. "It's a much better and I think more personally involved "¦ campaign this year than it was in 2008."
Back then, Clinton herself chafed at the demands of the caucus process, which requires candidates to spend months courting individual activists and nursing their support until Election Day. She often relied on surrogates. Many Iowans haven't forgotten.
"She never came to Grinnell," said Clinton supporter Deanna Shorb, mentioning the college town of 9,000 in central Iowa. "She sent Madeleine Albright. Not bad. But not Hillary."
After her loss, Clinton and her husband derided the caucuses as undemocratic exercises that disenfranchised many voters; unlike primaries, caucuses require voters to show up at a particular place and time, often in bone-chilling weather, and publicly declare their support.
But two weeks later, in Nevada, Robby Mook, the young operative who now leads Clinton's national campaign, showed her that victory was possible. In a state without a history of caucusing, he leaned on volunteers and trained them in unprecedented ways. Supporters weren't simply warm bodies licking envelopes and making phone calls. They were organizers who canvassed neighborhoods, held house parties, and recruited more volunteers. If supporters wanted a stake in the campaign, they had to earn it—and meet demanding goals. Clinton won.
That model is now the template for her Iowa effort. Before Clinton's official launch in June, her team spent months soliciting feedback from thousands of voters in one-on-one meetings—many of whom felt ignored by her last campaign—and then trained the most committed to start organizing in their own neighborhoods.
The most common request from Clinton volunteers: flexibility. The campaign now aims to "meet people where they're at," said Michelle Kleppe, the campaign's Iowa organizing director. That means empowering volunteers to organize around things they're already doing. So far, she said, groups have sprung up around kayaking, yoga—and quilting, a quintessential Iowa pastime.
Personalization is key: On a recent Thursday night, 11 Clinton supporters gathered in the Café Diem coffee shop in Ankeny, a suburb north of Des Moines. Sipping soy lattes and black coffee, they wrote letters on campaign stationary to likely caucus-goers in the semi-rural area, where it's less efficient to knock on doors. Each offered their own reasons for why they're supporting Clinton—and asked the voter to pledge to caucus for her by signing a "commitment card."
"We're not being told what to say, which is nice," said Elizabeth Johnson, a retiree who noted Clinton's long resume.
Others mentioned women's health issues, Supreme Court appointments, and college affordability. An organizer kept track of the letters—68 in all—and an intern updated the count by shading a chart shaped like Clinton's campaign logo on an oversized sticky pad. The hope is that these types of personal testimonials will carry more weight than a campaign mailer—and calm a restive base.
Getting an Iowan to caucus, after all, is a difficult task, as Clinton found out on her tour of the state fair. Carol Osenbaugh broke through a phalanx of Secret Service agents and reporters to chat with the candidate. The two gushed over the joys of grandmotherhood. ("Best ever," Clinton said. "Bill and I are crazy. We're like over the top.")
But after the throng had moved on to watch Clinton eat a pork chop on a stick, a reporter asked Osenbaugh whether she was supporting Clinton.
"I don't know yet," she said.
Her husband, John, laughed. "We've never been to a caucus," he said.