How Each Presidential Candidate Can Win (or Lose) the First 2016 Debate
A beginner's guide to winning or losing the campaign's opening encounter.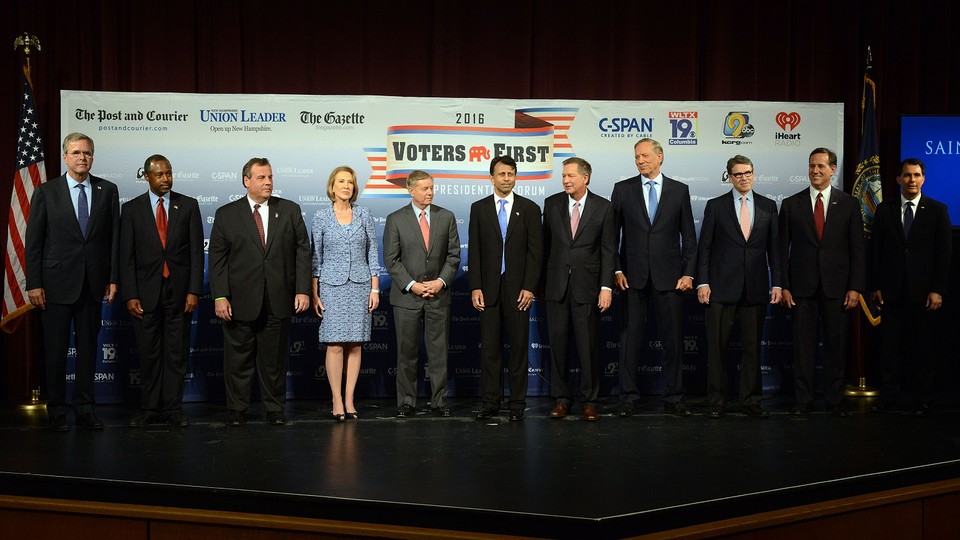 For campaign operatives, political reporters, and all the other people who keep accidentally dating their checks "2016," the presidential race is well past its infancy. Candidates have been officially running for months, and some have been laying the groundwork for years. Indeed, to them, the campaign is in its junior-high phase, marked by erratic behavior, name-calling, shifting cliques, and loads of unrealized potential from candidacies that will grow up all too soon.
But for many of the people who don't have "FEC Filing Day" circled on their calendar (which is to say, just about everyone), the opening Republican presidential primary debate on Thursday night will be the first time they tune in to anything 2016-related at all. And for those voters, the Cleveland debate will mark the candidates' only chance to make a good first impression. Here's how each of the 10 candidates in the prime-time debate can pull that off.
Donald Trump
Nobody has any clue what Trump is going to do on the debate stage Thursday night, but everyone already knows that debate is going to be all about the real-estate mogul, who will be standing front and center on stage. And that alone plays right into the hands of Trump, whose candidacy has been buoyed primarily by all the media attention he has been soaking up this summer. Trump said he will be "very nice" and "highly respectful of the other candidates," but chances are, he won't be holding his fire. And he probably shouldn't if he wants his campaign to last.
Jeb Bush
Aside from Trump, one of the men standing directly next to him on stage — Bush — will be the candidate to watch Thursday. Even though Trump has shot to the top of the polls, Bush is still generally seen as the front-runner for the GOP nomination, meaning Trump and many of the other candidates on stage will place a giant bull's-eye on the former Florida governor's back. Bush's goal will be not to let Trump (or anyone else, for that matter) drag him into the mud, and to use the real-estate mogul's presence as an opportunity to look like "the adult in the room" with a serious vision. Bush needs to defend against attacks on his record, particularly on immigration and Common Core, while maintaining the high ground.
Scott Walker
Walker, who will be standing on the other side of Trump on stage, will have a similar mission to Bush: staying above the fray. Trump has recently taken aim at Walker's economic record in Wisconsin, but the governor has said that he doesn't plan to take on anyone, including Trump, and instead intends to focus on his accomplishments in office. As a top-tier candidate nationally and the current front-runner in Iowa, though, Walker will likely face criticism from his other rivals as well. Some conservatives have accused him of flip-flopping on hot-button issues like immigration and abortion, and Walker has been preparing his response should that come up during the debate. If he can convincingly deflect those criticisms, he will emerge from the debate in good shape.
Mike Huckabee
Despite the recent firestorm over Huckabee's comments likening the Iran nuclear deal to the Holocaust, Huckabee placed fourth in Fox's average of recent national polls. The 2008 Iowa caucus winner remains in good standing with social conservatives, but the competition for that slice of the electorate is much fiercer now than it was eight years ago. Huckabee doesn't necessarily need to go on the attack Thursday night, but he needs to remind those evangelical voters why they supported him back then and make the case that he better represents their values than some of the new faces that have broken on to the scene since.
Ben Carson
Carson will be one of the biggest question marks on the debate stage. As a retired neurosurgeon who has never held elected office, he's the only candidate, aside from Trump, who enters Thursday with no previous campaign debate experience. Carson's stump speeches are often long and meandering, so his challenge will now be condensing those stem-winders into short sound bites that will have some staying power after the debate ends. If Carson can deliver even just one memorable line, while avoiding any Nazi or slavery comparisons, the debate will be a success.
Ted Cruz
Cruz may be one of the few candidates on stage Thursday who doesn't need to worry about Trump attacking him. Both candidates are vying for the same group of tea party-aligned, antiestablishment voters, but Cruz has continued to defend Trump even as he's made controversial comment after controversial comment. Cruz won't be able to play nice forever, and if Trump's candidacy lasts into the fall, Cruz will need to make an assertive effort to win over some of the billionaire's supporters at some point in order to survive. Cruz doesn't need to worry about doing that just yet, but he should at least start laying the groundwork Thursday for that eventuality.
Marco Rubio
Few, if any, candidates have had a quieter summer than Rubio, who has spent much of the past few weeks on the fundraising circuit rather than shaking hands in Iowa and New Hampshire. As a result, Rubio is essentially right back to where he was in the polls before his official campaign launch in April: mid-single digits. Given his rhetorical abilities, Thursday's debate should provide the senator from Florida with a much-needed opportunity to break out from the middle of the pack and tap into some of his sky-high potential. One issue that could dog him, particularly with Trump on stage: immigration. For Rubio to have a good night, he will need to be able to back up his stance on that issue, and highlight the generational differences he's hoping will set him apart from candidates like Bush.
Rand Paul
Paul has had a rough go if it as of late. His poll numbers have dropped, his fundraising has been lackluster, and his campaign team recently experienced some turmoil. Worse still, on Wednesday afternoon, the Department of Justice announced indictments against top officials in the Paul-sanctioned America's Liberty PAC. The senator from Kentucky desperately needs to inject himself back into the conversation, and he appears to think his dovish foreign policy may be the way to do that, as he recently told The Washington Post. While that would help him solidify his libertarian-leaning base, it won't do him any favors in winning over Republican primary voters looking for the U.S. to take a more aggressive posture in world affairs. Come debate night, Paul's challenge is to reestablish himself as a serious contender for the nomination, and not just the second coming of his father.
Chris Christie
Christie, whose "Tell It Like It Is" mantra has been overshadowed by Trump's brashness in recent weeks, needs to take an aggressive approach Thursday. The New Jersey governor has struggled to gain traction since entering the race in late June, so he is an example of a candidate who could benefit from taking on Trump. It's a risky endeavor, given how unpredictable Trump is, but Christie has remained stuck in the middle of the pack both nationally and in New Hampshire, which is a do-or-die state for him. The line between "straight-shooter" and "bully" has proven to be a fine one for Christie, but if he can walk that tightrope, some Republicans might remember why they wanted him to run so badly four years ago.
John Kasich
Simply standing on stage Thursday is a victory of sorts for Kasich. When Kasich first announced his candidacy in late July and was polling no higher than 1 percent, it wasn't clear whether he was giving himself enough time to boost his numbers and qualify for the debate taking place in his home state. Now that he has, Kasich can use the debate to build on his early momentum and start distinguishing himself from establishment-aligned candidates like Bush and Christie, who will be Kasich's top competitors in the all-important New Hampshire primary. Kasich is known to have a bit of a temper at times, so he will need to keep that in check as well to have a successful debate.