How Congress Cuts Its Own Budget
House committee offices have taken the biggest budget hit in recent years.
A camera follows House Speaker John Boehner as he walks out of his office and through Statuary Hall, showing off his chamber, as the video's voiceover touts what he's done to its overhead costs: cut them.
"A 14-percent cut in what Congress spends on itself is a big success," Boehner says. "It doesn't happen anywhere else in government, even though we keep trying."
When the House became Boehner's to run after the 2010 election, he was ready. He and his fellow Republicans slashed his chamber's budget by $35 million the first week on the job, touting his fulfillment of a GOP pledge "to make Congress do more with less." But not all cuts are created equal, and the legislative branch's accounts didn't go down across the board, sequester-style.
Instead, funding for some priorities—including office budgets for individual House members and committees—dropped precipitously, while others were cut just a bit. A few—including the Capitol Police—even managed to grow.
Along the way, Congress has had to weigh the value of tightening the purse strings against potentially compromising the legislative branch's responsibility to perform oversight of the federal government.
"There's al­ways that bal­an­cing act," said Steve El­lis, vice pres­id­ent for the non­par­tis­an budget watch­dog, Tax­pay­ers for Com­mon Sense. "You don't want to seem like you're feath­er­ing the nest or be­ing too gen­er­ous, but by the same token, you want to make sure that we have some of the best and bright­est run our coun­try."
From fisc­al 2010 to fisc­al 2015, the House has cut its budget more than double the per­cent­age that the Sen­ate has re­duced its funds. The then-Demo­crat­ic-con­trolled up­per cham­ber de­creased its budget by 6.7 per­cent dur­ing this time­frame, while the House's went down 13.8 per­cent, ac­cord­ing to data com­piled by the minor­ity side of the House Le­gis­lat­ive Branch Ap­pro­pri­ations Sub­com­mit­tee. Over the years, this has left of­fices and com­mit­tees to make do with smal­ler funds.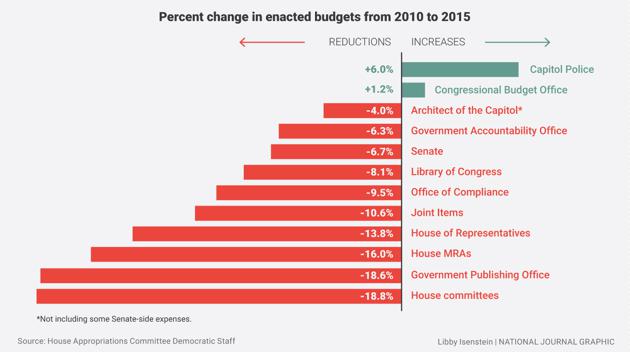 "The budget cuts on the Con­gress in the in­di­vidu­al House and Sen­ate of­fices have had a spe­cif­ic and ma­ter­i­al im­pact on every Con­gres­sion­al of­fice," Brad Fitch, Con­gres­sion­al Man­age­ment Found­a­tion pres­id­ent and CEO, said, "and we hear about it in al­most every type of ses­sion we do for train­ing and pro­fes­sion­al de­vel­op­ment."
This isn't the first time Re­pub­lic­ans took over and vowed to tight­en Hill spend­ing. When Newt Gin­grich be­came Speak­er of the House in 1995, the GOP was com­ing off of four dec­ades of be­ing in the minor­ity. Com­mit­tee staff was re­duced by one-third, and some com­mit­tees and sub­com­mit­tees were elim­in­ated.
Since fisc­al 2010, mem­bers' rep­res­ent­a­tion­al al­low­ances in the House are down 16 per­cent. Com­mit­tee funds have de­creased nearly 19 per­cent, with some of the most dra­mat­ic re­duc­tions right after the GOP gained con­trol of the cham­ber, ac­cord­ing to the data com­piled by the le­gis­lat­ive branch sub­com­mit­tee's Demo­crat­ic wing.
Funding for the House has stayed relatively flat since the fiscal 2014 enacted budget with members' representational allowances and committees funding frozen during this timeframe.
At a full House Appropriations Committee markup in late April, Subcommittee Chairman Tom Graves lauded the bill and the subcommittee—and how members have saved taxpayer dollars since the GOP came into the majority.
But the panel's ranking member had a different take: "Now I know," Rep. Debbie Wasserman Schultz said, "if there was overall relief in the budget allocation that we'd see more investments in the staff and facilities in the legislative branch. But we're starting to cut into bone in some places—and that is unwise."
Over the course of two days in February, the House Administration Committee held hearings to help decide just how much money each of the chamber's panels would receive. The chairs and ranking members came before Chairwoman Candice Miller, some detailing how their staffing levels had decreased, how it's hard to attract and retain employees on government salaries, and how field hearings had declined. Miller asked many of the chairs their wish lists, while hedging the question with a budget reality: There's just a "finite pie of funds to go around."
Take the House Permanent Select Committee on Intelligence, Miller said in an interview: "If you're a retired CIA individual with all kinds of opportunities here to go to work for a homeland security firm or a defense contractor or whatever, it's just hard for the Intelligence Committee to get the really good staff and keep them here."
That's because those with expert knowledge on a niche subject are in high demand in the private sector. "You don't have to necessarily match their salaries," said Harry Stein, Center for American Progress fiscal policy director and a former staffer for Sen. Herb Kohl. "I loved working on the Hill. It's a great job, but you've got to be competitive, and I think it can also become a miserable job if you're staffed so short that people are always overworked."
For Miller, the general House trend of opting for email over franked mail—which members pay for out of their MRAs—is a vivid representation of individual office cost-saving measures. "Because when we were cutting all the budgets, almost everybody had the same situation and decision to make: You were either keeping staff or you were doing franked mail. And people went with the staff, for the most part," she said.
And while fewer staffers may be working on helping constituents, offices are doing their best to avoid an actual reduction in service.
"It depends on how you deploy your forces," said Rep. Tom Cole, the immediate past Legislative Branch Appropriations Subcommittee chairman. "It does mean the people that are doing that work, in many cases, we've lost one or two positions to maintain salaries where you want them to be, so they're working harder, but I have not noticed the average constituent not getting taken care of. But there's tough decisions to be made in terms of, 'OK, do we mail ahead of town hall meetings or do we just announce them?' "
There's a rationale behind the budget cuts, Republicans say. "When most of these cuts were implemented, we were running budget deficits of over a trillion dollars a year, and we felt very strongly that we were going to have to make some pretty tough spending decisions," Cole said. "I don't think you have much credibility telling other people you need to reduce their budget without reducing your own."
Spending for the legislative branch encompasses about 0.4 percent of total discretionary budget authority—the smallest of the appropriations bills, according to a June Congressional Research Service Report. And some critics argue the budget cuts are simply political talking points.
"The main thing that's going on here is this sort of short term political game of posturing as strong on deficits by cutting spending for yourself and the agencies that serve you," Stein said. "I think that's a piece of it. This is purely political posturing. It does nothing measurable at all to the budget."