Governors Take Cautious Approach to 2016 Presidential Campaign
Wary of backing a loser, only four Republican governors have endorsed candidates. Others are using their neutrality to lure multiple candidates to their states or working behind the scenes for a favored contender.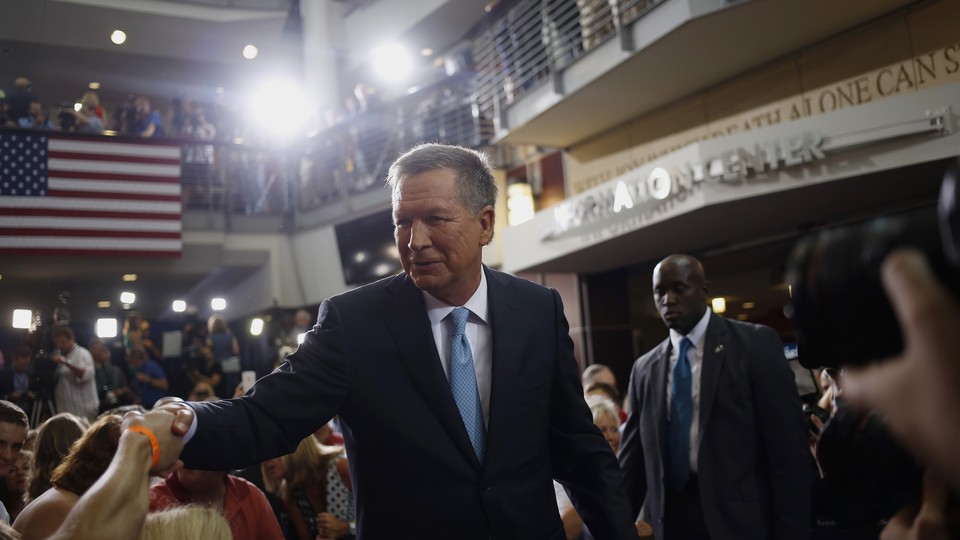 Alabama Gov. Robert Bentley put some serious political capital on the line last week when he endorsed John Kasich for president and became just the fourth Republican governor to get behind a 2016 campaign. But don't expect many more chief executives to follow suit.
Most governors, including Democrats, are sitting out the presidential endorsement game so far—and will likely stay out for quite some time.
That's not for lack of effort from the 2016 candidates. In 2014, former Florida Gov. Jeb Bush campaigned with or raised money for nearly half a dozen current governors, while New Jersey Gov. Chris Christie crisscrossed the country raising money and campaigning for dozens of candidates as chairman of the Republican Governors Association.
Maine Gov. Paul LePage and Maryland Gov. Larry Hogan have returned Christie's favor and endorsed him. But apart from them, Bentley, and Arkansas Gov. Asa Hutchinson—a home-state supporter of Mike Huckabee— no other GOP governors have tipped their hands so far, despite intense campaigns for their support.
Idaho Gov. C.L. "Butch" Otter, one of the first governors to endorse Mitt Romney in 2011, said in June that he was thinking of endorsing a fellow governor again this time around. "There have been a number of candidates who have reached out to him and made inquiries and requests," said Otter spokesman Jon Hanian. But he remains uncommitted.
"You have to have a pretty good reason to get into it," said Republican strategist Curt Anderson, an adviser to Louisiana Gov. Bobby Jindal. Jindal endorsed Rick Perry for president in 2011 while Perry was still riding high before a disastrous fall. Anderson attributed that endorsement to the two being "actual friends," which he said was atypical among governors.
"I mean, what are you going to do?" Anderson said. "You're going to make far more people unhappy than happy, particularly when you've got a 16-person field."
While some governors, like Illinois's Bruce Rauner and Texas's Greg Abbott, sound ready to sit out the presidential race for that reason, some governors are using their neutrality to their advantage. While Florida Gov. Rick Scott has held off on endorsing a presidential candidate, he lured six GOP contenders to a June cattle call in Orlando. In March, South Carolina Gov. Nikki Haley indicated she had no plans to endorse in the near future, saying, "I plan to be a really sweet host to all."
Others governors are widely assumed to be working for one candidate behind the scenes, even if they haven't made official endorsements. Nebraska Gov. Pete Ricketts, for example, has close ties to Wisconsin Gov. Scott Walker: Ricketts's father, Joe Ricketts, was a big financial supporter of Walker during his 2012 recall election, and Walker endorsed Ricketts last year when he found himself in a tightly contested primary race. Now, Ricketts's parents are the top donors to Walker's super PAC and his brother is Walker's national finance chair.
"Walker and Governor Ricketts are close," said one Nebraska Republican. "… He told me, 'I'm a Walker guy.' And at some point I think he'll lead a lot of Nebraskans to Walker."
"I would be shocked if it were anybody other than Governor Walker" who gets Ricketts's support, said Jordan McGrain, a former executive director of the Nebraska GOP who worked for Ricketts's opponent in the 2014 primary. "Internally here we all pretty much assume it's going to be Scott Walker, but I would guess they're withholding it for strategic purposes and trying to get a little bit closer to when people actually go vote in Iowa."
"You don't want to endorse somebody who's going to flame out," said Dave Carney, a former strategist for Perry who worked on his 2012 campaign. "I'm sure the governors who endorsed Governor Perry, while they like him and respect him and thought he would do a good job, you know, probably regret it, quite honestly."
"Most governors steward their political capital. They husband it; they nurture it. They don't want to squander it," Carney said. "… I think most governors are going to wait and see how it turns out."