GOP Senate Candidates Steer Clear of Defund Planned Parenthood Funding Letter
Two years after a letter pledging to withhold funds from Obamacare at all costs swept through the GOP, a similar proposal regarding Planned Parenthood funding isn't gaining traction.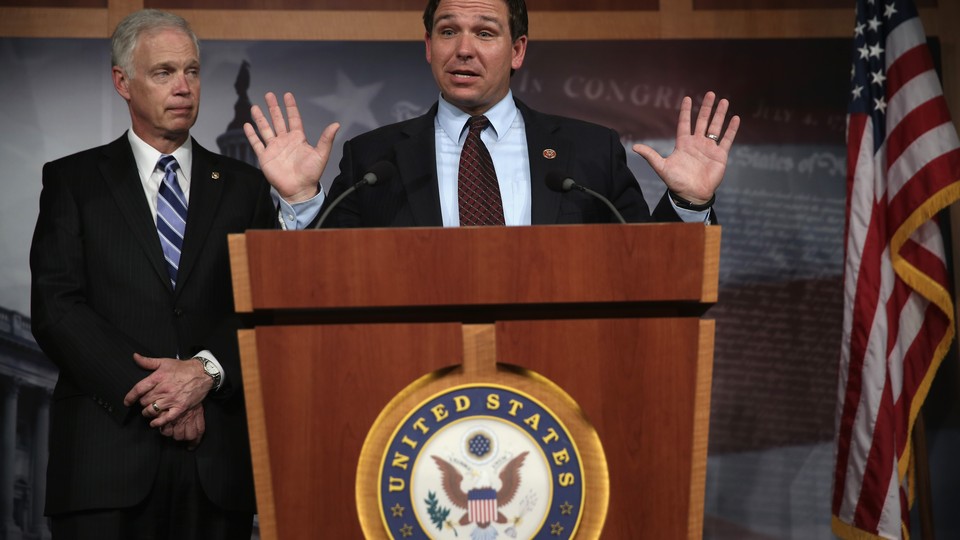 This time last summer, a letter pledging to oppose any government-funding bill that included money to implement Obamacare was surging through the House GOP. Eventually, more than one-third of the GOP conference signed the letter, including top Senate candidates like Bill Cassidy and Steve Daines.
Two years later, a similar recess letter about Planned Parenthood has not gained the same momentum, with just 18 House Republicans signing on. And this time, Senate candidates like Indiana Rep. Marlin Stutzman and Florida Rep. Ron DeSantis are notable because they have declined to join the signers.
Both face competitive, multi-way Republican primaries in their states. Both are taking care to position themselves as the most conservative candidate running for the GOP nomination. But in a signal of how the Planned Parenthood letter has not caught on like Obamacare did two years ago, neither congressman has signed on to the document pledging not to support "an appropriations bill, an omnibus package, a continuing resolution, or otherwise — that contains any funding for Planned Parenthood, including mandatory funding streams."
While both DeSantis and Stutzman have spoken out against using tax dollars to fund Planned Parenthood after the release of undercover videos highlighting the use of fetal tissue in research, this year's letter has not become the same litmus test of conservative bona fides that Obamacare was two years prior. In 2013, a post on the website of FreedomWorks, a conservative outside group, kept a running tally of which members of Congress had signed the letter. Expectations from the group and other conservatives were clear: "Republicans in both chambers of Congress must all be committed to absolutely refusing to vote for any spending bill that contains funding for ObamaCare."
A statement from DeSantis's office said he does "not believe taxpayer dollars should be used to fund an organization that engages in such horrific conduct." And a Facebook post from Stutzman said "we must protect the innocent lives of the unborn and end taxpayer funding of Planned Parenthood."
All this is happening against the backdrop of the 2013 government shutdown—and efforts by primary opponents in Florida and Indiana to call themselves more responsible Republican candidates.
Without naming names, Rep. David Jolly, another Republican Florida Senate candidate, told Politicoafter his campaign launch that he considers himself "part of the governing caucus—not the shutdown caucus."
"I'm a less-government conservative," said Jolly, who also spoke out against tax dollars being used to fund Planned Parenthood. "But whatever your view of government is, if you're an elected official, you have a responsibility to effectively administer that level of government. You don't get to just shut it down."
Retiring Sen. Dan Coats, whose former state director is one of the other Republican candidates running against Stutzman in Indiana, told local press this week that he believed "a major issue in the GOP race will be whether candidates advocate for 'a more reasonable' way to govern or show a willingness to shut down the government because of rigid partisan or ideological beliefs."
Defunding Planned Parenthood at all costs may yet gain momentum when Congress returns from its August break. But the GOP's Senate candidates in the House are no longer in the vanguard.