The Lost Promise of the Voting Rights Act
Fifty years after the act was signed into law, the story of its 1975 expansion stands in contrast with the act's dwindling bipartisan support today.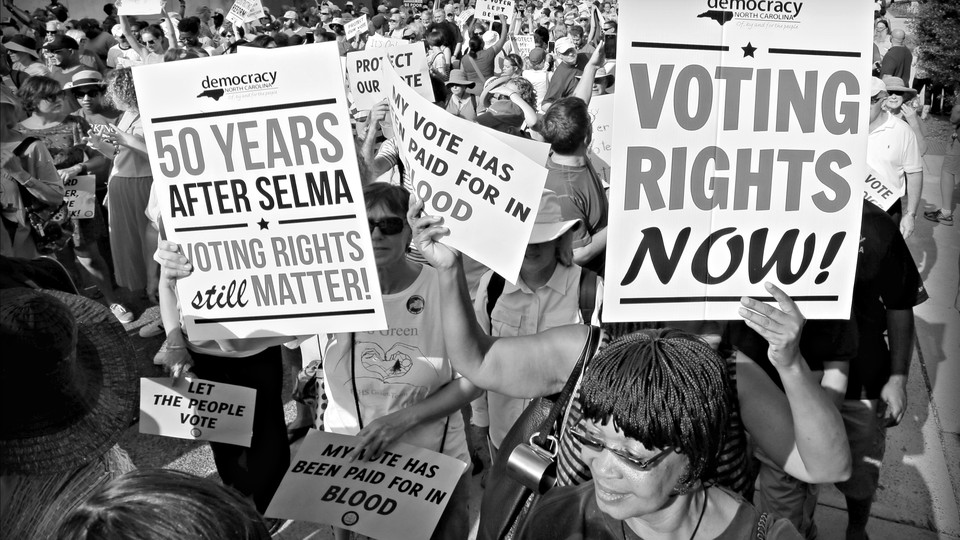 In February 1975, Modesto Rodriguez, a 33-year-old farmer from Pearsall, Texas, traveled 1,650 miles to Washington to testify before Congress. Rodriguez wanted Congress to amend the Voting Rights Act (VRA) to cover Texas and Spanish-speaking citizens across the Southwest, who had become America's "forgotten minority."
The VRA had enfranchised a million and a half African Americans in the South since its adoption in August 1965. Congress renewed its temporary provisions in 1970 for five years and was now debating whether to expand the law or simply reauthorize it again in 1975. Rodriguez urged the Congress to protect the voting rights of Mexican Americans and other overlooked minority groups.
"I want to tell you what Chicanos have to go through in the town where I live," Rodriguez said. "Democracy does not come easily and we are asking for your help in this matter."
Rodriguez grew watermelons, peanuts, wheat, maize, and corn on his family's ranch. He had the bulky frame and dark complexion of someone who spent a lot of time in the fields. "He was an everyman to Hispanic politicians. In some ways he was very sophisticated; in some ways he was very simple," said George Korbel, a lawyer for the Mexican American Legal Defense and Educational Fund (MALDEF) in San Antonio, who arranged for Rodriguez to testify. "When I told him we were going to Washington, he thought he was going to Washington state."
Pearsall, the county seat of Frio County, was a poor, sleepy town of 5,600, with one main road surrounded by farmland, an hour southwest of San Antonio and 30 miles north of Cotulla, where Lyndon Johnson once taught at a Mexican American school. The stories Rodriguez described to Congress weren't so different from the ones LBJ told his friends about discrimination against Hispanics in South Texas. They weren't so different from the extensive testimony Congress heard in 1965 about voting discrimination toward blacks in the Deep South.
Rodriguez was the local chairman of the La Raza Unida Party ("The United People's Party"), a Chicano-nationalist third party hatched in a graduate political science seminar in 1967 at St. Mary's College in San Antonio. It was modeled after black-independent efforts like the Mississippi Freedom Democratic Party. "Our political lives have been controlled by whites who do not represent our interests and who exploit us not only politically but also economically," he told the Subcommittee on Civil and Constitutional Rights of the House Judiciary Committee.
Before becoming active in politics, Rodriguez took out a loan with the local bank to make improvements on his farm. After he joined La Raza Unida, the bank called and told him he had 90 days to fund refinancing. He spent two years calling around, but no bank would lend him the money. Rodriguez learned that A. R. Galloway of the Security State Bank had urged other banks not to lend to him. When Rodriguez finally found a local rancher willing to lend him the money, he confronted Galloway at his bank. Galloway tried to persuade the rancher, in front of Rodriguez, not to help Modesto with the loan. He did the same to Rodriguez's friend Francisco Lopez, who hauled crops to the market in his three trucks. "If you are going to help Chicano political organizations," Galloway told Lopez, "get Chicano political organizations to finance you."
When economic intimidation didn't work, the Anglo power structure, which made up a quarter of Frio County but controlled nearly every influential position, turned to politics. In 1973, Paul Morales, La Raza Unida's candidate for mayor of Pearsall, narrowly defeated the Anglo candidate Buddy White by 65 votes. After the election, the county judge subpoenaed 200 Chicano voters, but no whites, for alleged election irregularities and threw out 100 votes that were marked with an "X" instead of a signature by illiterate voters. Morales was removed from office and lost his construction business after whites boycotted it. Sixteen Chicano voters, under pressure from the county, pleaded guilty to election-law violations.
The subpoenas had a chilling effect on Chicano political participation. "Now when I try to get people to register to vote, they say 'Go to hell, Modesto,'" Rodriguez said. "'We don't want any part of politics.'" For good measure, the county moved the only polling place from the predominantly Chicano west side of Pearsall back to the heavily Anglo east side. They also annexed surrounding white neighborhoods to dilute Chicano voting strength and shortened the hours of the election so that it would be harder for farmworkers to get to the polls before or after work.
As a result of economic and political intimidation, fewer than half of Chicanos were registered to vote in Frio County, compared with two-thirds of Anglos. Illiteracy and poverty were major obstacles to the ballot box. A third of all Mexican Americans in Texas lived below the poverty line, double the rate for Anglos. The average Mexican American child attended only seven years of school, and half of Chicano children dropped out before graduating from high school. Texas printed its election materials only in English, which served as a de facto literacy test for Chicanos, and provided little assistance to Spanish-speaking voters. Rodriguez estimated that 60 percent of Spanish-speaking citizens in Frio County couldn't read English, and 30 percent couldn't speak it. "For Chicanos it was made easier to get to a war zone than to a voting booth," he said.
Gerrymandering also kept Chicano political power at bay. Chicanos made up 75 percent of Frio County's population but held only one of four county-commission seats. That's because, in 1973, the all-white county commission redrew its lines to put 97 percent of Mexican Americans in one district, so that Anglos would safely control the other three.
"There has been a great failure on the part of the state of Texas to protect the voting rights of the Chicano electorate," Rodriguez told Congress. "For the protection of our voting rights we are now relying on the Congress and more specifically on this subcommittee to act to extend federal protection of the right to vote to the nine million Spanish-speaking citizens of this country."
Rodriguez's harrowing testimony riveted the committee members. "You have made a very impressive case and we thank you very much for coming all the way here and submitting to us this very valuable testimony," said the subcommittee's chairman, Don Edwards.
The problems Rodriguez described weren't specific to Frio County or Texas. Nationally, only 44 percent of Spanish-surnamed citizens were registered in 1972, compared with 68 percent of blacks and 73 percent of whites. Only 38 percent voted in the 1972 election, compared with 54 percent of blacks and 65 percent of whites.
Mexican Americans in Texas made up 16 percent of registered voters but held just 2.5 percent of elected positions; the numbers were even worse in California, where Latinos constituted 12 percent of registered voters but only 0.7 percent of elected offices. Los Angeles had 1 million Mexican American residents, over a quarter of the city's population, but not a single one served on the city council or in the state legislature. East L.A., where 225,000 Mexican Americans lived, had been divided into seven state house districts, five senatorial districts, and four congressional districts, so that the Mexican American population did not exceed 20 percent in any of them.
The House members Herman Badillo of the Bronx, Ed Roybal of Los Angeles, and Barbara Jordan of Houston introduced legislation to rectify this situation. Their bill required bilingual election materials to be printed in areas where language minorities—defined as persons of Spanish heritage, American Indians, Asian Americans, and Alaskan natives—made up more than five percent of the voting-age population. It also forced those same jurisdictions to have their election changes approved by the federal government if less than 50 percent of eligible voters had registered or voted as of the 1972 election, which had the important distinction of covering Texas under Section 5 of the law. (Many believed that Texas had not been covered in 1965 on LBJ's orders.)
Jordan became the national face for broadening the VRA. "Nearly all the forms of discriminatory voting practices suffered by blacks in the South are being suffered by Mexican Americans in the Southwest," she said.
Jordan had arrived in Congress in 1972 as the first black woman elected from the South. Despite her impressive intellect and considerable savvy, Jordan didn't have an easy path to politics. She lost her first two races for the Texas House of Representatives, in 1962 and 1964, because the seat was elected countywide and Houston's white majority wouldn't vote for a black candidate. "My political career was not assisted through passage of the Voting Rights Act," Jordan testified before the House. "I know firsthand the difficulty minorities have in participating in the political process as equals. The same discriminatory practices which moved the Congress to pass the Voting Rights Act in 1965, and renew it in 1970, are practiced in Texas today."
Only in 1966, following the Supreme Court's "one person, one vote" ruling in Reynolds v. Sims, did the legislature draw a district for the Texas senate that Jordan could win. She quickly became chummy with the state's old boys' club and, while serving on the state senate's redistricting committee, drew a new majority-black congressional seat for herself. "She proved that black is beautiful before we knew what it meant," LBJ said. Her critics dismissively called her "a black LBJ."
Jordan came to national prominence two years after arriving in Congress, when the House Judiciary Committee held nationally televised hearings on the impeachment of Richard Nixon. "My faith in the Constitution is whole, it is complete, it is total," she said on the evening of June 25, 1974. "And I am not going to sit here and be an idle spectator to the diminution, the subversion, the destruction, of the Constitution."
"If the Voting Rights Act could have protected you four years earlier," Congressman Caldwell Butler of Virginia told Jordan at the VRA hearings in 1975, "by this time you would probably be president of the United States."
Jordan's friend Andrew Young, the first African American to serve on the House Rules Committee, also testified before the Judiciary Committee in 1975. "Extension of the Voting Rights Act is a matter of political life or death for me," he said. He showed the civil rights subcommittee clips of the documentary King: A Filmed Record. "When we started to walk from Selma to Montgomery, I had no idea I would be walking into Congress within ten years," he said. Without the VRA, Young told his colleagues, "I would not be here today." He backed Jordan's legislation to broaden the VRA. "The same kind of things that happened to us in 1965," he said, "are happening to people of Spanish origin."
Jordan also received support from John Lewis, who had nearly died marching for voting rights in Selma in 1965. Lewis had been directing grants to black and Hispanic voter-registration organizations in Texas since 1972 as head of the Voter Education Project. "It would be a mockery of the whole Voting Rights Act effort during the past 10 years if we leave the Voting Rights Act as it is and not cover the other minorities in this country," he testified.
But not everyone applauded Jordan's stance. The entire Texas delegation, with the exception of Representative Bob Krueger of New Braunfels, opposed covering the state. And powerful figures within the civil-rights movement, led by Clarence Mitchell, the chief lobbyist for the NAACP, worried that expanding the act would jeopardize its extension. "Let me put it this way," Mitchell told The Washington Post. "If you've got something that is working, you want to be very sure you don't improve it out of existence."
The crafty Mitchell, who was known as the 101st senator because of his power on Capitol Hill, had already visited President Gerald Ford at the White House and secured a pledge for a simple five-year extension of the 1970 act. He'd also "limited" the scope of an important report on the VRA by the U.S. Commission on Civil Rights, so that it didn't study voting problems in the Southwest.
"At that point, Mexican Americans were just not as visible on the national stage in any of the civil-rights groups," said Patricia Villareal, a lawyer from San Antonio who helped draft the 1975 VRA amendments for Congressman Edwards. "So there was a lot of feeling among the more senior black leadership that Mexican Americans were newcomers. They thought, 'What are you doing fooling around with our act?'"
The testimony of Chicano activists like Rodriguez, combined with Jordan's relentless lobbying of her black colleagues, persuaded Congress to expand the VRA. "The involvement of Congresswoman Jordan made a tremendous difference," Villareal said. "She took a very hard stance that it needed to be done."
On July 20, 1975, three lawyers from the Department of Justice traveled to Pearsall to meet with Rodriguez. They asked him to recruit other Chicanos who could testify about voting discrimination if and when the DOJ sued Frio County.
After the lawyers left for San Antonio, Rodriguez went to the Buenos Aires bar to look for witnesses. At 10:50 p.m., when he and 10 friends were drinking beer and playing pool, a half-dozen police officers and officials from the Texas Alcoholic Beverage Commission raided the bar. They ordered everyone outside and arrested Rodriguez's friend Daniel Carbajal. Rodriguez asked for Carbajal's keys so he could drive his car home. When he inquired what the charges against Carbajal were, an officer called Rodriguez a smartass.
Rick Dennis of the Texas Alcoholic Beverage Commission came up from behind Rodriguez and struck him hard on the back of the head with a heavy flashlight. Dennis and four other officers kicked and beat Rodriguez to the ground and threw him into the squad car. He was charged with public intoxication, interfering with an officer, resisting arrest, and assault on a police officer.
When his sister, Modesta, arrived at the Frio County jail, the front steps were covered with Modesto's blood. She called George Korbel of MALDEF and asked what she should do.
"Jesus Christ," Korbel said, "take him to a hospital."
"We can't take him to a hospital," she said. "They will kill him at the hospital."
Unconscious and incoherent, Rodriguez was airlifted to a hospital in San Antonio, where he spent 24 hours recovering. He suffered a punctured eardrum and permanent hearing loss in his left ear. (The state later conceded damages; a judge awarded Rodriguez $10,000 for "pain, suffering, humiliation, and injury to his reputation.")
"We always felt like the officers were ordered to do it," said the MALDEF lawyer Al Kauffman, who worked in Frio County. "The word was out that Modesto was looking for people to work on the Voting Rights Act."
If anyone had doubts about the scope of discrimination against Mexican Americans in places like South Texas, Rodriguez's beating put them to rest. The House overwhelmingly passed a 10-year extension of the VRA, adopting Barbara Jordan's new protections for language minorities, 341 to 70, on June 5, 1975, despite complaints from Representative Robert McClory, Republican of Illinois, that it would encourage "multilingualism" in the nation. Hugh Scott, Birch Bayh, and Philip Hart introduced similar legislation in the Senate. It was expected to pass easily until President Ford, in a bid to court southern delegates at the 1976 GOP convention, resurrected Richard Nixon's southern strategy by pledging to apply the VRA to all 50 states, which would have made it unconstitutional.
The Senate blocked Ford's last-minute attempt to weaken the law, defeating the amendment introduced by the Mississippi senator John Stennis, 48 to 38. The West Virginia senator Robert Byrd negotiated a compromise that extended the Act for seven years, instead of 10, but left the House bill otherwise intact. A "heavy consensus" for the VRA prevailed, said New York Republican senator Jacob Javits. The Senate bill passed, 77 to 12. Only six southern Democrats and six southern and western Republicans, including Strom Thurmond of South Carolina, voted against it.
That sort of bipartisan support is now difficult to imagine. In 2013, after the Supreme Court rendered one of its most important provisions inoperative, Congress did nothing to restore the landmark civil-rights law. In recent years, there's been a wave of new efforts to restrict access to the ballot box, with half the states in the country passing new laws making it harder to vote since 2010. But in 1975, there was still a national consensus protecting the right to vote. Exactly 10 year after LBJ signed the VRA into law, President Ford signed signed the 1975 amendments in the Rose Garden. "The right to vote is at the very foundation of our American system," Ford said. "There must be no question whatsoever about the right of each eligible American to participate in our electoral process."
Barbara Jordan stood over the president's left shoulder as he signed the bill. She asked him to give her an autographed copy of the index cards he read from during his speech. "That was my first big legislative victory and I wanted a memento," she said.
In addition to the states covered in 1965, the new act required 513 jurisdictions in 30 states to hold bilingual elections and 276 additional counties to approve voting changes under Section 5—all of Texas, along with 14 counties in Arizona; Kings and Merced counties in California; El Paso County, Colorado; Hardee, Hillsborough, and Monroe counties in Florida; and Bronx and Kings counties in New York. The VRA had already enfranchised black Americans in 1965 and expanded the franchise to 18-year-olds in 1970. Now it covered the country's fourth-largest state and extended vital protections to new groups like Hispanics in the Southwest, Native Americans in Arizona, and Asian Americans in New York City.
The new VRA made an immediate difference. Within months of the law taking effect, the DOJ stopped a massive voter purge in Texas. The number of Mexican Americans holding county and municipal offices in Texas increased from 353 to 559 in the decade after the 1975 amendments. All across the state, from San Antonio to Frio County, the federal government and civil-rights groups sued to force hundreds of county commissions, city councils, and school boards to adopt fair districts that didn't deny representation to Mexican Americans. Hispanic political power flourished beyond Texas, with the number of Hispanic members of Congress from the Southwest rising from 1 in 1975 to 9 by 1985. City councils in America's three largest cities—New York, Chicago, and Los Angeles—became integrated because of the VRA.
Who voted for the bill was as impressive as what it did. Southern Democrats in the House supported it by two to one, 52 to 26, the first time in the 20th century that a majority of southern congressmen backed civil-rights legislation. (Southern Republicans in the House voted 17 to 10 against it, illustrating the reversal of the parties in the South on civil rights.) "The 1974 class of southern Democrats voted 12–1 in support of the Voting Rights Act extension," wrote Jack Bass and Walter De Vries, "and the 1972 class of southern Democrats voted 10–2 for the measure."
"It has helped to emancipate and liberate all of us, black and white," said Representative John Buchanan of Birmingham. "The South has rejoined the Union," said Representative Gillis Long of Louisiana.
In a speech before black mayors, Andrew Young summed up the change in Southern politics: "It used to be Southern politics was just 'nigger' politics, who could 'outnigger' the other—then you registered 10 to 15 percent in the community and folks would start saying 'Nigra,' and then you get 35 to 40 percent registered and it's amazing how quick they learned how to say 'Nee-grow,' and now that we've got 50, 60, 70 percent of the black votes registered in the South, everybody's proud to be associated with their black brothers and sisters."
If only that were still true in Southern politics today.
---
This article is adapted from Ari Berman's book, Give Us The Ballot.